by Blake Rutherford on Wednesday, Aug. 27, 2014 1:19 pm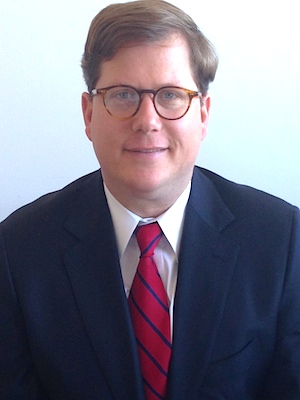 Blake Rutherford
(Editor's Note: This is an opinion column.)

It should not be said that the sight of rank-and-file police officers in combat gear is a sign of our times. But those were the images beamed afar from Ferguson, Missouri, a town of 21,135 located beyond the borders of St. Louis, in the aftermath of the shooting of Michael Brown, an unarmed black teenager soon to begin the fall term at Vatterott College, by Darren Wilson, a white police officer.

As civil unrest escalated, the police force in Ferguson unveiled an array of weaponry, including Mine Resistant Ambush Protectant Vehicles, which are heavily armed trucks, and a Long Range Acoustic Device that can emanate an ear-shattering 149 decibels and whose purpose is to physically debilitate the enemy. Ferguson also used body armor, gas masks, visors, military-like camouflage, rifles that mirror the M4 Carbine used by the Army in Iraq, and tear gas, a substance now banned in international warfare by the Geneva Convention, in response.

Ferguson was no longer a community. It was a war zone. But should that have been the case? After all, what was a tiny town like Ferguson doing with equipment that more than one veteran quipped on Twitter was better than what was available to our soldiers in Iraq and Afghanistan?

Since 1990, Congress, through section 1033 of the National Defense Authorization Act, has authorized the transfer of excess military equipment to local law enforcement for the purpose of combating the drug trade and the conflicts that resulted from the violence inherent to that trade. A few years later, Congress expanded that authority; it was broadened to encompass anything regarding the execution of law enforcement activities. In the aftermath of the terrorist attacks on September 11, 2001, more was done yet again.[1]

More than 8,000 law enforcement agencies around the country participate in the program. Since its inception, the Pentagon has transferred $5.1 billion worth of property, including half a billion last year. The equipment is free to local law enforcement, although they have to pay associated maintenance and transportation costs, and they retain exclusive control regarding the use of that equipment without mandated training requirements.[2]

Additionally, "the Department of Homeland Security has handed out anti-terrorism grants to cities and towns across the country, enabling them to buy armored vehicles, guns, armor, aircraft, and other equipment," according to "Overmilitarization: Why Law Enforcement Needs to Scale Down Its Use of Military Hardware and Tactics," a report prepared by Evan Bernick, a visiting legal fellow at the conservative Heritage Foundation. His report determined: "The resulting overmilitarization has inflicted a great deal of unnecessary harm. Potent law enforcement tools designed for exceptional cases have been wielded too readily, leaving catastrophic damage in their wake."

On the other end of the political spectrum, a study by the American Civil Liberties Union entitled "War Comes Home: The Excessive Militarization of American Policing" concluded, "American policing has become unnecessarily and dangerously militarized, in large part through federal programs that have armed state and local law enforcement agencies with the weapons and tactics of war, with almost no public discussion or oversight."

But it would be unfair to view the situation in Ferguson absent a discussion about the appropriate needs of law enforcement, particularly as matter of their own safety and as a means to perform functions in line with their mission and training. There are – and will continue to be – myriad examples of how certain equipment has helped achieve important police functions and saved lives. And it is always going to be the case that the balance between need for the equipment and justification for its deployment is a matter of situation and judgment, which is another way of saying that not every police force will respond like Ferguson.

But the greater point raised by conservatives and liberals alike – the distinction of police as peace officers not soldiers – cannot be understated. In that context, we cannot avoid seeing the circumstances in Ferguson for what they are: a catalyst for fear that in America soldiers will police our communities. After all, the presence of that much firepower suggests something discomforting about the arbitrary exercise of power by a group so well armed. This point rang particularly true when video footage surfaced of a Ferguson police officer marching toward peaceful protestors with a military-grade assault rifle pointed at them directly.[3]

The resources on display in that small Missouri town exist in many communities across the United States, and shedding light on them is both necessary and justified irrespective of the fact that we are talking about excess equipment. To that end, since the turmoil in Ferguson began, The New York Times, by way of the Freedom of Information Act, has been steadily compiling a county-by-county list of equipment distributed since 2006.

At the time I completed this column, public information regarding the Pentagon-to-police transfer program had been gathered on 69 of the 75 counties in Arkansas, and your perspective as to the necessity of military-grade weaponry in possession by local law enforcement will likely influence the way that you view and interpret the list.

I happen to have found it chilling, which, I suppose, puts it mildly. Perhaps there is a compelling reason for police departments to possess, for example, grenade launchers but, to be honest, I cannot think of one that would provide me with comfort – not the events of 9/11 or a desire to see our crime rate dramatically reduced.[4]

Analogous to the relationship between this equipment and the best use of local law enforcement to thwart terrorism, the reduction in crime also appears to be a tenuous justification for this level of arms.

Consider, by way of illustration, Pulaski County, which according to the Times' data, has acquired more equipment than any other in Arkansas, including a grenade launcher of its own as well as a mine-resistant vehicle and a lot of high-powered guns. Little Rock, its largest city, was recently named the most dangerous city in America by Cities Journal and in May had been named the most dangerous mid-size city in the country.[5]

The first step to crafting a system that avoids the misfortune of a militarized local police force begins with a reevaluation of the way excess military equipment is distributed to local law enforcement, which President Barack Obama has called for appropriately. And while I am not of the mind that stripping this equipment from all local law enforcement is a panacea, I think there is – and will be – an important debate to be had about it.[6]

For example, in response to the events in Ferguson, former New York City Police Commissioner Raymond Kelly told Bloomberg TV, "Whether or not this type of equipment should go down to a small town level is, I think, a legitimate question. My own view is that this equipment should be stockpiled at the state level and only distributed on an as-needed basis."

To Kelly's point: In addition to action at the federal level, active engagement among state and local government may be a means to prevent a Ferguson-like armament and escalation in our own communities.

_______

[1] Even still, Michael Downing, Deputy Chief and Commanding Officer of the Los Angeles Police Department, observed in Police Chief Magazine in 2009, "In the terrorism arena, the main strength of local agencies is their experience in investigating individuals and enterprises. The investigation of individuals has created a robust understanding of how broad networks and enterprises with varying degrees of culpability are linked through relationships."

[2] There is also the question of whether the appearance of the rank-and-file in riot gear does anything to help alleviate tensions and quell conflict. That is something the "The Deciding Force Project" at the University of California, Berkeley is trying to conclusively determine. Currently, the study is reviewing 200 police-versus-protestor incidents across the United States to determine if the presence of police in this sort of gear actually causes violence to escalate.

[3] Robert Bruce Ware, a professor at philosophy professor at Southern Illinois University Edwardsville who was among the protestors, wrote in The Washington Post: "In Ferguson on Aug. 17, I didn't see authorities make efforts to restore calm. Instead, they made aggressive attempts to intimidate and draw battle lines. The two sides were unevenly matched — one was dressed for peace; the other was clearly prepared for war. Ferguson has shown us how militarization of local law enforcement does more to stir chaos than to bring order."

[4] The violent crime rate nationwide is at its lowest level in 10 years.

[5] Based on an analysis of FBI data from 2012.

[6] There is another important discussion to have about systemic racism, class and poverty, issues I did not address as a result of the limited scope of this column, that speak to other challenges that exist in Ferguson and other communities across the United States.
(Blake Rutherford is vice president of The McLarty Companies and previously was chief of staff to the Arkansas attorney general. You can follow him on Twitter at BlakeRutherford. His opinion column appears every other Wednesday in the weekly Government & Politics e-newsletter. You can subscribe for free here.)

Latest Arkansas Business Poll
Do you approve of the president taking executive action on immigration?