by Evin Demirel on Thursday, Jul. 26, 2012 1:00 pm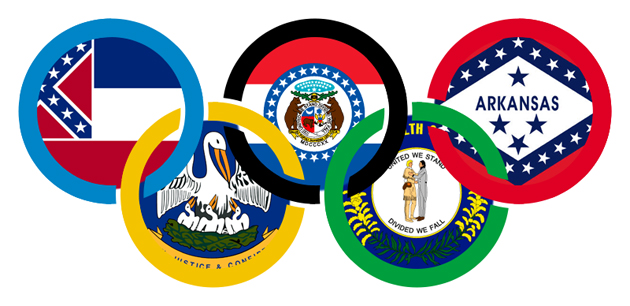 This story is from the archives of ArkansasSports360.com.
In Southeastern Conference territory, competition is a way of life. Year after year, SEC sports programs spew jet streams of cash to beat each other on and off the field . Stadia, facilities, coaches' salaries, TV contracts just keep getting bigger and better. There's really no choice. Snazzy helicopters, after all, can only do so much to lure the big-time recruits who make college sports' premier conference go round.
With the Summer Olympics opening ceremony on Friday, though, now is a good time to figure out which SEC state is top dog in terms of all-around athletic talent. For this exercise, we'll tear down institutional walls which divide states. No Auburn/Alabama or MSU/Ole Miss delineations here. We only care about state borders, and the Olympians who grew up between them.
With this in mind, it turns out the biggest states have produced the most gold medalists at all modern summer Olympic Games since 1896. Not a surprise.
It gets interesting, however, when examining the numbers on a per capita basis:
Breaking Down SEC states' # of Gold Medalists Per Capita