by Chris Bahn on Tuesday, Sep. 4, 2012 9:04 am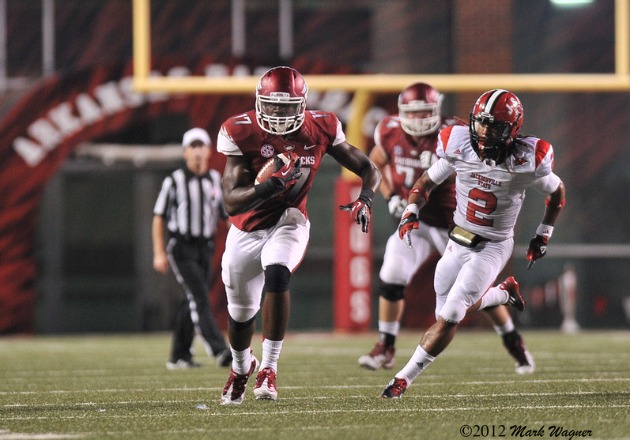 Brandon Mitchell — at least through one week of the season — looks like a legitimate threat at wide receiver. And the Razorbacks — so far — look like they have another potent passing attack. (Photo by Mark Wagner)
This story is from the archives of ArkansasSports360.com.
All those yards and touchdowns Arkansas lost to the NFL? Hardly an issue for the Razorbacks in the season opener.
Granted, quarterback Tyler Wilson was throwing against a Football Championship Subdivision opponent, but there seem to be some options in the passing game. Arkansas ranks No. 4 nationally and leads the SEC in passing offense and top wide receiver Cobi Hamilton didn't play most of the 49-24 victory because of injury.
Brandon Mitchell caught four passes for 122 yards to lead the Razorbacks. He currently ranks No. 4 in college football and second in the SEC in receiving yards.
"There were some tremendous throws out there," Coach John L. Smith said. " … with Tyler we expect every throw to be picture perfect, where it has to be. And that's fine. He expects that from himself as well. But he made some great throws. Those guys made some good catches. So we have some depth there."
Each week the NCAA and SEC release a comprehensive statistical look at college football teams. It's fascinating stuff, but most of you don't have time to go looking for it. We'll bring it to you here in the blog each week this season.
Below are Arkansas' NCAA and SEC rankings in major statistical categories after Week One: