by Chris Bahn on Thursday, Sep. 6, 2012 7:23 am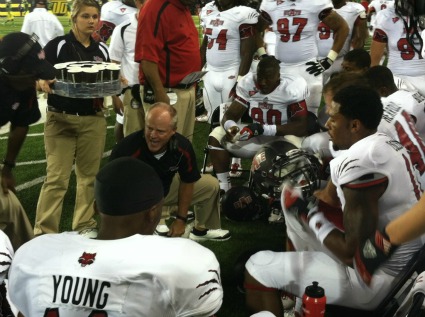 ASU defensive coordinator John Thompson talks to his defensive players during the Red Wolves' 57-34 loss at Oregon.
This story is from the archives of ArkansasSports360.com.
Arkansas State enters this week's game against Memphis with plenty of room for improvement.
Especially on defense.
Granted, the Red Wolves faced what is considered one of the top offensive programs in college football, but allowing 50 points with more than seven minutes left in the first half is troublesome.
ASU enters the weekend ranked 100th or worse nationally in five major defensive categories. Defense had been one of the question marks for the Red Wolves, who were replacing eight starters on that side of the ball.
"There's not doubt we learned a whole lot about our team," Coach Gus Malzahn said. "Like I've told you before there was a lot of questions marks and until you play another team and see how people respond and all that — we learned a lot about our team. We'll have he opportunity to show much improvement as far as from game one to game two with the information we gathered."
Malzahn stopped short of saying the starting lineup would be revamped, but said all areas on defense are up for evaluation for defensive coordinator John Thompson and the defensive staff.
"Anytime you have the first game, it's all areas you improve in," Malzahn said. "It doesn't make any difference what it is. You've got to improve in all areas. I'm confident we'll do that."
Below we look at where ASU ranks nationally and among Sun Belt schools in major statistical categories.