by Chris Bahn on Monday, Sep. 17, 2012 10:21 am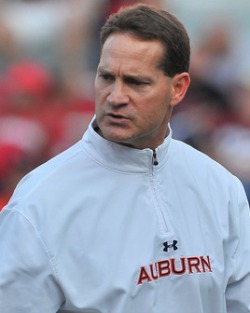 (Photo by Mark Wagner)
This story is from the archives of ArkansasSports360.com.
Arkansas Athletic Director Jeff Long pitched the idea of a nine-month coaching search as a positive for the program in April. He saw bringing in an interim for 2012 as a way to get a head start on a full-time replacement.
"It's really a luxury," Long said at the time. "It will give me a chance to evaluate people and really look at what I think we need going forward to continue to build on the success we've had here."
How important will the head start be for the Razorbacks? That probably depends, in part, on what other schools wind up with openings.
Below we look at programs in power leagues that could be headed for an opening. We've included where each coach currently ranks on Coacheshotseat.com and last year's salary per USA Today's database. We'll periodically update the list of possibly competition.
Program

Current Coach

CHS Ranking

Now Paying

Boston College

Frank Spaziani

1

$1.0 million

TAGGED:

Arkansas Razorbacks

,

Boston College Eagles

,

Cal Bears

,

Maryland Terps

,

Tennessee Vols

,

Kentucky Wildcats

,

Auburn Tigers

,

Syracuse Orange

,

Jeff Long

,

Jeff Tedford

,

Kevin Wilson

,

Joker Phillips

,

Jon Embree

,

Gene Chizik

,

Doug Marrone

,

Frank Spaziani

,

Randy Edsall

,

Derek Dooley

,

Indiana Hoosiers

,

Texas Tech Red Raiders

Latest Arkansas Business Poll

U.S. unemployment is at a 5-year low. Do you think the economy is improving?