by Chris Bahn on Wednesday, Sep. 26, 2012 6:00 pm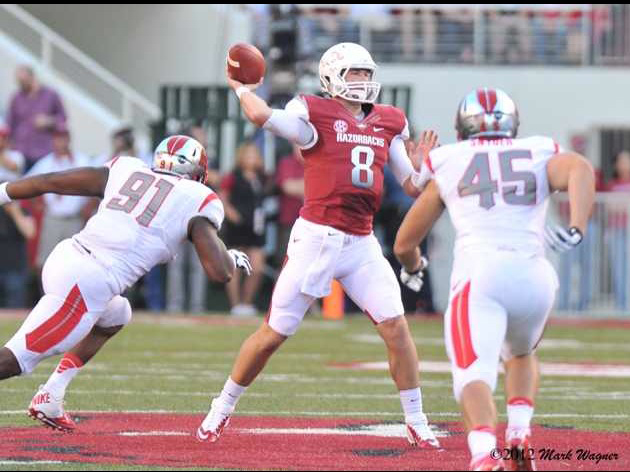 Arkansas needs to protect quarterback Tyler Wilson this weekend against Texas A&M, which leads the country in sacks. (Photo by Mark Wagner)
This story is from the archives of ArkansasSports360.com.
Because quarterback Tyler Wilson has missed time this season with a concussion, there's been plenty of focus on how the offensive line has protected him. Seeing Wilson sacked in his first play back from the injury only heightened the spotlight on how Arkansas is protecting.
Focus on the line and how effectively Wilson gets the team into the right plays to keep himself safe will be emphasized even more this weekend. Arkansas is allowing 1.75 sacks per game — fifth in the league and No. 59 nationally, not bad numbers, but this week will be the toughest test faced by the Razorbacks this season.
Texas A&M enters the game with 16 sacks in three outings, the best output in the nation. That's an average of 5.3, including eight in the Aggies' SEC opener against Florida. Defensive end Damontre Moore has proven tough for opponents to block and leads the country with 2.0 sacks per game.
"The front is the strength of their team," Arkansas offensive lineman Alvin Bailey said. "They like to get their hands in the ground and get after the quarterback. They run some stunts and blitzes and things like that. So that is going to be the key: to beat them up front this week."
Below we look at where Arkansas ranks nationally and among SEC schools in major statistical categories.