by Cara Gieringer on Monday, Oct. 15, 2012 12:00 am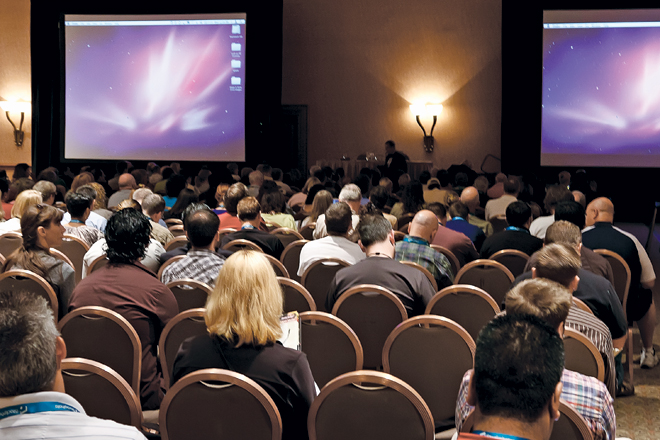 It's been a few years since the declining state of the national economy was the "go-to" reason for why businesses were struggling, but like many dedicated organizations from all over the United States, the hospitality industry in Arkansas endured the storm, did its homework and came out rejuvenated on the other side.
The majority of the state's tourism, dining and entertainment businesses have become proponents of the hyperactive social world in which we now live, employing innovative marketing strategies that not only make information dissemination convenient for customers and industry partners alike — they also make it fun.
The Value in Value
According to results from an April 2011 survey conducted by USA Today and Gallup, more than half of Americans said the U.S. economy was still in a recession or a depression despite official data that showed a moderate recovery.
Because of the unpredictable nature of today's economic conditions, consumers have adopted a heightened awareness of how they spend money and are more vigilant than ever about getting what they pay for.
The Little Rock Convention and Visitors Bureau (LRCVB) responded to this trend by investing in strategies and partnerships that help people find greater value in the local marketplace.
Little Rock Restaurant Month is a relatively new event established by the LRCVB celebrating the city's diverse restaurant community with special deals and saving initiatives. Participating restaurants in this month-long promotion in August, also known as "Savor the City," offered a variety of discounts and specials which were then conveniently broadcast through multiple social mediums, including weekly updates posted at DineLR.com and daily updates via the LRCVB's Twitter page.
The bureau also recently underwent a website redesign as part of an effort to "continue to research the latest in developing technology to target and attract visitors to Little Rock," said LRCVB President Gretchen Hall in the Summer 2012 edition of Hospitality Magazine.
The new website provides landing pages for niche audiences like meeting and event planners, advanced event calendar capabilities, a coupon and special promotion database, a deals and packages database and tools for creating surveys and special campaign correspondence.
Plug in to Partnering
Focusing on ways to make relationships more advantageous for industry partners, the CVB added a private section of the redesigned website and a user-friendly content management system. These updates should enhance internal communications between partnering businesses and the LRCVB and offer the luxury for individual companies to maintain their own business information on an ongoing basis.
A mobile website and app are also in place so event attendees and meeting planners have seamless access to helpful information on lodging, dining, event and attraction options directly from their favorite mobile device.
John Mayner, vice president of marketing and communications for the LRCVB, said the launch of the 2012 redesign was only the beginning of more customer-focused initiatives for the organization.
"We work with businesses to provide services like drafting press releases and managing other forms of public communication on a case by case basis," Mayner said. "Some groups don't have the necessary resources or experience to successfully publicize their events so we give them all the support that we can, while on the other hand, some groups like to be in control of all aspects of event planning and prefer minimum input from the CVB."
Mayner also said that regardless of the various levels of support required by different businesses, the LRCVB's primary objective is to continue to promote more value-added services in terms of the venue's event attendance.
The Arkansas Hospitality Association (AHA) is another organization that has dealt with the precarious nature of the economy by employing a full supply of digital communication tools to help its members and industry partners promote Arkansas as a premiere meeting and event destination.
"We recently underwent a website renovation that includes a more sophisticated look, with a number of databases linked to the website for our users' convenience," said AHA Associate Director Montine McNulty. "We are very proud of our new website."
AHA sponsors one of the state's largest trade shows each fall to highlight the latest technology trends in the hospitality industry's services and products.
Another promotion AHA offers to add value for convention attendees and exhibitors is discounted hotel rates for early registration. McNulty said this year's event is promoting the Peabody Hotel as the official lodging option but that the association alternates between the Peabody and the Doubletree Hotel every year.
According to participants in the 2012 InformationWeek 500 report of top business technology innovators, today's information technology focus is on the customer, with 37 percent citing widespread deployment of customer-interfacing, mobile apps.
In addition to the revamped website's capacity to better communicate information to members and other industry partners, McNulty also commented on the association's use of social media including Twitter, Facebook and a specially-designed Arkansas Dining, Lodging and Travel Guide app for iPhones and Android devices that displays free listings for AHA members.
The Arkansas Department of Parks and Tourism released its "Hot Deals and Packages" iPhone application in 2010. According to information reported in the February Arkansas State Parks, Recreation and Travel Commission meeting, in January alone there were over 51,000 visits from mobile devices to Arkansas.com, an increase of 182 percent over January 2011.
Another progressive trend for Arkansas.com is its ranking as a top 10 tourism website among all 50 state sites. February's status report indicated Arkansas.com was the fourth -ranked tourism website in the U.S. and first amid the contiguous state sites.
Whether or not using the "it's the economy" card is still a valid excuse, meeting and event planners are harnessing the latest research and trends to find out what their prospective audiences want and how they can deliver it in an affordable fashion.
So the next time a visitor attending a mediocre conference session out-of-state hears someone bitterly play the "it's the economy" card, they can remember that shiny, new "I do business in Arkansas" card is securely tucked away next to the trusty smartphone, along with 200-plus pictures of the family, friends and the family dog.
Arkansans can teach their disillusioned new friend something about the marketing opportunities readily available for anyone with an Internet connection, a desire to learn and an open mind. And if all else fails, a cute pet or baby picture will at least lighten the mood long enough to get through to the end of the session.
For Laughs, And Impact, Try Video
The Professional Association of Innkeepers International (PAII) is the leading association representing owners of inns and bed and breakfasts. PAII hosts the world's largest annual gathering of innkeepers, The Innkeeping Conference & Trade Show, which was held in Little Rock in January. In addition, PAII is behind the first industry-wide campaign to get more people to stay at bed and breakfasts: the "Better Way to Stay" campaign.
Part of this campaign was the creation of a video promoting Little Rock as the 2012 conference destination.
"It was used as a case study in an educational session during the 2012 ASAE Annual Meeting & Exposition, which is primarily an educational event for association leadership," said attendee Alan Sims, vice president of the Little Rock Convention and Visitors Bureau. "The gentleman that created and produced the video promoting the PAII annual event in Little Rock was invited to do an educational session on creative ways to stimulate association membership attendance. More than 7,000 people attended ASAE in Dallas this year."
Sims said the ingenuity of the video inspired the LRCVB to increase its use of innovative video production to better represent Little Rock as a prime destination market.
Jay Karen is the president and CEO of PAII and the creator of the Little Rock video.
Here is the program description of his educational seminar at the ASAE conference in August titled "Association Marketing is SOOOO Vanilla."
"Most association marketing is pretty bland. Marketing should disturb or excite, but most organizations play it safe by trying to offend no one and rarely trying to make people laugh. If you think your audience won't appreciate levity, you're wrong. Dive into some funny stuff that will show you why humor can help you stand out from the crowd. Learn how to energize your communications in a way that will get a chuckle from your audience, a rise in response and open rates, and members wanting to see what you'll do next for marketing."
According to the Executive Director's report from a February 2012 Arkansas Parks and Tourism meeting, the PAII's annual conference in Little Rock was one of the larger conferences for the organization, with 468 attendees and 160 vendors from around the country. The P. Allen Smith speaking session, which was sponsored by the tourism department, was standing room only with more than 350 people.

Latest Arkansas Business Poll
Do you approve of the president taking executive action on immigration?