by Jim Harris on Saturday, Oct. 13, 2012 6:01 pm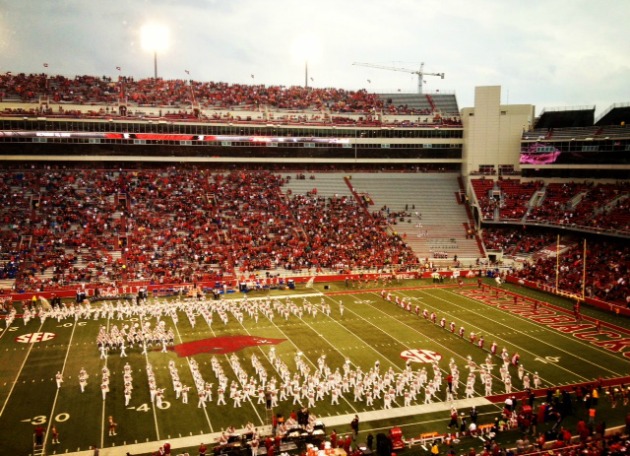 This story is from the archives of ArkansasSports360.com.
FAYETTEVILLE — The feeling is in the air that storms, not to mention Arkansas touchdowns via the air, are imminent this evening at Reynolds Razorback Stadium. The Hogs play Kentucky, and if any team has suffered as badly as Arkansas has in the injury department through the first half of the season, it's the Wildcats.
At some point, weather forecasters say, thunderstorms are due to hit here. Games at Lawrence, Kan., and Columbia, Mo., have already had either delays or, in the case of Kansas' home home, seen the entire stadium evacuated because of a storm system moving through Oklahoma and Kansas today. Fayetteville appears to be on the edge of a line where storms may pass in the next few hours. The Weather Channel forecast 100 percent chance of rain here at 10 p.m., but we're hoping that by then the game will have concluded.
Arkansas will see a Kentucky defense lacking three starters in the secondary, and the Wildcats offense is down to its fourth quarterback, a true freshman, Jalen Whitlow.
The Hogs are coming off a 24-7 road win at Auburn (the Arkansas success and its first SEC win should be tempered by the knowledge that Ole Miss ended its 16-game SEC losing streak today at home in running away from Auburn 41-20). Kentucky has been competitive but is still 1-5 against a schedule in which the opponents' combined record is 29-2 entering today. The Wildcats led South Carolina 17-7 at home at the half two weeks ago, and last week were beaten at home by Mississippi State 27-14.
Arkansas will be dressed in its new, never-worn charcoal gray jerseys and pants and red helmets. Arkansas refers to the color as "anthracite," and yes, it's not one of the school's official colors. What makes it worse, the numbers the Hogs are using this year that bleed into gray or black and the bottom are made even worse with the "anthracite" jerseys.
Sure was a lot easier to follow the Hogs when they worn the basic red jersey with white numbers.
I'm told by our expert Doc Harper that the line opened at 18.5 and stayed about the same all week, dropping just to 17. That seems like a lot, but then Kentucky's secondary could look a lot like Arkansas' has.
The key against Kentucky always has been for Arkansas to avoid turnovers — upset losses here in Fayetteville to the Wildcats (who led the series 4-2) were keyed by Hog turnovers. Last week, Arkansas was the beneficiary of five Auburn turnovers and its takeaway margin finally began going in a positive direction (Hogs have 17 turnovers but have claimed seven now).
So, sit back, join in on the blog and let's get the conversation going. We'll be providing some insight and all the particulars to today's game in our usual live game blog format. Let us know how the Fox Sports Net coverage is. Join in with your comments in the comment section, or email me at jharris@abpg.com, as I check the mail periodically.
We've got the game fully staffed tonight, with Fayetteville-based Doc Harper also in the box with us. As usual, Chris Bahn, Doc Harper and I will be tweeting today as well. Follow us @cbahn, @doc_harper or @jimharris360 or @arksports360. And you can also follow us on Facebook.
If you're used to reading this in reverse chronological order, forget that now. Rather than change it around readers post-game, we'll make our posts in chronological order from start to finish, beginning with our entry at 5:58 p.m., two minutes before the official kickoff time:
5:58 p.m. — Arkansas' band is NOT wearing "anthracite." Just all white, with the expectation that it will be rained on at some point.
Arkansas' student section is pathetic. Seriously pathetic, The largest section is not field to the top as usual, and the section above the band has about 25 students sitting.
This would not be happening at Auburn, and Auburn really stinks.
6:08 p.m. — Finally underway. Hocker kicks it halfway into the end zone for no return. Arkansas is moving from the north endzone to the south.
6:14 p.m. 7-0 Arkansas — Arkansas strikes shockingly fast — so fast that some of the media and fans can't make out the number of the player who scored the touchdown (stupid jerseys!). True freshman Jonathan Williams (No. 32), filling on for injured Ronnie Wingo Jr. on first down, ran a wheel route to the left side, and the Kentucky corner on that side fell down. Williams made the catch at his 43, then reversed field in front of UK's Cody Quinn and Zach Blaylock, then beat everyone to the right goal line pylon for a 76-yard scoring play. Knile Davs made a block on left corner Cartier Rice to help open up the entire right side of the field for Williams, the Allen, Texas, product.
Arkansas' defense pitched a three and out to start the game, with Ross Rasner sacking Kentucky quarterback Jalen Whitlow on third-and-3 to force a punt.
Only 1:42 has elapsed in the game.
6:21 p.m. 7-0 — Keante Minor does something most coaches would tell him was stupid — fielding a punt at his own 2-yard line — but Minor shows some exciting footwork and change of direction to run the ball out of the end zone to the UA 25 before being knocked out of bounds.
Arkansas' defense let UK out of hole followng terrific kickoff coverage, as Whitlow was able to get a screen off that moved the "Cats of the goal line. But from near the 40, Whitlow was pressured into a couple of incompletions and UK punted. Arkansas blitzed MLB Terrell Williams on third down with aother players seemingly following — a screem pass thrown accurately might have gone for big yardage again — and Whitlow overthrew his back.
6:30 p.m. 14-0 Arkansas — Hogs cover 75 yards in 11 plays to move up two scores, with Dennis Johnson carryng 3 yards on a trap play through LG for the score. Tyler Wilson and Cobi Hamilton combined to get the drive going — Hamilton was credited wth a running play on first down on a lateral, then caught a short pass to get the first down and the Hogs were off and running.
About all that stopped Johnson on the drive was tripping once on the yard line when the Hogs were at the Kentucky 12.
6:39 p.m. — Lightning in the distance. Hogs have the ball on the 41 after an offsides penalty on the Wildcats defense.
Kentucky went nowhere on its third possession of the game. Jalen Whitlow overthrew another recever in the flat, was bottled up on a run to the left side after a fake inside, and then his receiver dropped a catchable pass in the right flat.
And there they go, suspending the game. Lightning was a lot closer than the 6 mile distance called for in the rules. Rain has also begun to fall in sheets.
7:28 p.m. — The teams are scheduled to return to the field at 7:35 p.m. The game will resume at 7:45 p.m. Meanwhile, we've been watching the variety of games on the press box TV sets, enjoying the halftime spread of hot dogs and little pie squares (a rich chocolate pecan pie square is a huge hit with the media) and checking that various internet weather sites. To this unexperienced weathercaster, it appears that the really heavy stuff is headed in a line toward Fayetteville about two hours away from here.
7:45 p.m. 14-0 Arkansas — Game resumes. It will be interesting to see how both teams respond to more than an hour delay. Hogs had a lot of mometum on both sides. Last time this happened, the Ole Miss game here two years ago, with two delays, the stoppages affected play significantly. Ole Miss looked to be outclassed during the first segment, but fought back within seven points after two delays before the Hogs put it away.
Of course, Knile Davis had a big day that afternoon too. Maybe Davis ready to break out here.
7:51 p.m. 21-0 Arkansas — Razorbacks needed only four plays after the resumption of the game to push the lead to three touchdowns, with Dennis Johnson getting his second score of the game: a 5-yard pass from Tyler Wilson on a roll to the right.
Wilson's 36-yard pass to Brandon Mitchell, who caught the ball over the middle and then hit the left sideline with speed to reach the UK 5, was the big play.
Officially, Arkansas covered 86 yards in 7 plays over 3:15 of the first quarter. With 1:58 left in the first quarter, Hogs have it comfortably in hand it seems.
And the Razorback defense quickly gets the Mildcats offense off the field again in three plays while we type thuis entry.
7:55 p.m. 28-0, end of first quarter — With time for one play in the first quarter, Arkansas strikes again with a wheel route (this time to the right side) to freshman Jonathan Williams. Wilson hit Williams at the 43 and Williams juked Wildcats cornerback Zack Blaylock at the Hogs' 48 and had clear sailing to another score.
The oohs and ahhs from the crowd were for a Kentucky player who ran smack-dab into an official down field behind the play.
Jonathan Williams' speed is legit, no doubt.
Maybe a third of the crowd returned for the game's resumption — we were told the Dickson Street establishments are packed. And the game is on TV, so there's that.
7:59 p.m. 28-0 — Morgan Newton, who has been battling a shoulder injury, takes over at quarterback for the frazzled freshman, Jalen Whitlow.
8:04 p.m. 28-0 UA — Kentucky briefly shows some offensive live with Newton at quarterbcak movng to the Arkansas 42 and picking up a couple of first downs before the Hogs turn on the third-down blitz, sacking the veteran quarterback for a loss of 9 to the UK 49 and forcing a punt out of the end zone. Fifth-year man Jared Green out of Little Rock Central (via Mississippi Valley State) got the sack of Newton on what looked like a jailbreak by the Hogs' defensive line against the slow Wildcats up front.
8:15 p.m. 35-0 Arkansas — Now, while this is struggling Kentucky, isn't this the kind of offense and defense you expected to see from the Hogs this year?
Tyler Wilson and the Hogs make it five-for-five on offensive possessions for touchdowns with an 80-yard drive in 14 plays with a brilliant mix of running and passing to take apart the Kentucky defense. The drive got off to a good start for Arkansas when the Wildcats were flagged for a personal foul facemask on a short carry by Knile Davis.
Dennis Johnson provided the burst on the other end to set up an 8-yard touchdown toss on a bullet from Wilson to Javontee Herndon, who faked a move left for a fade from the left sode and then slanted in to an opening just over the goal line.
8:22 p.m. 35-0 Arkansas — Arkansas needs to run the ball and run this 5:03 off the first half clock. If the game was delayed again, on postponed, it would not be an official game until one half had been played.
That would be the Razorbacks' luck with Kentucky. The only victories iin six games the Hogs have managed over Kentucky have been hard fought to the bitter end, including a 7-overtime game in Lexington in 2003. Kentucky holds a winning margin over only four SEC teams: Missouri, Vanderbilt (barely), Mississippi State and Arkansas.
The Razorback defense forced Kentucky off the field again in three plays, helped by the Wildcats drawing a procedure penalty on third-and-1.
8:30 p.m. 42-0 Arkansas — Dennis Johnson scores his third touchdown of the night on a 2-yard run and the Hogs cover 69 yards in eight plays. The drive's biggest play was Johnson's 22-yard sprint around left end and a tight rope down the sidelines before being knocked out of bounds at the 2.
Lots of youngsters are playing now: Freshman Devonta Lowe was just in on a kickoff, burning his redshirt, and freshman receiver D'Arthur Cowan reportedly has also played, burning his redshirt. Some other freshmen such as Keon Hatcher were in on the last series. Hatcher had a chance for a big touchdown catch from Wilson but seemed to let up and let a pass go through his hands when he was wide open down the middle.
Kentucky doesn't even want to be here anymore. Perfect reason for the NCAA to adopt the "mercy rule" and institute a running clock.
8:36 p.m. — Keante Minor's 72-yard punt return right up the gut through the Mildcats is wiped out because of Davyon McKinney's block in the back on the 30-yard line.
8:39 p.m., 42-0 Arkansas — The half mercifully ends for Kentucky, and the referee, David Smith, eats his flag on an obvious running-into-the-kicker penalty on the Wildcats as the time expires.
I can't remember a more complete Arkansas first half in an SEC game. Arkansas' defense allowed 40 total yards in the second quarter and 88 for the half. The Hogs have 444 total yards in the first half, 113 rushing yards and 331 passing yards.
Arkansas had no fumbles, no interceptions and one penalty for 10 yards, the one that wiped out what would have been a 49-0 halftime lead. Arkansas has 20 first downs to Kentucky's 4. The Hogs were 6 of 7 on third downs, including 4 of 5 in the second quarter. Tyler Wilson has completed 19 of 25 passes. Dennis Johnson has 68 yards rushing on 10 carries. Jonathan Williams, with two long touchdowns, has 150 yards receiving on three catches. Cobi Hamilton has eight receptions for 77 yards.
Amercan Idol judge Randy Jackson is saying something on the field, but the PA system is so bad it can't be made out. Apparently, someone's husband secretly sent her name in to American Idol and the woman is singing like an Idol contestant at midfield. She sounds sort of like Adele. She's a lot better than the Liz Honey woman (who's not bad actually) that sings the Hog videos in the Hog hat with her nose taped up like a Hog snout.
The woman is Ann Wizer Defani, the 2008 Miss U of A. I'm glad it wasn't storming during the show.
Halftime will not be its usual length of time since they already had a 65-minute delay.
8:51 p.m. — Yeah, during my haste to get started again when the delay ended, I forgot to mention that apparently the UA is on a "fall break."
I never got a "fall break," at least one that was official. I'm sure I took a few fall breaks along the way here.
But that's the reason being attributed by some folks to the lackluster student turnout before the game. There's only about 400 students in the student section now, if that. We also have to acknowledge that maybe many of the students decided it was stupid to even show up for a game when a storm was headed in. I'm sure that was it.
Might the UA campus want to examine when it schedules "fall break" in the future so it doesn't coincide with a football weekend.
Among "fall break" and deer hunting and "it's too hot on Labor Day" and "we're going to the lake" and the like, the Arkansas students have a lot of excuses why NOT to attend games. Again, this wouldn't happen at Auburn, or Georgia, or LSU, or South Carolina, or Alabama, etc. etc. etc. It probably would happen at Kansas or Iowa State, though.
8:56 p.m. — Isn't this great. Arkansas gets the ball to start the second half, too.
9:03 p.m. 49-0 Arkansas — Razorbacks and their faithful don't need to be crying about Texas A&M passing when a huge lead in College Station two weeks ago. Tyler Wilson airs it out a lot on yet another scoring drive, tying the record for touchdown passes in a UA game (five) with an 18-yard pass to Julian Horton, who absorbed a lick in the end zone but held on to the ball.
Again, the Hogs running game complemented the passing nicely, with Dennis Johnson and Knile Davis having their way, even with the short-side power sweep that had been such a problem in earlier games. Again, this isn't Rutgers or even ULM out here. The Mildcats want this game over now.
Next possession, Brandon Allen should be in the game at quarterback or offensive coordinator Paul Petrino is just rubbing it in.
9:11 p.m. — Tyler Wilson's passing stats are 23 completions in 31 attempts for 372 yards and five touchdowns. Brandon Allen is in the game now as the Hogs, again wth a three-and-out for the Wildcats, start on the UA 47.
9:21 p.m. 49-7 Arkansas — Hog redshirt freshman safety Rohan Gaines makes a terrible play at his right sideline, and Kentucky is able to turn a medium yardage pass play into a 61-yard scoring play by La'Rod King. Jalen Whitlow, who returned to the game after Morgan Newton's ineffectiveness, through the pass, and Gaines was let getting over but still tried to make a play on the ball and was burned.
Six more touchdowns like that by the Wildcats and we'll have a ball game.
9:25 p.m. — More lightning nearby. Another delay. Nope, check that, Arkansas is punting. It appeared that the referee was halting action.
Now the line judge runs over to the referee to tell him, "Hey, that was lightning," and now there is another delay of at least 30 minutes.
10:08 p.m. 49-7, Arkansas, final — After officials for Arkansas, Kentucky and the SEC talked it over, the game was "terminated" with Arkansas the winner, 49-7.
10:45 p.m. — Back from the interviews. The Arkansas players gave John L. Smith the game ball. This is a happy bunch of wet Razorbacks. There is some serious momentum on Arkansas' side now as the Hogs take a week off to prepare for Ole Miss in Little Rock on Oct. 27.

Latest Arkansas Business Poll
Do you approve of the president taking executive action on immigration?