by Chris Bahn on Tuesday, Oct. 23, 2012 9:00 am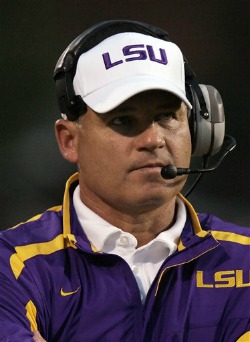 LSU's Les Miles is one of college football's Top 10 highest paid coaches.
This story is from the archives of ArkansasSports360.com.
Arkansas has money to spend for a quality head coach.
Jeff Long said as much during a recent chat with fans at the Little Rock Touchdown Club.
"Financial resources are always important to any search," Long said."Certainly we've seen those salaries for coaches explode and they have. But I'll also say that our athletic program, through the support of all of you out there, through the Razorback Foundation, we've got the resources to attract a high level coach."
How much money would the program need to invest to get its newest coach among the Top 10 highest paid in the profession (Bobby Petrino was No. 6)? Let's look below at 2012 salaries, courtesy the CoachesHotSeat.com database: