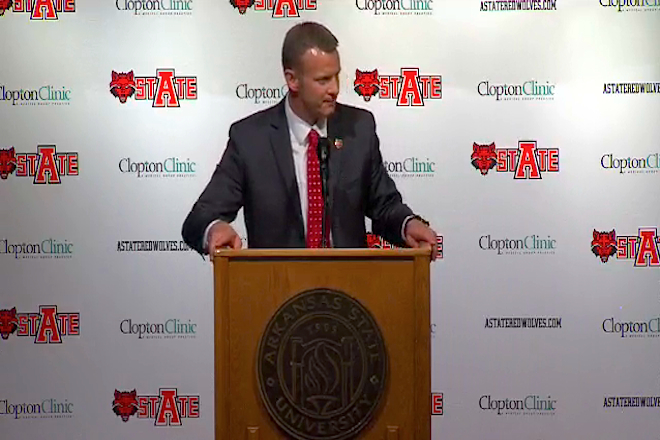 Bryan Harsin, via AStateRedWolves.com.
Gus who? At an emotional news conference in Jonesboro televised live on Little Rock television (!), Arkansas State University has officially announced former University of Texas co-offensive coordinator Bryan Harsin, 35, as its next football coach.
"I am excited, I am fired up, and I am looking forward to getting to work as your new coach at Arkansas State University," Harsin said.
"There's one candidate we wanted," ASU System President Chuck Welch said, talking about the search. "There's one candidate we offered. And there's one candidate we hired."
The news conference continues as we write. We'll update with salary and contract details as they become available. ASU Athletic Director Terry Mohajir says the buyout is bigger than former ASU coach Gus Malzahn's.
Indeed it is. According to the contract, the first-year buyout is $1.75 million. Auburn paid only $700,000 to take Malzahn out of Jonesboro.
In all, the five-year deal pays Harsin $700,000 per year, plus incentive bonuses. Harsin gets housing and two automobiles.
Harsin, who spent five years at Boise State before joining the Texas staff in 2011, was making $675,000 annually. Malzahn was making $850,000 annually.

Latest Arkansas Business Poll
Do you approve of Gov. Hutchinson's plan to deal with health care?