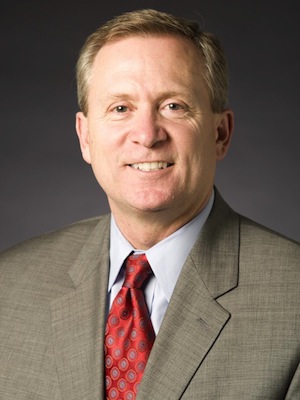 University of Arkansas Athletics Director Jeff Long.
University of Arkansas Athletics Director Jeff Long is continuing to earn praise for how he and the university handled the Bobby Petrino matter.
This week, the university received an award for "Best Crisis Management" in PR Daily's 2013 Nonprofit PR Awards.
"The way Jeff Long explained his decision to fire a popular coach exemplified leadership skills and drew nationwide praise," PR Daily said in announcing the award.
We won't rehash all the gory details here; we figure everyone's fairly familiar with what happend, re: Bobby Petrino, motorcycles, state troopers, mistresses, etc. All of it resulted in two now-legendary news conferences, five days apart: one announcing the suspension of Petrino and an investigation; and another announcing the results of the investigation and Long's decision to fire the coach.
In a news release announcing the award, the UA described how the althetic department and university communications officials collaborated on how to handle the situation:
Long worked extensively with [Kevin] Trainor and [John] Diamond to lay out the case for his decision. They took an unconventional approach – at least in terms of sports: They decided to provide the facts needed to convince fans and observers, through commonsense and workplace principles, that Long had only one respectable option: to fire Petrino immediately. In announcing that decision Long said, "Our expectations of character and integrity in our employees can be no less than what we expect of our students."
You can read more about the award here and here.
Plus: In April, Chris Bahn talked to John Diamond about the process of crafting the 673-word speech that Long delivered when he announced that he'd fired the football coach.

Latest Arkansas Business Poll
Do you approve of the president taking executive action on immigration?