by George Waldon on Monday, Sep. 2, 2013 12:00 am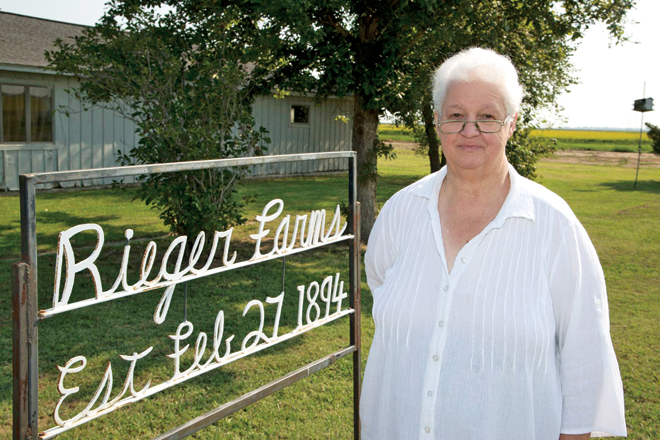 Mary Louise Rieger Bullock outside of Rieger Farms, a property in Stuttgart that is now the center of a lawsuit. (Photo by Jason Burt)
Two years after getting sued, Mary Louise Rieger Bullock is still waiting to have her day in court. The chain of events behind the case has left the widowed matriarch of Rieger Family Farms frustrated and has her new lawyer considering all options.
Bullock expected she would get to testify in a dispute that arose after the 2010 sale of her farm near Stuttgart. But her non-jury trial came and went on March 26 in a flash of courtroom confusion that Bullock blames on her lawyer, David Carruth of Clarendon, and which Carruth blames on imprecise language from the judge.
"I went there for a hearing and got pulled into a trial," Carruth said. "When I got to the courthouse, I learned this would be a trial on the merits, and the judge said I should've understood that."
Circuit Judge David G. Henry ruled in favor of Stephen Hoskyn, who farmed Bullock's property on a lease basis before the $2.5 million sale and continues to farm the 713 acres under the ownership of the buyer: Bear Slough LLC, led by Witt Stephens Jr. (See chronology at the end of this story.)
Henry awarded the full $25,148 judgment sought by Hoskyn. Maybe the outcome would have been different if she and other planned witnesses could have testified about the disputed lease provision.
Maybe not.
Regardless, Bullock said she could've accepted the decision if she had gotten to tell her side of the story and call her witnesses. But she didn't. No one took the stand on her behalf because of Carruth's hearing-trial confusion.
Planned depositions and discovery weren't accomplished before the trial, and a request for a jury trial didn't get filed in time by Carruth either.
At a post-trial meeting at Bullock's house later on March 26, Carruth couldn't explain why he hadn't stayed on top of the case enough to know a trial date was set, not a hearing date.
"I asked him, 'What have you been doing all this time?'" said Tommy Drew, Bullock's farm manager, who was supposed to be a witness at the trial. "He wouldn't answer me."
Drew said Carruth described it as "the worst mistake of my career."
Carruth this year became a Monroe County District judge, a part-time position that allows him to maintain his law practice. Drew wondered if his new duties as a judge had distracted him from Bullock's case.
Carruth also is the attorney in a high-profile lawsuit against the Arkansas Game & Fish Commission regarding duck hunting rights and practices in three northeast Arkansas wildlife management areas: Big Lake, St. Francis Sunken Lands and Dave Donaldson Black River.
'Plenty of Time'
Arkansas County Circuit Judge David G. Henry sent out notice of the trial on Jan. 8: "This case is set for one-half day hearing." Carruth said he interpreted the notice, in which the word "trial" doesn't appear, as a notice for a hearing on March 26.
Theresa Beiner, professor of law at the University of Arkansas at Little Rock, said the wording of the notice seemed unusual because the word "trial" is noticeably absent.
However, the phrasing might be considered normal for that local court, she said.
"It seems weird that the lawyer didn't call [earlier] to see what this [notice] was about," said Beiner, who teaches civil procedure, among other topics. "You should be checking to see what's going on. That's my estimation."
Christina Boyd of DeWitt, the opposing attorney, didn't share Carruth's confusion.
Boyd responded that she was prepared to begin the trial when Judge Henry asked the parties if they were ready to proceed.
Carruth told the judge that he came prepared for a hearing and not a trial.
"What sort of hearing did you come prepared for, Mr. Carruth?" Henry asked. "Well, that was the quandary as to what was necessary for a hearing," Carruth answered.
The judge asked Carruth why he would assume the proceeding was a hearing when there were no pending motions to necessitate a hearing.
"This case was set, whether you call it a hearing or a trial, whatever you want to call it, it was set on Jan. 8," Henry told Carruth. "There has been plenty of time, if there was any confusion, to have clarified any questions. And this was set for half a day. And any status conference usually can be handled in 30 minutes or an hour."
Carruth made an unsuccessful 11th-hour attempt to get the trial continued and changed to a jury trial.
Under Arkansas law, a motion for a jury trial must be filed at least 20 days before the scheduled trial date. Carruth made the request less than 24 hours before the March 26 trial.
He also requested a continuance of the March 26 "hearing" if the purpose of it "should be for other than a status hearing." Both requests were made as part of a "motion for clarification of purpose of hearing and, if necessary, continuance."
Judge Henry noted Bullock's absence when he opened the trial. During a recess 20 minutes into the trial, Carruth called Bullock and asked her to come to the courthouse because the trial had started.
Bullock was shocked because Carruth had told her the day before that the proceeding was some sort of pretrial hearing and wouldn't require her attendance.
"If you would have told me this yesterday, I wouldn't have taken my medication this morning," Bullock said she told Carruth.
Bullock said she takes prescribed medication that affects her ability to safely drive. Bullock said the sudden rush to get to a surprise trial was overwhelming. She wasn't sure where she would need to park, so she wouldn't have to walk too far. She also would have needed help negotiating the courthouse steps.
Bullock said Carruth advised her not to "hurt yourself getting here." She never made it to the courthouse.
Bullock was upset with Carruth's handling of the case and hired new legal counsel to seek a new trial and possibly appeal the case.
Jeffrey Swann of the Little Rock firm of Perkins & Trotter filed a motion for a new trial with Judge Henry but that effort was unsuccessful.
"It's one of the most bizarre and unfortunate set of facts I've come across," Swann said of the case. "The purpose for our request for a new trial was to right the wrongs of Ms. Bullock at trial. We're considering our options on appeal, weighing the risk-reward."
Chronology of Stephen Hoskyn v. Mary Louise Rieger Bullock

March 23, 2010
Mary Louise Rieger Bullock signs a five-year lease with Stephen Hoskyn to farm 718 tillable acres, 3.5 miles southeast of Stuttgart as the crow flies. The annual cash rent of $105,000 also grants hunting and fishing rights to Hoskyn and use of a 40-acre reservoir, hunting pits and blinds on the land. Before the lease is finalized, Hoskyn asks to pull and rebuild an old, deep-well pump on part of Tract 2 of the farm to improve irrigation. In return for him paying for the work, 20 percent of the cost will be deducted for each year he farms the property. This agreement is included in the lease.

Dec. 16, 2010
Bullock sells her family's farm for $2.5 million to Bear Slough LLC, led by Witt Stephens Jr., and assigns the Hoskyn lease to the new owner. However, a clause in the lease becomes grist for a lawsuit: "In the event Tract 2 is sold during the original term, [Bullock] shall pay [Hoskyn] a pro rata amount (for the costs of improving the well) for the years remaining on the lease had it not been terminated as a result of the sale …"

Feb. 18, 2011
Hoskyn signs a one-year share lease with the new owner of the farmland. Unlike the cash lease with Bullock, the agreement with Bear Slough is a 50-50 lease.

The owner-tenant split all income derived from the farmland, including crop sales and government payments.

Production costs, which include seed, fertilizer, lime, chemicals, application services and grain-drying expenses, also are split 50-50.

Bear Slough pays all the costs for pumping water to irrigate the crops and retains hunting and fishing rights to the property.

July 18, 2011
Hoskyn sues Bullock in Arkansas County Circuit Court in Stuttgart. He claims that the sale terminated the lease and that she breached the lease agreement by not reimbursing him $25,148 after she sold the farm. The pro rata cost is associated with his out-of-pocket expenses for the 2010 well.

Bullock counters that the cash rent took into consideration Hoskyn paying for the well work and that she didn't terminate the lease.

Her position: She agreed to reimburse him for any outstanding pro rata costs of the well during the five-year lease term in the event he was unable to farm the improved property as a result of a sale. Hoskyn is still farming the land after the sale (and continues to farm it), and Bullock alleges he is actually making more money under the new lease and suffered no financial damage from the change of ownership.

Aug. 14, 2012
Timothy Watson Sr. of Newport files a petition to withdraw as Bullock's attorney in the case. Watson has laid a foundation for the case through an initial round of deposition and discovery. More pretrial work is planned.

Watson asks to withdraw for reasons of convenience to his client to obtain counsel closer to home and the circuit court of Arkansas County.

Aug. 15, 2012
Circuit Judge David G. Henry signs an order authorizing Watson to withdraw as attorney of record for Bullock.

Sept. 19, 2012
Bullock writes a $2,500 check for a retainer fee to hire David Carruth of Clarendon to take over her case.

Jan. 11, 2013
Circuit Judge Henry sets the nonjury trial on March 26 and notice is sent out to several recipients, including Carruth.

The wording of the notice becomes a point of controversy for Carruth: "This case is set for one-half day hearing on March 26, 2013, at 9 a.m. in the Arkansas County Courthouse in Stuttgart."

Jan. 16, 2013
Carruth files an entry as the attorney of record for Bullock.

March 25, 2013
Carruth files a motion for clarification of the purpose of the "hearing" and if necessary a continuance. He also requests a jury trial.

March 26, 2013
The trial is held, and Hoskyn is the only witness to take the stand. None of the prospective witnesses for Bullock is present. Carruth hasn't notified them of the trial because he thought the proceeding was an unspecified hearing.

Carruth phones Bullock during a recess and informs her that the trial has started and asks her to come to the courthouse to testify.

She is stunned to learn about the trial and tells Carruth she has taken prescribed medication that might impair her ability to drive safely. Carruth doesn't ask the court for accommodation to get her to the trial. No transportation is arranged for her, and she doesn't attend the trial.

April 30, 2013
Judge Henry rules that Bullock didn't breach the lease but is responsible for paying Hoskyn's claim. Although Bullock assigned the Hoskyn lease to the new owner, the judge's letter of opinion indicates the sale terminated the lease.

Hoskyn is awarded $25,148 plus 5 percent annual interest dating from Dec. 31, 2010, to the entry of the judgment and 10 percent annual interest after that until the judgment is paid, $2,500 attorney fees and costs.

May 14, 2013
Bullock asks for a new trial through a new attorney, Scott Morgan and Jeffrey Swann of the Little Rock firm of Perkins & Trotter. The first item listed among the grounds for a new trial: "Mrs. Bullock was prevented from having a fair trial due to irregularity in the proceedings and order of court."

June 25, 2013
Judge Henry issues an order denying a new trial.

Latest Arkansas Business Poll
Notice: Undefined property: ArrayObject::$question in /home/admin/public_html/ab/www/wolf/plugins/publish/views/_sidebar.php on line 64