by Mark Friedman on Monday, Nov. 25, 2013 12:00 am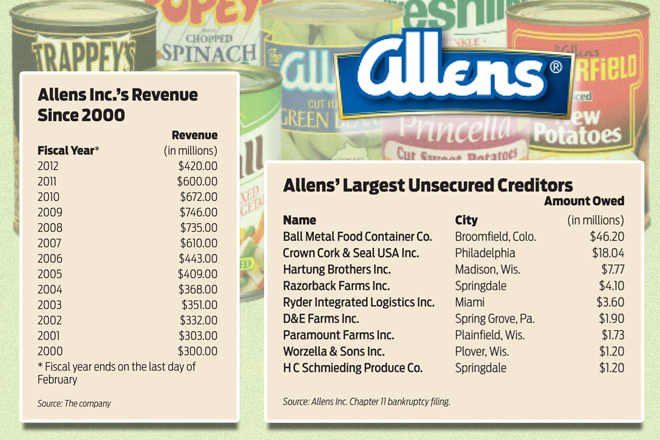 Allens Inc. sold most of its financially disastrous frozen-foods division in 2012, and now the rest of the company is up for sale, according to documents filed in one of Arkansas' largest bankruptcy cases.
As of last week, at least one bid was being put together to buy the 87-year-old Siloam Springs company from its founding family, according to an attorney involved in the case who asked not to be named because he didn't have authority to speak on the record.
The attorney said he didn't know the identity of the potential buyer.
A spokesman for Allens declined to comment on the Chapter 11 bankruptcy reorganization, which was filed Oct. 28 and estimated the company's debts at $279.9 million.
If Allens is sold, it probably wouldn't be good news for the unsecured creditors. They are owed an estimated $101.9 million, according to an Allens' bankruptcy filing by Jonathan Hickman, who is managing director of Alvarez & Marshal Holdings LLC and Allens' chief restructuring officer.
"There's no chance" that the unsecured creditors will get paid in full, said another attorney involved in the case who would only comment on condition of anonymity.
Allens' two largest unsecured creditors are Ball Metal Food Container Co. of Broomfield, Colo., which is owed $46.2 million, and Crown Cork & Seal USA Inc. of Philadelphia, which has a claim of $18.04 million.
As of last week, Allens hadn't filed its complete financial information with the bankruptcy court. U.S. Bankruptcy Judge Ben Barry agreed to extend until Dec. 26 Allens' deadline to report all its assets, debts and other financial information.
In its initial bankruptcy filing, Allens estimated its assets at between $100 million and $500 million.
One of Arkansas' largest private companies, Allens has about 1,175 employees, with 448 in Arkansas. In addition to the Allens brand, the company's brands include Popeye Spinach, Princella, Freshlike and Royal Prince.
Surviving the Depression
Founded in 1926 by Earl Allen, Allen Canning Co. survived the Great Depression and the severe droughts of the 1930s, according to the company's website.
In 1936, Earl Allen's 17-year-old son, Delbert, began working at the canning plant and managed the company's books, according to a history compiled when Delbert Allen was inducted in the University of Arkansas' Business Hall of Fame in 2007.
In the 1940s, the company grew by providing canned vegetables to the military during World War II and then to supermarkets after the war, according to the report by Hickman, Allens' chief restructuring officer.
After Earl Allen's death in 1948, Delbert Allen took control of the company.
"He built a sales and marketing department, developed branded products and established a generous profit-sharing program for all employees," according to the Hall of Fame history.
During the 1960s and 1970s, Allens expanded "on a number of fronts to keep up with consumer demand and accommodate a growing slate of products," Hickman said in his filing.
After Delbert Allen's death in 1988, Allen family members continued to manage the business.
In 1999, Delbert Allen's son, Roderick "Rick" Allen, bought out his brother, Delbert "Pete" Allen, and was the chairman and CEO until April 2013. Today, Rick Allen remains chairman of the board and his sons Josh and Nick are CEO and executive vice president.
Frozen Market
In the 1990s, Allens' revenue climbed.
In 1997, Allens' revenue was estimated at $200 million, and a year later it was more than $330 million, according to numbers the company provided to Arkansas Business for its annual list of the largest private companies in the state ranked by revenue.
In the 2000s, Allens expanded through acquisitions. In 2003, it bought the Veg-All brand of canned mixed vegetable from Birds Eye Foods Inc., and a year later it purchased Birds Eye's Freshlike brand.
The acquisitions inflated Allens' revenue to $409 million in 2005, which was up 11.1 percent from the previous year.
By 2006, Allens reached "the saturation point in the market for canned vegetables," James Phillips, Allens' spokesman, told the Arkansas Democrat-Gazette. So it decided to jump into the frozen-vegetable market by purchasing private-label brands from Birds Eye. Those brands processed vegetables for customers including Wal-Mart Stores Inc. and Kroger Co.
"We've never done frozen before," Phillips told the Democrat-Gazette. And that inexperience was soon apparent internally — Allens "incurred substantial debt" to buy Birds Eye's lines, Hickman reported, though he didn't list the amount — although the additional business line certainly added to top-line revenue.
For the fiscal year that ended Feb. 28, 2008, Allens had $610 million in revenue, up nearly 38 percent from the previous year.
Allens' self-reported revenue peaked at $746 million in the fiscal year that ended in February 2010, and it had 2,100 employees.
Canned Food Sales
But Allens was beginning to show cracks.
As Allens struggled to integrate the frozen division into its business, overall sales of canned items in the United Sates were dropping. That trend started in the early 1990s when Americans started thinking twice about buying canned foods.
"The increasing availability of fresh produce, frozen produce and the rise of the takeout menu greatly diminished the demand for canned food," Hickman said in his report.
Overall sales of canned and preserved foods have declined since 2009, according to a March 2013 report from Euromonitor International of Chicago, which conducts market research.
"While offering the advantage of low prices and long shelf life, canned/preserved food suffers from a poor image," the report said. Part of the problem is that some canned items can be kept on the shelf for up to five years before spoiling, "much longer than their chilled and frozen counterparts," the report said.
Also there is a perception that canned items are unhealthy because of the amount of sodium added as a preservative, which is often more than a daily recommended serving.
"Given the current health and wellness mindset of Americans, they are trying to avoid canned/preserved food if they can afford to do so," Euromonitor said.
Sales of canned vegetables reached $3.16 billion in 2011 before falling to $3.131 billion in 2012, according to Euromonitor International's report.
And the number of cans of vegetables shipped fell 6.6 percent between 2010 and 2012 to 9.05 billion in the United States, according to the Can Manufacturers Institute in Washington, D.C.
Trouble Worsens
In 2011, Allens started "to face significant operating challenges related to the production of canned vegetables," Allen's Hickman said in his report.
That year, "a historically strong harvest led to high inventory levels that processors, including [Allens], were unable to sell before the pack season," he said. "Consequently, many processors lowered prices and increased promotional activity, decreasing dollar sales and adversely impacting margins."
Making matters worse, prices rose on items such as the cans and fuel.
Allens' earnings before interest, taxes, depreciation and amortization totaled $46 million for its fiscal year that ended in February 2010. A year later, it had fallen to $8.5 million, Hickman said. Revenue that year was $672 million.
Taking a knife to costs, Allens closed a Fort Worth plant in 2011, eliminating 70 jobs.
Also in July 2011, Seneca Foods Corp. of Marion, N.Y., and Allens entered into talks to merge the two companies "in a stock for stock transaction," according to a joint news release. But the deal collapsed within two months.
Meanwhile, Allens' frozen division still wasn't performing as Allens had hoped.
Carrying out a business plan for the frozen division "proved difficult, and it resulted in significant operating loses," Hickman wrote.
Allens sold off the most of its frozen-vegetable business in March 2012 to the Bonduelle Group in France for a price that wasn't disclosed.
Publicly, Allens put a positive spin on the move.
"The transaction will allow the Allens organization to focus intently in the future on its core competencies: canned and Southern-style frozen vegetables," Allens said in a news release at the time.
Rick Allen, who was chairman and CEO of Allens at the time, said in the release that he was happy with the sale.
"With this renewed concentration, we anticipate greater growth, more innovation and even better customer service and product quality," he said.
Allens' restructuring helped bring its EBITDA to $24.2 million for fiscal 2012.
"However, the Company's margins remained below historical levels," Hickman said. Allens "continued to experience operational difficulties … and began to experience severe liquidity constraints."
Hickman didn't provide details on what the liquidity constraints were.
Chapter 11
After limping through this year, Allens tried to improve its working capital and was in talks with a "third party to secure an equity investment," Hickman said. Hickman didn't name the third party in his report, but the deal also fell apart.
Hickman said the management team worked hard to improve Allens' books, but unfortunately, it has "continued to struggle to implement its business plan while attempting to at the same time service their debt."
He said the company's only option was to file for Chapter 11 bankruptcy and hope to find a buyer or investor or to restructure its debt.
The company said in a news release that it plans to make it through the bankruptcy.
"Allens has a long and proud history and we intend to use the reorganization process to become a stronger, more competitive business," Josh Allen, president and CEO of Allens, said in the news release that announced the bankruptcy. "We remain firmly committed to serving our customers and providing consumers with great-tasting, affordable and high-quality vegetables."

Latest Arkansas Business Poll
Do you approve of the president taking executive action on immigration?