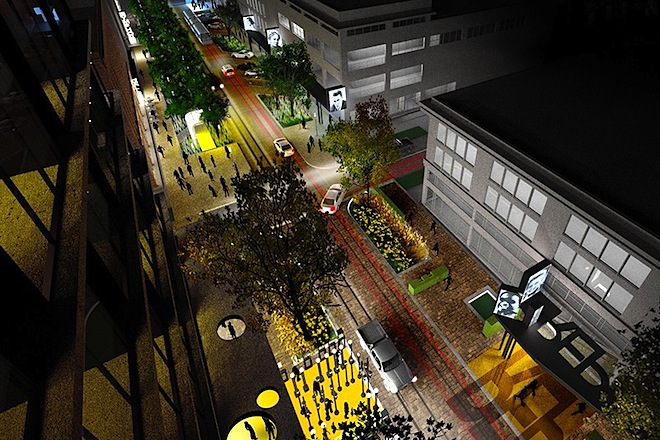 A rendering of Main Street's Creative Corridor by the University of Arkansas Community Design Center and Marlon Blackwell Architect.
Our all-new sister site, Little Rock Soirée, is checking in on progress along Main Street in Little Rock, where millions of dollars in renovation is promising a new "creative corridor" of arts, culture and tech.
This week, Soirée talks to Downtown Little Rock Partnership Executive Director Sharon Priest, visual artist Matt McLeod, Arkansas Symphony Orchestra Executive Director Christina Littlejohn, Arkansas Repertory Theatre Producing Artistic Director Bob Hupp and artisan cheesemaker Kent Walker about how downtown revitalization is coming together.
This, as a laundry list of projects -- the Mann on Main development, the K Lofts, a new hotel, CRJW's move to the Fulk Building, Orbea's North American headquarters and the Tech Park -- are moving ahead:
For visual artist Matt McLeod, who will have a gallery coming this summer in the Arkansas Building, the early plans and backing for the creative corridor showed him people were serious about having a "strong, creative culture" on Main Street.

"It's absolutely the reason I chose this spot," he said. "There's a very cooperative environment going on. The [City of Little Rock] wants this to happen and developers do, too."

With the great opportunity and support from city leaders, McLeod said he believes this is something he could look back on in 20 or 30 years and feel proud to have been a part of "something special."
"Little Rock is my city," he said. "I've lived here all my life, and to be a part of this for creative culture, that's exciting for me."
You can read Soirée's complete report here.
And speaking of Kent Walker, Arkansas Business' Managing Editor Jan Cottingham checked in with him for her restaurants column this week. Six months after an equipment failure spoiled 2,500 pounds of his handcrafted cheese, Walker is ready to get going again on Main Street.
And speaking of Main Street, the Arkansas Times reports that Bennett's Military has found its new home, moving to 608 Main Street. CJRW is taking Bennett's current space at the corner of Main and Third.

Latest Arkansas Business Poll
Do you approve of Gov. Hutchinson's plan to deal with health care?