by Luke Jones on Monday, Mar. 24, 2014 12:00 am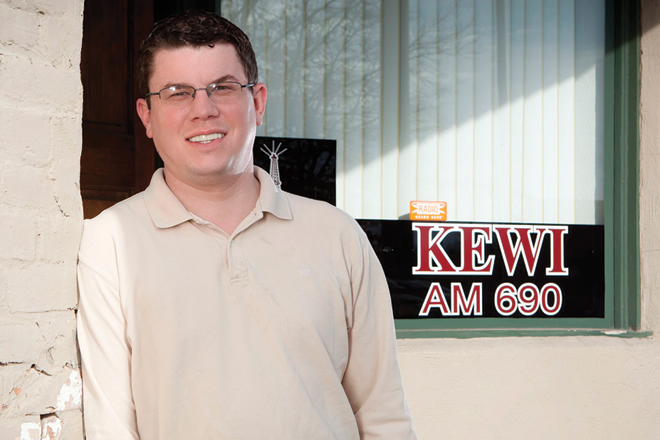 "We tried to work everything out," said Grant Merrill, who purchased KEWI-AM in 2011. In February, he left the station, and it was silenced. (Photo by Michael Pirnique)
(Editor's Note: Grant Merrill offerred little comment for this story. But after the story went to press, he emailed us a more detailed response. We have included it in full at the end of the story.)
In 2011, Grant Merrill bought KEWI-AM, 690, in Benton: Saline County's only functioning radio station. Before he owned it, the station had run stably for years, but three years after his purchase, it's closed and silent.
Merrill has been known as an up-and-coming radio businessman. In 2009, he was profiled in Arkansas Business' "20 in Their 20s" feature. At that time, he was general manager of KUOA-FM, 105.3, The Hog Sports Radio, in Springdale.
So what happened?
Before Merrill owned KEWI, it was operated by Arkansas radio veteran Jim Landers. Landers, 79, started working at the same station in ninth grade when it was KBBA-AM.
Landers bought the station in 1994 and operated it for nearly two decades.
"It was in the red and we put it in the black," he said. "It was in the black for 17 years."
But after those 17 years, Landers was hoping to retire. He began searching for someone to succeed him at the station.
That's when he met Merrill.
"He came in and I was talking to him about him buying the station, and I was interested in selling it," Landers said.
So that's what happened. Landers sold the station to Merrill in 2011 for a price he declined to disclose. Arkansas Sen. Jeremy Hutchinson, R-Benton, helped Merrill make the investment by becoming a silent partner in the property, and Arkansas Tech Angels, a company that invests in startups, also lent some money.
Arkansas Tech Angels is co-owned by Curtis Arnold, a Little Rock resident and founder of CardRatings.com.
"This is one of several investments that we have made in the last two or three years," Arnold said. "This was not a typical investment for us. We usually invest in stuff that's more technology-focused. This did have a component of that through a website and social media, but it wasn't a typical type investment."
Because of the station's proven track record, Arnold said, he didn't expect the investment to be as risky as some of the previous ones he has backed.
"We thought this would be a little safer because the station had revenue before with Mr. Landers and Grant has had some experience, quite a bit in radio."
He said his company typically invests between $20,000 and $60,000 in startups, but in this case it invested "more than we normally would."
Hutchinson did not disclose how much he invested in the station.
At first, things were looking good. Merrill narrowed the station's content, focusing on sports and local news.
But there were other changes made, and some changes that were promised didn't happen.
For example, one of the stipulations of Arnold's investment was that the station begin broadcasting on FM bands.
"That never happened," Arnold said. "We didn't keep a handle on the investment like we should have in terms of being actively involved."
As months turned into years, the partners heard tales of late bills, bounced checks and unpaid employees, all while Merrill dodged communication on the issues.
Finally, this year, Hutchinson and Arnold swooped in to investigate the station's financials. Arnold found that the station "had significant debt, a lot more than we realized. Part of that was that we didn't keep tabs on it."
He didn't disclose the actual debt amount, but it was enough that the partners booted Merrill from his job. In February, Merrill left the station provided that Hutchinson sign a nondisclosure agreement regarding the station's sale. A filing by KEWI with the Federal Communications Commission stated that the station didn't have the revenue to continue operations and requested that it be silenced.
It wasn't the first time Merrill had left a station in disarray: Dan Storrs, current general manager of Hog Sports Radio, said when he took over for Merrill in July 2010, the station was "kind of in shambles," though he declined to go into further detail.
More: Jeremy Hutchinson describes his new plans for KEWI.
Under New Management
Following Merrill's departure from KEWI, a new ownership team has been brought in to repair the wreckage left behind.
And they have some noteworthy plans: FM broadcast, ESPN affiliation, St. Louis Cardinals games.
Hutchinson brought in Mike Wilkins, co-owner of Southwest Media LLC of Russellville, to buy the station out.
Pending FCC approval, the station's license will pass to a new LLC called Saline County Broadcasting. Hutchinson and Arnold will continue to be members of the LLC.
Wilkins said the station is "being recapitalized," and Hutchinson said negotiations are ongoing.
KEWI will become part of a network of sports stations that Wilkins owns including KYXK-FM, 106.9, of Gurdon and KWPS-FM, 99.7, of Caddo Valley. Hutchinson said the full network will reach around 600,000 listeners.
Andy Hodges will serve as the general manager of the station.
Wilkins said some of the station's equipment will be upgraded.
"We're putting in the latest, up-to-date, digital audio processing, which will improve the sound and clarity within its footprint," he said. "It should extend the footprint a little bit."
He said the station currently uses old telephone lines, which will also be replaced with modern transmitter uplinks.
"We anticipate being back on the air sometime in the time frame of two or three weeks," Wilkins said last week.
He's also planning to augment the station to be able to broadcast FM signals. "One thing the previous management had always said was 'we can go FM,'" Hutchinson said. "For various reasons that didn't happen."
He said, "We still have to get approval, and there are hoops to jump through," but the station is on track to convert to FM.
"An FM translator can simulcast with an AM station," Wilkins added.
He also said that KEWI will become the local ESPN affiliate.
"We're also going to cover all the local sports and local news as well as state news," he said.
"We'll be the only St. Louis Cardinals affiliate in central Arkansas," Hodges said.
The original owners and investors are pleased with the direction the station is taking post-Merrill.
"I'm thankful that Mike Wilkins … has stepped in and tried to bring things up to date and keep rolling with it," said Jim Landers, who owned the station for 17 years and sold it to Merrill in 2011. "It's sad that Benton would have to do without a radio station."
As for Merrill's departure, Landers said simply, "good riddance."
Money that the investors lost, Arnold said, is already written off and the new managers are working on bringing the station back into the black. But, Arnold added, there may have been more at play than just mismanagement.
He said some of the clauses of Merrill's contract that were intended to maintain financial control were compromised.
"We feel like some contractual things may have been breached. We are going to pursue it from that angle."
Arnold said he believes Merrill's mishandling of the station's money may go beyond the management of the station, and may result in litigation.
"We're considering a lawsuit on this one," Arnold said. "We're not usually people to sue. We realize there's a lot of risk in any kind of startup. But this was an existing business … there was less risk."
No suit had been filed last week.
"We are excited about the new plan," Arnold said. "We think the new partners have more financial … stability and accountability going forward. They're a lot more sound about it. But we are partly to blame on this."
"I'm excited as an owner who's been through rough times," Hutchinson said. "For Saline County and the people who've grown up listening to this station, the only station in Saline County, the fact that we'll be able to continue and improve that history and legacy is exciting."
As for Merrill, he's still operating Saline247.com, a site for local Saline County news. In February, he registered the domain name Sequoyah247.com for a similar service in Sequoyah County, Okla. The site currently says its content is "coming soon."
Merrill told Arkansas Business that he feels he'll be "vindicated" of any of the accusations made against him.
"We tried to work everything out," he said. "Outside of that, I wouldn't have any comment, other than the fact that we tried to do things right."
Update: Merrill's Response
Arkansas Business received more from Merrill on Saturday, after this story had gone to press but before it was widely distributed. Below is his full response:
First of all, there are some issues that we are continuing to work through. To this point, the buyer of the radio station has ignored most of the terms of this contract. There were some debts that were to be assumed, that sixty days later have still not been paid. I am currently still owed money, as are two freelance employees. I have not had communication with the buyer, but others have, and they are getting frustrated. Also, the FCC database currently shows that nothing has been filed regarding this transaction.
On your questions of mismanagement of the radio station. I did try to do everything right. This was the first business I had owned where we had significant debt, employees, etc. The first year (2012) was pretty challenging, and there were a lot of rookie mistakes that I made. However, there was never anything criminal or anything I did out of outright dishonesty. The first year of operation did leave me with some things that I was in the process of cleaning up when the decision was made to sell the station. My accountant and I worked through a good bit of it.
Let's just sum it up by saying I have no future in accounting or bookkeeping. I learned some lessons.
The buyer, Mike Wilkins, is someone who I've known most of my life. He purchased radio stations in Arkadelphia and Malvern in 2013, and we had originally looked at forming a partnership with my company to buy those stations. When that partnership didn't materialize, that relationship went south. I had confided in Mr. Wilkins during that process that I was still cleaning up some things at KEWI. In due diligence of the radio station, he had inspected our books, and had any information there was on the first year of business.
Following my exit from any potential partnership, Mr. Wilkins turned very vindictive toward me. It seems that just about every week in talking to mutual acquaintances or my investors, there is a new rumor, or a new threat that is more often than not traced back to him.
In December, Mr. Wilkins had a meeting with my investors behind my back, and presented his own analysis of our books, which was completely different than the one provided by my accountant. At the time, he was threatening a lawsuit, and basically told my investors that he would drop his claims if they would sell him my interest in the radio station. Because I had 52% ownership and was managing member, they would not have been able to oust me, and after meeting with the investors the decision was made to move on and turn away Mr. Wilkins offer.
At the time, I also had payment arrangements made with two freelance employees. At least one of those employees has told me that on the same day this closed door meeting took place, they were pressured by Andy Hodges to write my investors that they were concerned about the money owed to them.
Upon further conversation with Jeremy Hutchinson, who is an attorney as well as our partner, a short time later I changed my mind and decided to sell my part of the station. While I could have fought the claims that were made against me, the station had begun to struggle, and I just felt that my relationship with my investors had been damaged by Wilkins to the point that it would be best for all parties involved to move on.
Since then, the rumors and threats have continued. Never directly by Mr. Wilkins, but I continue to hear from other broadcasters and my investors about things that he has said, or that Andy Hodges has said.
I have the utmost respect for Curtis Arnold and Jeremy Hutchinson. The shame of it is, I feel that we could have worked through any issue there was had it not been for Mr. Wilkins interference. Despite the fact that our business relationship is over, I still count them as friends. Senator Hutchinson has gone out of his way to try to help me and to make peace. He even continues to advertise with my new venture, which I appreciate. I have nothing bad to say about my investors.
I was living my dream, and things were really starting to look up when I talked to Arkansas Business in February. It turned into my worst nightmare. I just wish to move on, and I wish my former business partners success.
Thank you for affording me a response.
GM

Latest Arkansas Business Poll
Do you approve of the president taking executive action on immigration?