by Ted Wagnon on Monday, Mar. 31, 2014 12:00 am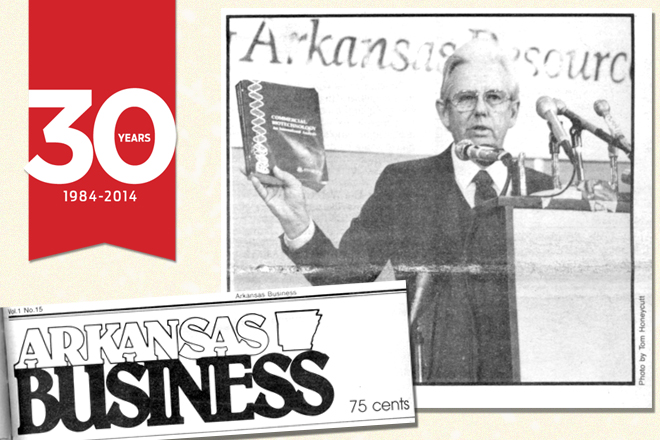 Promoter Paul Simmons at Aug. 17 press conference. (Photo by Tom Honeycutt) | Originally published in Arkansas Business Oct 1., 1984.
A version of this article originally appeared in Arkansas Business on Oct. 1, 1984. It is being republished as part of Arkansas Business' 30th anniversary issue. You can access the digital edition for free here.
A proposed development that was to have catapulted Arkansas into the forefront of high-technology manufacturing is in disarray now, less than two months after its unveiling.
At the heart of this turn of events is Paul L. Simmons, a Tampa, Fla., resident who professes to be a nationally known consultant to major pharmaceutical and "biotechnology" firms.
Simmons is the man who organized a group of Florida investors and persuaded them to come to Arkansas with their plan for BioPlex International, the state's first high-tech industrial park.
Initial investment in a "core facility" for the manufacturing center was set at $10 million, with many times that possible over the next decade, promoters said in August. Thousands of jobs might also be created, they pointed out.
Simmons, who says he has organized high-tech financing packages in Florida, has been portrayed as the key figure in the entire project. He allegedly knows a wealthy individual who has agreed to buy the entire $10 million bond issue, something local officials say is essential to success.
Evidence collected from numerous sources in the pharmaceutical industry, from public agencies in several states and from local economic developers indicates, however, that Simmons' background and business contacts are substantially different from those he has described to Arkansans.
Questions about those inconsistencies have led his local contacts to conclude that the multimillion-dollar project cannot succeed unless Simmons withdraws. Local sources say they remain hopeful, but are not overly optimistic that the project can survive in any case, given the publicity they know is coming.
Their concerns stem from an inquiry by Arkansas Business showing:
• In 1979, Simmons claimed in a national pharmaceutical journal that he holds an engineering degree from a college the FBI now says was a "diploma mill." Its founder, an ex-convict, was arrested last year in Missouri as part of a nationwide crackdown on bogus mail-order colleges.
Simmons has subsequently denied having any postsecondary degree, and insists he did not provide the questionable biographical information to the magazine. The magazine's publisher insists the information was supplied by Simmons and says "we keep that kind of stuff on file."
• Simmons professes to have received an honorary doctorate of divinity by mail from a school in Oklahoma, but says he has forgotten the name. He denies reports that he has operated a church in his home, but concedes he did found a publishing firm named the Religious Order of Systematic Theology, ROST.
• The same acronym is used to identify Research Oriented Systems Technology, a high-tech engineering firm he plans to bring to Arkansas. He claimed on Sept. 25 [1984] to have used ROST since 1976 to develop specialized manufacturing equipment for the biotech industry.
One recent ad described ROST as "maintaining the leading edge of technology" in a series of processes related to genetics and biotech-related pharmaceutical manufacturing, and he described it in that initial interview as the source of several inventions.
Records at the Florida Secretary of State's Office indicate the company was incorporated in 1980. Given that information on Sept. 26, Simmons said he actually set up ROST two years earlier in North Carolina, and then moved it to Florida.
He has advertised ROST as having offices in "Tampa — Little Rock — soon to be in Europe," but revealed Sept. 27 that it is a one-man firm operated from the same office he uses for all his businesses.
• Simmons allegedly told Florida developers he was bringing his project to Arkansas because he had the support of the Rockefeller enterprises in this state. At about the same time, according to his contacts in this state and elsewhere, he was telling them that his financial supporter was a wealthy hotel owner in Florida.
In conversations with Arkansas Business, Simmons first acknowledged having told several Arkansans the Florida hotelier was his backer. He even repeated the claim during that initial interview.
Told that a representative of the hotelier had already denied any ties between the two men, Simmons modified his statement and eventually denied having made the claim to anyone.
He also denies having suggested to the hotelier's business associate that the Rockefeller empire had a financial interest in the Arkansas project.
• Simmons said in a recent article (published in September by a magazine he helped found) that he is certified in Florida to teach college-level engineering and has 12 years of seniority as an engineering instructor in junior college.
Florida education officials say Simmons once held a certificate allowing him to teach part time at a Daytona Beach community college, and that he taught at that school for a number of years. But the certificate covered only vocational courses in refrigeration mechanics and is no longer valid.
• Simmons advertised in his latest magazine that he holds membership in at least three professional and trade associations. Officials of the organization say he is a former member, reporting that his memberships expired anywhere from 1980-82.
Confronted with that information, Simmons insists that any lapses in his membership must have occurred recently and through oversight. He denies any misrepresentations on his part.
• Simmons says in his magazine, BioProcess Engineering, that he has been published "in many of the national trade journals." Pressed to provide references, he was able to name only four; two of them were other publications he helped found.
One of the remaining two journals is Pharmaceutical Technology, published by Aster Publishing Corp. of Springfield, Ore. The editor of that magazine was able to find a single article by Simmons in the April 1979 issue. That article is the one containing the reference to his engineering degree.
ROST is not the only corporate name Simmons has adapted or recycled over the years, a practice that apparently helped confuse local economic developers in some of their background checks on Simmons and his associates.
BioProcess Engineering, for example, is the name of his latest magazine and of an engineering company he helped create in late June, ostensibly to design and operate the central $10 million plant in BioPlex International.
BioProcess magazine is published by the U.S. Bureau of Pharmaceutical Research Inc., another of Simmons' companies; the organization also has advertised plans for an international symposium at Little Rock in late December.
The U.S. Bureau was incorporated in Florida, Simmons says, but records indicate it is a Delaware corporation. No matter, says Simmons when told of that inconsistency. He and Managing Director Don Reed say the important thing is that the U.S. Bureau is a nonprofit consulting and educational group with a history of worldwide service to firms and professionals.
The U.S. Bureau of Pharmaceutical Research also was incorporated in August 1983. Approximately five months earlier, Delaware had deactivated a predecessor, the Bureau of Pharmaceutical Research Inc., for nonpayment of state taxes. The bureau had been set up in late 1981 for the same purposes as those ascribed to the U.S. Bureau, Simmons says.
Finally, there is PET Technical Services Inc., which Simmons describes as "my original consulting business" and the source of most of his professional activity.
Under questioning, however, he concedes that the original really isn't that original. The current PET was incorporated in late 1982, nine months after Simmons filed a bankruptcy petition for a partnership named Pharmaceutical Engineering & Technology. He says the bankruptcy was "the only way for me to dissolve" a relationship that his partner had made intolerable.
Even his harshest critics readily acknowledge that Simmons has a talent for gaining federal approval for such things as sterile water and systems for pharmaceutical production lines. That reputation is not unblemished, however.
Approximately a half-dozen people in the pharmaceutical industry and in the federal Food & Drug Administration were named by Simmons as sound professional references. Those who could be reached confirmed his expertise in specific manufacturing practices.
However, when it comes to the exotic field of genetics, one official of the renowned Genentech Corp. says, "I'm a little surprised. ... I don't think he's in his field there." Another says he recalls Simmons being a consultant for his previous employer: "Later, I saw a lot of my work in print."
One FDA officer says he recalls that one professional group publicly disassociated itself from some of Simmons' practices, and he tells of FDA inspectors who won't work with Simmons because "he's run amok with a few folks."
Local officials and industrialists who learned of this information prior to its publication say they are tempted to use the same phrase. They also worry that a backlash from the Simmons case will put an end to any hopes of speeding up Arkansas' recruiting efforts with high-tech industries.
"The long term is really bleak," says one state official. "There's just no way of telling how far back this could set us."
Copyright 1984, Journal Publishing Inc.
Since Then ...
2014: Editor Ted Wagnon's expose of Paul Luther Simmons as a peddler of multimillion-dollar snake oil put 6-month-old Arkansas Business on the map and set the tone for future reporting.
Simmons is now 85 and living in the Tampa Bay area. Thwarted from his shadowy biotech plans in Arkansas, he went on to leave a trail of entrepreneurial strangeness in Florida.
In 1996, he invented Easy Guide, a device touted as making wheelchairs more maneuverable and hawked by CyberMedix Inc. of St. Petersburg.
In 1999, Simmons was the designer of newly patented umbilical surgical scissors for Veridien Corp. of St. Petersburg.
In 2003, he formed the International Association of Independent Inventors Inc. in Largo and was the research and development director of the International Center for Technology Transfer Inc. He claimed to have more than 40 patents on products in various industries.
In 2004, Simmons was named by the Securities & Exchange Commission as a participant in a pump-and-dump stock scheme for Nutraceutical Clinical Laboratories International Inc. of St. Petersburg, of which he was founder and CEO.
In 2006, Simmons was ordered by a federal judge to disgorge $1 million for his part in the 2000-01 scheme. He retired from the penny stock firm in 2002.

Latest Arkansas Business Poll
Should central Arkansas leaders invest more in bike-friendly infrastructure?