by David Smith on Monday, Mar. 31, 2014 12:00 am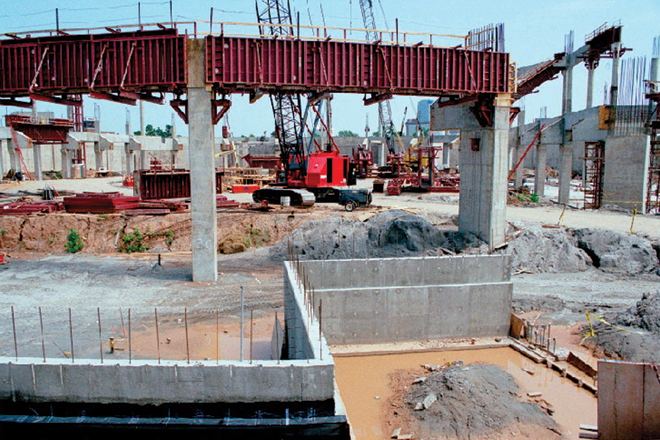 Senior project manager Art Hunkele: "We're going to look back and recall that there was a problem, but we solved it."
A version of this article originally appeared in Arkansas Business on Aug. 3, 1998. It is being republished as part of Arkansas Business' 30th anniversary issue. You can access the digital edition for free here.
Construction on Alltel Arena is more than a month behind schedule because of an error in geometric calculations by the concrete contractor, the senior project manager for the $53 million construction job says.
Art Hunkele, senior project manager for the management team of Vratsinas Construction Co. of Little Rock and Turner Construction Co. of New York and Dallas, candidly admitted the error in an interview on the North Little Rock job site last week. But he's confident the job still will be finished by its Aug. 11, 1999, deadline.
"Our commitment remains to the [arena] board to finish the job for opening in the fall of 1999," says Hunkele (pronounced Hunk-lee).
Other construction sources in the state are not so sure it can be done easily, however.
"I don't see how [the University of Arkansas at Little Rock] can play there in November [1999]," one source says. UALR and Oklahoma State University are scheduled for the first college basketball game in the arena. Even before that, the Arkansas Razorblades professional hockey team is scheduled to begin play in October 1999.
Some construction industry sources indicated a strong likelihood of lawsuits concerning the botched concrete job and other problems.
"You bet your sweet bippy there'll be some lawsuits filed," one construction source says.
"Before that thing is finished, there's going to be lawsuit after lawsuit after lawsuit," another says. "You just mark my words. In six to eight to 10 months, it's going to be all over the papers how bad that project has turned out. It's a shame."
Charles Foster of Taggart Foster Currence Gray Architects Inc. in North Little Rock, part of the arena design team, downplayed the talk of lawsuits.
"In the construction business there is a pending lawsuit around every corner," Foster says.
According to Hunkele, this is how the concrete error occurred:
Nabholz Building & Management Corp. of Greenbrier (not affiliated with Nabholz Construction Corp. of Conway) poured a row of concrete pillars and concrete connecting incline beams that is as much as 6 inches out of alignment in some places.
The entire perimeter of the oval-shaped arena is made up of a row of the concrete pillars and beams. Perhaps 30 feet inside that is another oval row of concrete, and another 30 feet to the interior is a third row. The incline beams will support the seating in the arena.
The row on the perimeter of the arena and the row farthest inside the arena are correctly placed. The row in between is off by 6 inches or less. Hunkele says 40 percent of the steel embeds in that row are out of whack. As the oval row continues around the arena, the margin of error decreases until finally it's back into proper position.
The problem was discovered around July 4 when AFCO Steel Inc. came to the job site to prepare to put up its prefabricated steel beams that connect to the concrete beams all the way around the arena. The mistake means that 40 percent of AFCO's 160 steel beams are either too long or too short to connect to the concrete.
Transposed Dimensions
Erecting the steel could have begun in May, sources say, but nothing has been installed yet because of the mistakes.
"Part of the problem is a misinterpretation of geometry," Hunkele says. "It happened to have been right in a corner. As dimensions came together, they actually were transposed and shifted. Certainly a square building is easier to lay out than an oval-shaped arena. Other [mistakes] were because of a unique forming system and the workers were going through a learning curve."
Hunkele says Nabholz Building & Management had little experience working with an oval design. "Very few of the local contractors in the area have used this kind of system," he says.
Nabholz Building & Management and many other state contractors were used on the project because the Alltel Arena Board, which oversees the project, wanted to award much of the work to in-state firms.
Ray Nabholz, who owns NBMC and who is related to the Nabholz family that owns the large Conway general contracting company, did not return several telephone calls to discuss the problems.
But Hunkele describes Nabholz as "a pillar of the community, everyone's neighbor and a good guy." Another source called Nabholz a gentleman and also spoke well of Nabholz's reputation and past work.
Hunkele, a stocky man with thinning, salt-and-pepper hair and a moustache, seemed genuinely understanding about Nabholz's predicament. Often rubbing his forehead, he chose his words carefully as he spoke.
"This doesn't make him a bad person, and he's certainly not running from the problem," Hunkele says. "Throughout this process, and there have been some high-level, high-pressure meetings, the Nabholz group has maintained their heads up, have listened and have tried to do the right thing. Usually you get into these kinds of things, and they turn belligerent and adversarial. But we have not had that here."
Several construction experts were contacted for comment about the arena problems. All were perplexed at how a mistake of such magnitude could happen.
"That's terrible," one said when informed of the mistake. "Those beams don't have to be precise within a sixteenth of an inch. Even if they're off by an inch it's something that's close enough. But 6 inches? That is people who can't measure."
Foster, the architect, says he's not concerned with the problems encountered in the construction.
"There are adjustments that can be made [to repair the mistakes] to make up that difference so that you nor I would know the difference," Foster says. "The project has gone really well. Always on projects even smaller than this you run into issues that need adjustment. That is very typical in any construction project."
Willard Reese of Garver & Garver Inc., the engineering contractor on Alltel Arena, says the problems encountered are normal for any big and complicated project. "It's pretty much about what you'd expect," Reese says. "It's a hard job, and it takes everybody's best effort to get it done."
A source who says he's familiar with projects many times larger than Alltel Arena with many more steel embeds says he's never had embeds off 6 inches. "To say this is normal on a job of this size, it's not," the source says.
Repairing the problem is "relatively easy and straightforward," Hunkele says. AFCO Steel will begin Aug. 3 working extended hours to weld an extension onto its steel beams that are too short. The longer beams will have to be trimmed and an end-cap must be welded onto the end so they can be bolted properly onto the concrete. The welded steel beams will be just as strong as beams without welds and will meet all prescribed specifications, Hunkele says.
Neither the arena board, which oversees the project, nor Pulaski County will incur any of the extra expenses, Hunkele says.
Nabholz Building & Management's bonding company will be forced to cover the costs associated with the error, Hunkele says. The Greenbrier contractor already has subcontracted some of the work to Baker Concrete Construction Inc. of Monroe, Ohio, a contractor with much more experience in this type of work, Hunkele says. The bonding company will have to pay Baker Concrete, too.
Hunkele unofficially estimates the cost of repairing the steel beams at $20,000-$30,000. But one construction expert says he'd be surprised if the total cost overrun isn't at least $500,000 or much more.
"If the cost is only [$20,000-$30,000], why would you need the bonding company, and why would you have to get a second contractor, Baker Concrete, to come in?" the source asks. "Somebody could just reach down in their pocket and pay that."
Those costs might grow when extra manpower is required to catch up on the project's schedule. Instead of having workers earning overtime, Hunkele is considering hiring more workers to work different shifts. A problem, however, is that unemployment is so low that it is difficult for any contractors to find workers, even in neighboring states.
Work on Alltel Arena began in July 1997, and 10 weeks of contingency time were built into the schedule in anticipation of problems or delays, Hunkele says. But those 10 weeks already have been taken up because of, in part, "productivity problems," he says.
Those problems began in March when precast bids were delayed two weeks because it appeared only one company would bid the job, Hunkele says. The company that won the bid was unable to deliver the precast until mid-May. Other delays came when some budget trimming ideas were being evaluated.
The bottom line now is that the overall job is about five weeks behind schedule, Hunkele says. Overall, the work in place is about 15 percent less than what Hunkele had hoped it would be now.
Foster says, "We've got more than a year to finish this thing. We can make up a lot of time in a year."
Hunkele is confident various contractors will be able to make up the time.
"It is not insurmountable," Hunkele says. "I would rather be playing more golf than worrying about solving those problems. But on opening night when everybody is sipping the bubbly, we're going to look back and recall that there was a problem, but we solved it."
Since Then ...
2014: The Verizon Arena — originally named the Alltel Arena — in North Little Rock will mark its 15th anniversary later this year, and most of that history has been remarkably smooth.
But getting there was shaky.
Arkansas Business would win national recognition for this scoop on a serious construction error that would set back progress and inspire litigation. (It's also the only time the words "you bet your sweet bippy" were ever published in Arkansas Business.)
But the geometric mistake was only a taste of things to come. Sixteen months later, in October 1999, the inaugural event at the arena was canceled three hours befor the Los Angeles Lakers and the Washington Wizards were to tip off because project engineers discovered cracks in an upper-level "raker beam" that had been poured a year earlier.
Reinforcement columns were installed, and the arena has functioned as intended. But there was a lesson to be learned from the terms of the contract between the Pulaski County Multi-Purpose Civic Center Facilities Board and Vratsinas Construction Co./Turner Construction Co., which penalized late completion of the arena but didn't penalize failure to report known construction defects.
TAGGED:
Alltel Arena
,
Art Hunkele
,
Turner Construction
,
Charles Foster
,
Taggart Foster Currence Gray Architects Inc.
,
Nabholz Building AND Management Corp.
,
AFCO Steel Inc.
,
Ray Nabholz
,
Willard Reese
,
Garver AND Garver Inc.
,
Pulaski County Multi-Purpose Civic Center
,
Arkansas Business 30th Anniversary
,
Vratsinas Construction Company
,
Verizon Arena

Latest Arkansas Business Poll
Do you approve of the president taking executive action on immigration?