by John Haman on Monday, Mar. 31, 2014 12:00 am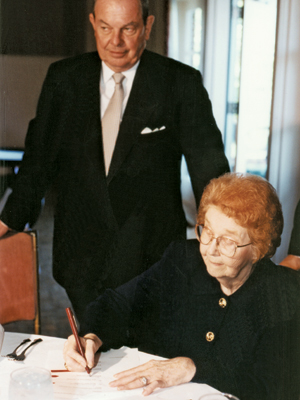 Jack Frost was on hand when Bernice Jones created the Bernice Young Jones Educational Trust for Family & Community Studies in October 1995.
A version of this article originally appeared in Arkansas Business on May 19, 1997. It is being republished as part of Arkansas Business' 30th anniversary issue. You can access the digital edition for free here.
H.G. "Jack" Frost Jr. was only a part-time employee of the Harvey and Bernice Jones Charitable Trust 1 in his position as trustee, but in fiscal year 1994 his salary tripled, giving him an annual compensation package of more than $350,000 in salary and consultation fees.
In early April, under unknown circumstances, the Little Rock accountant and management consultant was relieved of his duties as accountant for longtime friend and client Bernice Jones of Springdale, the spectacular philanthropist who has contributed at least $58 million to Arkansas causes and plans to deliver millions more. But though he suddenly was no longer handling several charities associated with the Jones family estate, he remains one of two trustees for the trust No. 1 — Mrs. Jones being the other.
Since Frost's departure, his compensation has been widely viewed as an issue in the dispute, but neither he nor officials with the trust will comment on the circumstances.
Similarly, neither Frost nor Springdale cardiologist Dr. Joel Carver — a director of the trust and former chief executive officer of the Harvey & Bernice Jones Center for Families — will comment on why Frost remains as trustee or speculate as to what action would be necessary to remove him.
Under Arkansas law, disputes between co-trustees can be settled in Chancery Court. The Washington County Chancery Court record creating the trust has been sealed since 1992.
But motions were filed earlier this year pertaining to the case, says Kathleen Harness, Washington County circuit clerk. Like the original filing, the motions are also sealed.
Meanwhile, as the dispute between Mrs. Jones and Frost continues, a bronze bust of Frost, paid for with the personal funds of Carver and Mrs. Jones, stands in front of the Jones center, oddly out of place.
Sudden Raise
A review of the trust's federal tax records indicates Frost was paid $150,000 in salary and $204,441 in consulting fees in fiscal 1994, which extends from November 1994 through October 1995. The tax forms were signed by Frost and an accountant from KPMG Peat Marwick, the Little Rock accounting firm handling the returns. Mrs. Jones, the other trustee, didn't sign them.
Frost's salary rose sharply that year from previous years. In fiscal 1993, for example, Frost received $48,000 in salary and $291,300 in consultation fees from the trust. In fiscal 1992, Frost was paid $48,000 in salary, but only $19,452 was spent on "other professional fees" and Frost's consultation company wasn't listed as a recipient on the attached form.
Most interestingly, the year Frost began receiving the large consultation fees (fiscal 1993), he switched legal publication of the announcement of the availability of the tax forms to The Times, a 7,500 weekly-circulation newspaper in North Little Rock, from the Arkansas Democrat-Gazette, the largest daily newspaper in the state.
A letter from the KPMG Peat Marwick accountant, which was filed with the trust's 1993 tax forms, instructed Frost to publish the availability of the tax return in the Arkansas Democrat-Gazette, but the words had been marked through with a red pen and "North Little Rock Times" handwritten out beside them.
The Harvey & Bernice Jones Charitable Trust 2, a much smaller sister fund whose assets have mostly fluctuated between $700,000 and $800,000 since 1990, does not provide a salary to Frost. The legal ads for Trust 2 were moved from the Arkansas Democrat-Gazette to The Times in fiscal 1994.
Shortly after the announcement in April that Frost was no longer working with the Springdale philanthropist, Hendrix College officials confirmed that a planned campus center to be funded by Mrs. Jones and named for Frost, one of the college's trustees, would be delayed. Helen Plotkin, a spokeswoman for Hendrix in Conway, says Mrs. Jones confirmed she would fund the center, but a timetable wasn't established.
"We've put the project on hold until we receive the funding," says Plotkin, adding that she wasn't sure if the center still would be named for Frost. Construction would have started in June if not for the announcement.
Company Sales Top $84 Million
The Joneses likely had already amassed a fortune when their Springdale-based trucking company, Jones Truck Lines Inc., was sold to Sun Co. in 1980 for the equivalent of nearly $56 million. But with the riches earned in the sale, coupled with $27.5 million Mrs. Jones made off the 1996 sale of the Springdale bank holding company Financial Investment Corp., Mrs. Jones' philanthropic coffers clearly top $84 million — and that's an extremely conservative estimate, based only on the sectors of Mrs. Jones' financial life known to the public, and not including any investment returns she may have made on the principal. The Joneses have no children and no apparent heirs.
Of that $84 million, Mrs. Jones has given away at least $57.8 million to colleges, hospitals, religious organizations and other socially minded causes in the state. Some of the gifts, like the $2.35 million she has given to the Baptist Boys Ranch in Harrison, have largely escaped public notice, while others were announced at news conferences with fanfare but without financial specifics.
According to tax forms filed by the trust, the private foundation had $58.3 million in fair market value assets at the end of fiscal 1992. That year, the trust gave $11.1 million to charities and lost $6.1 million in the stock market — $6.6 million of it (they made money on some stocks) on Sun Co. stock alone. The Joneses ended up with about $45 million in Sun stock when they sold Jones Truck Lines to Sun in 1980.
At the end of fiscal 1993 the trust had $42.3 million in assets, as Mrs. Jones gave $7.7 million to charity. At the end of 1994 the trust had $79.1 million, having given away $23.5 million. That year, the trust spent $535,329 on interest, paid $1.6 million in "other liabilities" and took out a $20.3 million mortgage to make speculative investments.
"The logic was you can earn more money in the equity markets than the cost of borrowing," says Carver, a close friend of Mrs. Jones.
Carver says the foundation's debt has "been reduced substantially ... more than 50 percent" from its peak, but he wouldn't reveal how much the foundation owed at that point. The trust is still invested, he says, and he and Mrs. Jones have budgeted an 8 percent return for the current fiscal year.
Accountants for the trusts have asked for time extensions to file their foundation-related income tax returns for fiscal year 1995.
Although many gifts have been made in cash, Mrs. Jones often prefers to pay construction bills as they're submitted for projects she's funding, Carver says. That method allows her to continue earning interest on her money — a wise tactic for someone who considers herself "Scots-Irish" and thrifty.
Family Center to Survive
In an interview Wednesday, Carver denied speculation that recent Jones gifts — or disappointing lot sales at Mrs. Jones' new Springdale subdivision, Har-Ber Meadows — had overextended the foundations, jeopardizing her ability to endow the Center for Families' operations. Carver says the center "should be" funded in perpetuity, but "there are no absolute guarantees."
Although construction costs at the center were $7 million over budget, the expense was still less than the maximum price guaranteed by the contractor and the architect, Carver says. Cuts also were made while construction was under way. One gymnasium was eliminated from the plan, and the pool and ice rink were both made smaller than originally proposed. But other things such as a television station were added, he says, although the station's paid employees recently were terminated.
Also cut back at the center was the child-care program, which was handling 1,000 children per month at a cost to the center of $15 each. The program, Carver says, is being revamped for use by people with financial need: single parents, for example, or welfare recipients attending classes in the center aimed at helping them become self-supporting.
Since Then ...
2014: In August 1997, three months after Arkansas Business reported on Jack Frost's ballooning income, the Jones Charitable Trust filed a civil lawsuit accusing him of defrauding the trust of more than $1.6 million by forging Bernice Jones' signature on checks, destroying documents and misleading auditors.
As the story hinted, Jones did not know how much Frost was paying himself from the trust, because his legitimate salary exceeding $1.1 million from Jones Investment Co. was supposed to compensate him for all Jones-related work, including for the charitable trust.
The total diverted to Frost's control between November 1993 and March 1997 exceeded $1.6 million.
Frost denied any wrongdoing, including any forgery. The civil suit was settled confidentially in 1998, but tax documents and a subsequent restitution order indicated that Frost paid the trust $277,417.
In February 1999, almost two years after the embezzlement was discovered, a federal grand jury in Little Rock indicted Frost on 70 felonies: 62 counts of money laundering, three counts of filing a false tax return, two counts of wire fraud and one count each of mail fraud, making false statements to a grand jury and obstruction of justice. The charges upped the amount of the trust's loss to $1.8 million.
Legal wrangling kept the trial from starting until November 2001. On Dec. 5, 2001, a federal court jury in Little Rock convicted Frost on 69 counts — all except one that had been dropped by prosecutors. Despite big-name character witnesses, Frost was sentenced to 70 months in prison and $1.5 million in restitution. He remained free while his conviction was appealed to the 8th U.S. Court of Appeals in St. Louis, but after losing the appeal, he entered prison in May 2003, less than four months before Bernice Jones died at age 97.
Frost was released four years later and died, at age 80, in May 2012.

Latest Arkansas Business Poll
Do you approve of the president taking executive action on immigration?