by Mark Friedman on Monday, Mar. 31, 2014 12:00 am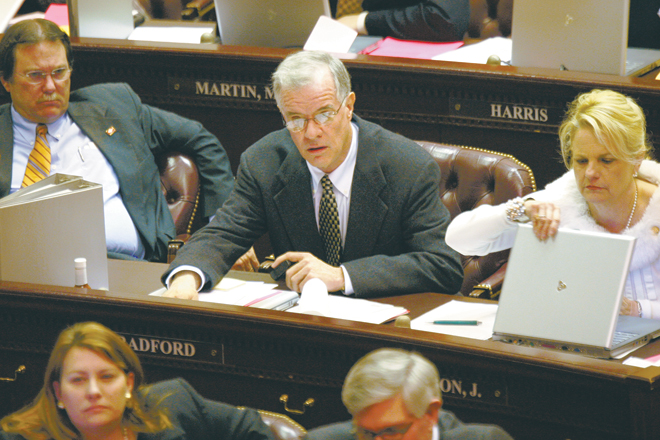 State Rep. Jay Bradford, D-Pine Bluff, has switched houses but not sides in the "any willing provider" debate. (Photo by Michael Pirnique)
A version of this article originally appeared in Arkansas Business on Jan. 31, 2005. It is being republished as part of Arkansas Business' 30th anniversary issue. You can access the digital edition for free here.
Arkansas' "any willing provider" law was a product of the 1990s — which means, of course, that there's a Nick Wilson story in there somewhere.
A bill that has occupied lawyers for a full decade might have been a mere blip in the state's long legislative history had Wilson, the powerful and ultimately disgraced state senator from Pocahontas, not been so eager to get to the horse races on one particular day in February 1995.
The Patient Protection Act of 1995 requires insurance companies to pay the same benefits to any provider willing to accept the same terms as the incumbent in-network providers. But it has never been enforced and is now in the hands of the judges at the 8th Circuit Court of Appeals in St. Louis, where a ruling could be issued at any time.
Term limits would have deposed Wilson by now if that conviction for federal tax evasion hadn't gotten him first.
But in other ways, 2005 is starting to look a lot like 1995: A tweaked version of AWP that its sponsor believes to be immune from legal challenge has been introduced in the current legislative session — for the same reasons that inspired the original sponsor. And it has raised the same objections from the same opponents as the 1995 version.
Backlash
By the early 1990s, "managed care" — closed networks of health care providers that were guaranteed access to more insured patients in exchange for discounted prices — had spread rapidly across the country in an attempt to slow the rapid escalation of health care costs.
Managed care had created "a pretty competitive market among the health care providers themselves in an attempt to come within a managed contract," said Morril Harriman, executive vice president of the Poultry Federation. He was a state senator in 1995 and voted for AWP, a vote he now considers a mistake.
In Arkansas, managed care had been taken a step further. In 1993, market leader Arkansas Blue Cross & Blue Shield partnered with Baptist Health of Little Rock to form the health maintenance organization Health Advantage.
While some doctors and hospitals were eager to enter into contracts with insurance providers so they would have a steady flow of patients, "those that did not fall within some of the major managed care systems … felt they were treated unfairly," according to Harriman.
So did many patients. Bill Gwatney, the car dealer who was then representing Jacksonville in the Senate, heard countless tales of sick constituents driving to Little Rock for treatment because going "out of network" was too expensive.
"What's the fairness of a health plan if you can't go where you want to go?" Gwatney told Arkansas Business in 1995.
Rebsamen Regional Medical Center in Jacksonville was his constituents' hometown hospital, but "a lot of people couldn't go there for treatment because of their insurance plans," Gwatney said.
His solution was to introduce the Patient Protection Act when the 80th General Assembly convened in January 1995. It wasn't an original idea; AWP laws were popping up around the country.
Insurance companies howled.
Insurance costs would go up, they argued, because there was no reason for providers to discount their prices if the insurance companies couldn't then steer patients their way.
Taking on the hospitals and insurance companies made Gwatney nervous, he said. "But I knew that the public would support this, and I knew that the bill wouldn't hurt the large hospitals and insurance companies like they thought."
Before the session, seven signed on as co-sponsors of Gwatney's draft bill.
"That was a very, very hard-fought bill at that point in time," said Jay Bradford, who was then a member of the Senate Public Health, Welfare & Labor Committee. He has since moved into the House of Representatives and chairs its Health, Welfare & Labor Committee.
Bradford, an insurance agent by profession, said work on the bill started months before the 1995 session started.
"In my district, I had a meeting with the hospitals, with the physicians, with the chiropractors, with all the providers," Bradford said last week. Unlike the insurance companies, "they thought the patients ought to have a choice."
In February 1995, on the day of the committee vote, Nick Wilson wanted to go to Oaklawn Park, according to a 1995 article in the Arkansas Democrat-Gazette. Wilson, who opposed the AWP bill, reportedly told committee chairman Jerry Bookout of Jonesboro that a vote needed to be taken by 11:30 a.m. because he was heading for Hot Springs.
But testimony ran past 11:30 and Wilson left, taking his "no" vote with him.
"I had sat through as much of that crap as I could sit through," Wilson told the Democrat-Gazette.
After Wilson left, the vote among the remaining committee members was 3-3, giving Bookout the chance to break the tie. He voted to move the bill to the full Senate, where it was approved, 32-1.
The lone vote against it was Wilson's.
Gwatney's bill had similar success in the House, where the vote was 88-1. Rep. Roger Rorie of Fox voted against it.
The Lawsuits
While AWP had strong support in the General Assembly, the insurance industry wasn't going down without a battle.
In June of the same year, Arkansas Blue Cross & Blue Shield sued two hospitals, three doctors and two medical clinics that had asked to be in ABCBS' managed care networks. Then, a day before the Patient Protection Act was going to go into effect in July 1995, Prudential Health Care Plan of Arkansas sued the state of Arkansas to overturn AWP.
Enforcement was delayed as both cases merged into one and that case slowly ground its way through the courts.
The insurance companies finally scored a major victory in 1998, when U.S. District Court Judge James Moody in Little Rock issued a permanent injunction against AWP after finding that it violated the federal Employee Retirement Income Security Act. Both sides appealed the ruling to the 8th Circuit Court of Appeals, which agreed with Moody.
Similar lawsuits in other states that adopted AWP laws continued through the appeals system. In April 2003, the U.S. Supreme Court ruled that an AWP law in Kentucky — one similar but not identical to Arkansas' — was acceptable.
The ruling breathed new life into Arkansas' Patient Protection Act — and into ABCBS' determination to keep it from being enforced. The insurance company sued several hospitals and the state of Arkansas in U.S. District Court in Little Rock in hopes of preventing the Kentucky ruling from being applied to Arkansas' Patient Protection Act.
ABCBS argued that the Arkansas law and the Kentucky law were too different for the Supreme Court's ruling to apply to the Arkansas version. But the main difference came down to the definition of terms, said David Wroten, assistant executive vice president of the Arkansas Medical Society.
"When they started trying to define what was different, their primary emphasis was on who was covered by the act, which gets back to the definitional issue: What's an insurance [plan], what's a health benefit plan?"
In February 2004, Moody ruled that Arkansas' AWP law could be enforced. ABCBS quickly appealed Moody's ruling to the 8th Circuit Court of Appeals, where it remains.
ABCBS' spokeswoman Max Heuer predicted health insurance premiums will rise 10 percent to 12 percent if the AWP law is upheld on appeal.
New Legislation
State Sen. Steve Faris doesn't think Arkansas needs to wait for an appeals court ruling. He has introduced a new bill that mirrors the Kentucky law that already has been approved by the Supreme Court.
Last week, Faris' bill was in the Senate Public Health, Welfare & Labor Committee.
"For a law to get passed in '95 that simply says you can choose your own physician when you're sick to be held up in the courts for this number of years, to me, it's a travesty in itself," Faris said.
"But if we go ahead and get a mechanism in place now, we might not have to wait a whole year for the court to decide."
Faris said he, like Gwatney, has heard too many people complain about insurance policies that make it too expensive to see the doctors they prefer.
Bradford, chairman of the House Public Health Committee, said the 2005 version of the bill has "a tremendous amount of support, partially because the U.S. Supreme Court upheld virtually the same law that was from Kentucky."
Still, business interests are divided on the issue, said Kenneth Hall, vice president for governmental affairs for the Arkansas State Chamber of Commerce.
"Viewed solely from an employer's perspective, [Faris' bill] is considered a bill that would damage if not destroy the ability to negotiate health care rates through networks," Hall said by email.
Some hospitals, though, are itching for AWP to get the green light.
"We believe that the state's residents should have the right to choose the health care provider they prefer," Scott Mosley, a spokesman for St. Vincent Health System, said in a statement. "We are ready to more freely compete and anxious to serve the needs of those who wish to come to St. Vincent who have, for years, been prohibited from doing so."
"If people think that [AWP] will be without an increased cost, I would just suggest that there is no free lunch," said Paul Berry, a lobbyist for the Arkansas Employers Healthcare Coalition.
He said AWP will raise rates on even the cheapest health insurance plans by 20-25 percent, which could add to the number of uninsured Arkansans.
But supporters said AWP hasn't cost the price of insurance to rise in Kentucky.
"I was unable to find conclusive evidence that AWP legislation has increased costs for Kentucky insureds," Elizabeth Johnson, an attorney for the Kentucky Insurance Department, wrote in a letter to Arkansas Medical Society's Wroten.
The fallout from AWP also could be a flurry of new MRI clinics and specialty hospitals taking away business from community hospitals, said attorney Nick Thompson, who represents the Arkansas Employers Healthcare Association.
"So if you've got a law on the books that says the HMO has to contract with every single one of those entities, anybody can go out and build them," Thompson said. "At some point you have an oversaturation of providers."
Since Then ...
2014: In June 2005, the fight over the "any willing provider" law came to an end when the 8th U.S. Circuit Court of Appeals upheld most of the act, resulting in the shakeup of Arkansas' insurance industry. Under the law, providers that are willing to accept the same terms as contracted providers cannot be excluded from an insurance company's network.
ABCBS spokeswoman Max Greenwood said in June 2005, "Obviously we're disappointed. The whole reason we've been opposed to the concept is we believe it eliminates choices [among health plans] for consumers."
After the ruling, insurance carriers statewide faced an onslaught of applications from willing providers. Hospitals and doctors that had been shut out of the ABCBS network, such as St. Vincent Health System of Little Rock, eagerly jumped on board, because ABCBS has traditionally paid higher rates than UnitedHealthcare and QualChoice of Little Rock.
There were mixed opinions, however, on how AWP had affected rates, which some projected to climb as a result of AWP. Greenwood said in 2007 that rates rose 2 percent from the first full year of AWP. But others in the health insurance industry said they hadn't seen premium increases as a result of AWP.

Latest Arkansas Business Poll
Do you approve of the president taking executive action on immigration?