The Whispers Blog
Arkansas' breaking business news blog, with news and commentary from the Arkansas Business staff.
Send us tips.
In an email to media Friday, David Tovar, vice president of communications for Wal-Mart Stores Inc. of Bentonville, announced he will be leaving the retail giant Sept. 30.
Tovar came to Wal-Mart in 2006.
"I have loved every second of every minute I've been with the company and I don't have enough room in this email to give justice to the life-changing experience of working for the world's largest retailer," he said.
Tovar would not delve into his next line of work, but said "I hope to share some news with you soon."
Meanwhile, Bloomberg reported late Monday that Tovar left the company after Wal-Mart discovered that Tovar never earned a bachelor of arts degree from the University of Delaware in 1996, which he claimed on his resume.
Bloomberg, citing "a person familiar with the matter," said Wal-Mart discovered the falsehood "while conducting additional due-diligence screening, which is standard for employees who reach a certain level ..." An academic-records official at the university confirmed to Bloomberg that Tovar never got the diploma.
Before he was named vice president of communications, Tovar was senior director of media relations and digital communications and served as the national spokesperson for the company.
Before joining Wal-Mart, Tovar worked at Kraft Foods Inc. of Northfield, Illinois, and Altria Corporate Services Inc. in Sacramento, California, a parent company of Kraft and Phillip Morris USA of Richmond, Virginia.
Update: On Wednesday, Tovar told CNBC that it was several months after walking in the school's graduation ceremony that he discovered he was a few credits short of earning the degree.
"I got a job and never looked back. I really didn't think an art degree would matter in communications, which was the field I went into," he said.
Tovar says he leaves Wal-Mart on good terms.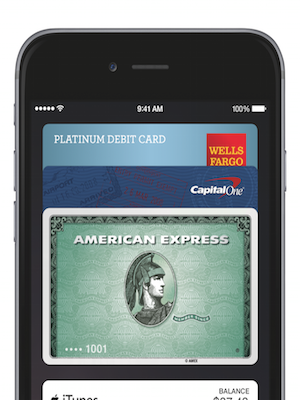 Apple's iPhones will store credit and debit cards and allow customers to pay for goods and services using the device.
A major battle could be brewing between giants of the retail and technology world over how mobile payments will take hold in America.
This week, Apple announced the release of the iPhone 6, the iPhone 6 Plus and the Apple Watch, but it also announced Apple Pay, a mobile-payment method that will allow customers to pay for goods — groceries, electronics, food, whatever — with your iPhone at a participating vendors. The program begins next month.
Apple already has some of the larger banks and retailers like McDonald's and Macy's in its corner. One retailer it doesn't have? Wal-Mart.
According to an article from The Washington Post, the Bentonville-based retailer has said no to Apple Pay, and yes to the continued development of its own mobile-payment plan, CurrentC, which will work on any smartphone.
Wal-Mart isn't the only one throwing support behind CurrentC. Target, 7-Eleven, Southwest Airlines, the Gap and Shell are some of the others to join in, according to The Post.
It seems the battle is all but certain. Michael Archer, a partner at Kurt Salmon Associates, a retail consultant, had this to say:
"There will be a dominant player to come out of CurrentC versus Apple. I'm not willing to handicap either one right now…you've got major players in CurrentC, you've got eight of the top banks and credit card issuers in Apple Pay," Archer said. "The interest level in the space is always going to be challenged if there are competing players. The opportunity, and maybe a need, for convergence is there."
Other than saying they had no plans to use Apple Pay, Wal-Mart officials refused to comment to The Washington Post. Apple reps didn't comment at all about Wal-Mart's stance. For more, check out The Washington Post's complete story here.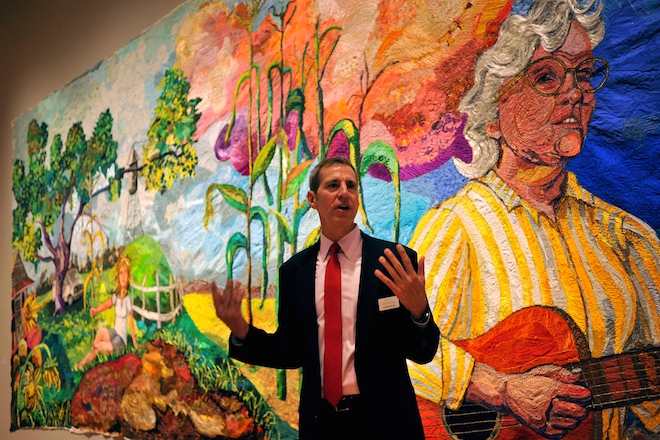 A look inside "State of the Art: Discovering American Art" exhibit at Crystal Bridges Museum of American Art in Bentonville.
The Wall Street Journal writes this week on a new exhibit coming Saturday at Crystal Bridges Museum of American Art in Bentonville.
The exhibit is called "State of the Art: Discovering American Art," and it features the work of 102 lesser-known American artists from throughout the country. The artists range from age 24 to 87, and the exhibit includes more than 200 canvas works, photographs, sculpture, videos and more.
The exhibit, says Crystal Bridges' president Don Bacigalupi, is a "massively diverse" selection of 227 works by 102 artists. He and assistant curator Chad Alligood traveled more than 100,000 miles to find them, making studio visits to nearly 1,000 artists, most known only locally if at all. They were looking for art that filled three criteria: virtuosity, engagement and appeal—hardly top concerns of artists who bask in the light of the Whitney Biennial or a Chelsea gallery.
The museum says the exhibition reaches beyond its temporary exhibition spaces, extending into the permanent collection galleries and areas indoors and out, occupying 19,000 SF.
We'll know much more tomorrow after Crystal Bridges' media preview. Above, a few photos of some of the works in the exhibit.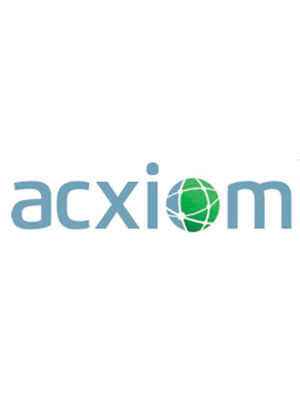 Acxiom Corp. of Little Rock is planning to open an office in Austin, Texas, according to the Austin Business Journal.
The publicly traded data services provider (Nasdaq: ACXM) plans to hire 150 in the city, a hotbed of tech activity. Christopher Calnan reports that Acxiom is seeking network engineers, security engineers and network architects. It plans a recruiting event on Sept. 25 in Austin.
A reader passes along this nugget from the Fort Worth Star-Telegram: Acme Brick's CFO, an Acme employee and an Acme retiree have filed a class-action lawsuit against the brick company's owner, Warren Buffett's Berkshire-Hathaway, saying the company broke its promise not to cut retirement benefits to Acme employees.
CFO Judy Hunter, who has fiduciary responsibility as a member of the retirement plan committees, joined with another employee and a retiree in lodging the suit following alleged "strong-arm tactics" by Berkshire Hathaway to reduce benefits.

Acme's senior management on July 15 voted to make changes to the retirement plans urged by Buffett, Berkshire's chief executive officer, and Marc Hamburg, its CFO. If the changes were not made, "Berkshire Hathaway intended to divest itself of Acme as a subsidiary," the lawsuit says.
The lawsuit alleges that Berkshire cut contributions to the Acme 401(k) program and froze its pension in violation of the Employee Retirement Income Security Act.
A Berkshire executive wouldn't comment on the lawsuit but told the Star-Telegram that Berkshire never promised to keep benefits the same.
You can access a PDF of the lawsuit here.
Acme employs more than 2,200 people across the country, including Clarksville, Fort Smith, Jonesboro, Malvern, North Little Rock and Springdale. Berkshire purchased Acme in 2000.

Latest Arkansas Business Poll
Did the Fed make the right call on interest rates?