The Whispers Blog
Arkansas' breaking business news blog, with news and commentary from the Arkansas Business staff.
Send us tips.
Alice Walton has sold her 1,400-acre Texas ranch two year after first listing it.
Walton's Rocking W Ranch is located along the Brazos River on the Parker/Palo Pinto County line in Millsap, Texas. Originally listed in September 2015 for $19.75 million by WilliamsTrew Real Estate of Fort Worth and Coalson Real Estate of Weatherford, Texas, the price dropped to $16.5 million in May 2016.
The Fort Worth Star-Telegram reports this week that the cutting horse ranch sold in September to Three Amigos Investment Group of Kermit:
Tony Underwood, a representative for the Three Amigos, could not divulge what they paid for the ranch but court records show they didn't finance the purchase. He said they will run cattle and other livestock on the property. The company has plans for the cutting horse facility, but he said those plans are not finalized.

For someone wanting to buy a little piece of Texas along the Brazos, the Walton ranch is considered a gem. It includes a blend of improved pastures and wildlife-friendly habitat while also being located near major roadways.

"It had varied ecology and topography. It had quite a number of desireable attributes to it," said Allen Crumley, a real estate broker and farm and ranch specialist with Williams Trew in Fort Worth. "Alice has very good taste in real estate."
The newspaper says Walton has yet another spread for sale: the 4,416-acre Fortune Bend property near Possum Kingdom Lake. That property is on the market for $22.1 million.
Arkansas Business reported in 2015 that Walton was selling the cutting horse ranch in order to focus on Crystal Bridges Museum of American Art in Bentonville, which she founded in 2011. She had previously sold her cutting horse business.
You can see a slideshow of the Rocking W Ranch here.
Arkansas Business subscribers might have read Kyle Massey's cover story this week on Little Rock ad man Gary Heathcott and CJRW, the marketing firm that bought his book of business in late 2015. Heathcott signed on to CJRW as a consultant, and the firm subsequently won some key contracts, including with the Arkansas Economic Development Commission and the Arkansas State Lottery, and it re-upped its long-running account with the state Department of Parks & Tourism.
The crux of Massey's story is that, barely three years into its relationship with Heathcott, CJRW has had to pull Heathcott from working on the lottery account after complaints about Heathcott's disturbing and unprofessional comments around clients and co-workers.
"Current and former employees at the agency tell Arkansas Business that CJRW is now looking to end its consulting contract with the politically connected ad man, who also helped land a major contract with the Arkansas Economic Development Commission," Massey reports in his story, which is available to subscribers here.
As Massey notes in his piece, Heathcott repeatedly declined to go on the record with Arkansas Business to tell his side of the story. But on Monday, Heathcott provided a statement, first to Max Brantley at the Arkansas Times blog, and then to Massey.
We should note that we reached out to CJRW CEO Darin Gray for comment on Heathcott's response. Gray declined to comment.
Here is Heathcott's full statement:
After reading a very negative, published story about myself today, I decided a continued no-comment would appear as a non-denial, and nothing could be further from the truth. Almost 3 years ago, I sold my company to CJRW with the intention of sticking around as a consultant for only about 6 months. However, almost immediately after the news of the merger was announced, prospective clients began to contact me about working on their accounts. Even before we made the physical move to the CJRW facilities, I, along with a couple of my Heathcott Associates team members went to work on one of those prospect accounts, The Arkansas Insurance Healthcare Marketplace. Shortly thereafter, my team and I won that $6 million marketing account!

Realizing the financial windfall of an account of that magnitude apparently caused the CJRW Executive Committee to offer me a longer-term consulting contract, which I accepted. Next came several additional new business clients, both private and public sector, culminating with my team winning two of the three Arkansas Economic Development Commission contracts, worth approximately $1,000,000 annually to CJRW. Once again, management (now CEO Darin Gray) came to me and offered to alter my consulting agreement to now include certain new benefits. I agreed. After more new business was acquired under my leadership, Gray asked if I'd be willing to make some changes to my existing agreement, including extending it from 3 years to 5 years. His rationale he stated to me 'in writing' was that he was attempting to purchase CJRW and said "If you are not involved, I'm not interested in pursuing the buyout." Further, in Gray's presentation to potential investors, he told me that he needed to include MY bio, accomplishments and a copy of a contract that reflected my intention to continue as a consultant if the company were sold. So, in October of last year, I agreed to yet another new consulting agreement — this one with a 5-year term.

Interestingly, it had recently been announced that the Arkansas Scholarship Lottery was putting their contract nearly $35 million up for review. Once again, I was put in charge of winning the account and once again, I did. I only agreed to manage the account because CJRW had no one else available to do so and the client requested that I be put in charge.

For almost 3 years, I've worked diligently and tirelessly for that firm and have successfully led the efforts to bring major new business worth millions to CJRW, which will most likely continue for years. And now, there seems to be a concerted effort to tarnish my reputation and solely for the purposes of attempting to cancel the nearly 4 years that remain on my consulting agreement.

From my side of this, I can only assume that this is a money issue — CJRW now has the contracts that I put in place and the money that comes with them and apparently see no need to keep me around. I will not stand quietly and be wrongly accused for things that never occurred or were exaggerated — especially from nameless, faceless, anonymous sources that are mostly made up of previously-fired and disgruntled employees of CJRW. Slandering my name and manufacturing wrong-doings is not the way to resolve differences and it saddens me deeply to see it come to such.

I have a fully legal and in-force contract as a consultant to CJRW with almost four years remaining. I have every intention of fulfilling exactly what is required of me.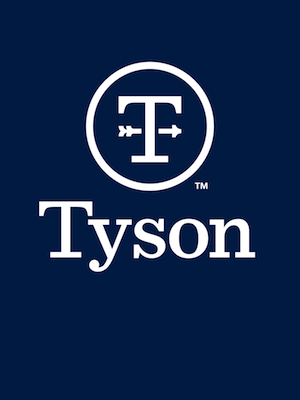 Tyson Foods' plans for a $320 million poultry processing plant in Tonganoxie, Kansas, have hit a snag.
Amid local opposition, Leavenworth County commissioners voted 2-1 Monday morning to rescind a a pledge of $500 million in revenue bonds for the facility, according to the Topeka Capital-Journal.
A spokesman for the publicly traded, Springdale-based meat processor said the bonds were among the factors the company considered when determining where to put the plant.
"We're evaluating our options in light of today's vote," he said.
Tyson, Kansas Gov. Sam Brownback and other state and local officials announced the plant earlier this month. Built outside the town of about 5,300 residents, the plant would employ 1,600 and was scheduled to open in mid-2019. Tyson said it needs the plant to keep up with a growing consumer demand for fresh poultry.
But the plant sparked an uproar by locals who criticized Tyson Foods' environmental record and the idea of a large industrial agriculture complex coming to the area. About 2,500 people attended a rally Friday night to protest the plant.
In a Facebook post on Monday, Little Rock Mayor Mark Stodola said the city will submit a bid to be home to Amazon's second North American headquarters.
The online retail giant announced last week that it was seeking a site for a $5 billion complex that would employ up to 50,000 people. The company already has a headquarters in Seattle but is running out of space there.
"We expect HQ2 to be a full equal to our Seattle headquarters," Amazon CEO Jeff Bezos said in a statement. "Amazon HQ2 will bring billions of dollars in up-front and ongoing investments, and tens of thousands of high-paying jobs. We're excited to find a second home."
The announcement has sent major U.S. cities scrambling.
On Monday, Stodola said Little Rock would toss its hat into the ring:
The City along with our economic development team at the Chamber and AEDC have received the RFP and will be preparing our submission. Amazon is looking for strong local and regional talent in software and related fields and is particularly interested in entrepreneurs who are seizing the opportunity of the digital economy! Some of their requirements are challenging but I think our talent pool is deep with The Venture Center, the Tech Park, the Innovation Hub, Acxiom and Merkle and the UofA Little Rock's Emerging Analytics Center all located here in central Arkansas. We will "Think Big and Be Creative!" Send us your ideas!
Little Rock would be a long shot. Amazon has posted a list of criteria, which takes into account population, distance from an international airport and the local pool of qualified workers.
One analyst, looking at those factors and others, created a list of likely candidates. Svenja Gudell, chief economist at real estate data firm Zillow, put Austin, Texas, at the top, followed by Denver and Chicago. She said each has the amenities of a big city, aren't geographically constrained and have cheaper housing than Seattle.
7/17/2017 12:48 pm
Updated 5 months ago
Comments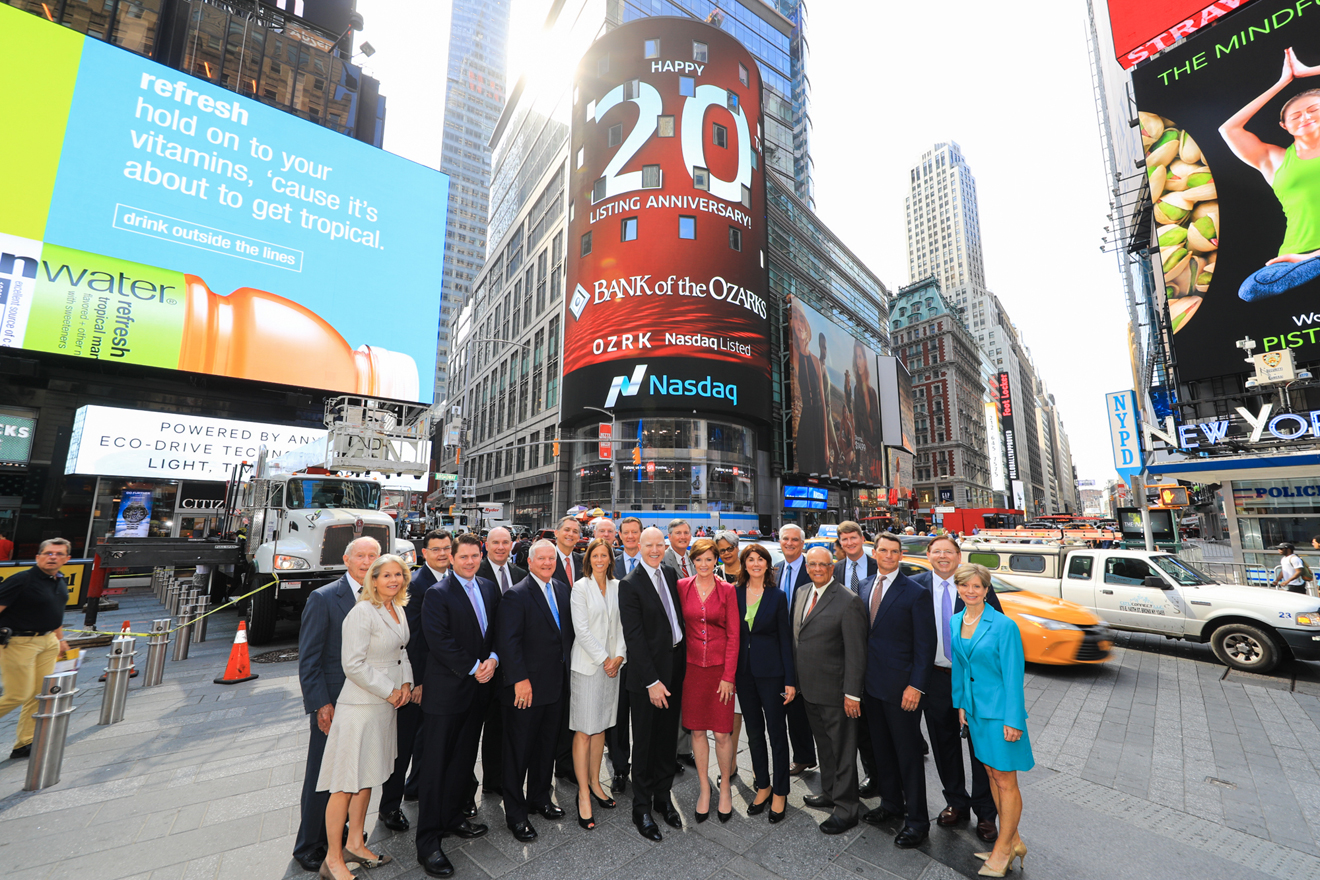 George Gleason, chairman and CEO of Bank of the Ozarks, rang the opening bell Monday at the Nasdaq MarketSite in New York's Time Square to mark its 20th anniversary as a public company.
The $20 billion-asset bank has 251 offices in Arkansas, Georgia, Florida, North Carolina, Texas, Alabama, South Carolina, New York and California.
On CNBC