The Whispers Blog
Arkansas' breaking business news blog, with news and commentary from the Arkansas Business staff.
Send us tips.
Walmart Inc. of Bentonville is moving ahead with efforts to strengthen its Vudu video-on-demand service, inking a content deal with Metro Goldwyn Mayer studios.
Reuters reported the news on Monday. Walmart and MGM are scheduled to officially announce the deal at a conference Wednesday in Los Angeles.
"Under this partnership, MGM will create exclusive content based on their extensive library of iconic IP (intellectual property), and that content will premiere exclusively on the Vudu platform," Walmart spokesman Justin Rushing told Reuters.

The focus will be on family-friendly content that Walmart customers prefer, Rushing said.

These shows will be exclusively licensed for a period of time to Vudu for North America, and available on Vudu's free, ad-supported service Movies On Us. Vudu will also commission and license original shows from other sources.
The move comes months after The Information reported that Walmart was "considering launching a subscription streaming video service to compete with Netflix and Amazon Prime Video ..." The plans were to include developing its own programming and offering it for less than $8 — undercutting rivals like Netflix and Amazon Video.
Today's Reuters report disputes some of those claims. Citing "company sources," Nandita Bose writes that the retailer doesn't "intend to spend billions of dollars on producing or acquiring exclusive content as of now. The retailer continues, however, to look at options to boost its video-on-demand business and offer programs that target customers who live outside of big cities."
Walmart has been thinking about Vudu for some time. In a critique published in March, Bloomberg noted that the retailer has owned the service since 2010 — before rival Amazon launched its VOD product — but failed to weaponize it.
In 2014, Doug McMillon, Walmart's newly minted CEO, told journalist Kara Swisher that he'd like to sell more digital movies. At the time, Vudu attracted fewer than 2 million users a month, according to comScore. "We aspire to sell more," McMillon said.
10/3/2018 01:29 pm
Updated 2 months ago
Comments
Gov. Asa Hutchinson on Wednesday unveiled what his office called a "comprehensive plan for the transformation of state government."
The Republican announced in March that he aimed to present a plan to the Legislature next year that would reduce the number of cabinet-level agencies in state government by 50 percent.
Hutchinson said the plan would cut the number of cabinet-level agencies from 42 to 15. He said it's the first comprehensive effort to trim state government since 1972.
"This long-overdue and comprehensive reorganization effort will realign agencies to reflect a more modern and efficient way to operate state government without cutting any services," Hutchinson said. "This will result in improved delivery of services and will ultimately save the state money and the taxpayer time."
The governor released an organizational chart for the proposal. You can see it here. A fact sheet laying out the new organization of departments is available here.
The plan includes putting the State Police, the Crime Lab and the state Department of Emergency Management, among other law enforcement-related agencies, under a new Department of Public Safety. It would also merge the departments of Correction and Community Correction.
More: Read more about the governor's plan.
You can watch video of the governor's announcement below.
Fortune magazine, as part of its "Most Powerful Women in Business" list, profiles Judith McKenna, the CEO of Walmart's international operation, who is overseeing some of the retail giant's biggest bets, including the $16 billion Flipkart deal.
Judith McKenna, a Brit who has headed up the international business since February, tends to lean a bit more toward classic English understatement: "It's certainly been a busy four months," she said at an investor meeting in June—although later this summer at Walmart headquarters in Bentonville, Ark., she admits, "I'm not necessarily recommending it as a way to come into a job."

Indeed, McKenna and her team bear a Walmart-size responsibility with Walmart-size consequences. In reprioritizing the company's global footprint, they are effectively placing bets on the future of retail. "We've made no secret that in certain markets we'll do no more bricks and mortar," McKenna says—a striking admission from a company that built its U.S. fortunes on the back of big-box retailing. Instead, Walmart is redeploying its capital in the e-commerce sphere, a move driven in large part by its existential battle with Amazon.
Fortune reports that McKenna, a former Asda CFO, was once considered risk averse, but at Walmart, she's had to get comfortable with it.
"I think that's an important shift in us as a business — and for individuals like me," she said.
It was just another Tuesday morning. Until it wasn't.
On the 17th anniversary of the Sept. 11 terrorist attacks, we've provided links to some of ArkansasBusiness.com's breaking news coverage. We've also included some stories in the days that followed, and some items from our print edition.
Sept. 11, 2001
Employees Evacuate Little Rock Office Buildings After Terrorist Attacks - "The Little Rock National Airport and the Northwest Arkansas Regional Airport closed Tuesday after two airplanes crashed into the World Trade Center in New York City and another airplane crashed into the Pentagon in Washington, D.C."
Airports Close, Federal Buildings Empty After East Coast Terrorist Attacks - "When asked whether security had been heightened at XNA, Van Laningham said, 'I can't talk about security at all.'"
Little Rock Air Force Base at Highest Security - "The U.S. Air Force headquarters ordered the Force Protection Condition Delta, which applies in the immediate area where a terrorist attack has occurred or when information has been received that terrorist action is likely."
Huckabee to Address the State at 8:30 p.m. - "The governor is returning from the canceled Southern Governors' Association meeting in Lexington, Ky., and is expected to be back in the state by no later than 5 p.m."
Greenwood and Party Safe, Awaiting Charter Home - "Mary Ann Greenwood, the prominent Fayetteville investment adviser, and a team from her firm, Greenwood & Associates, were inside the World Trade Center this morning when terrorists flew a hijacked passenger plane into one of its towers."
McLarty Compares Attack to Pearl Harbor Bombing - "I don't think any of us have ever seen [anything like this] except in a Bruce Willis action movie."
Airline Expects 1,000 Stranded; Workers Evacuate LR Buildings - "The closing of the Little Rock National Airport is expected to flood area hotels, and downtown Little Rock office building managers scrambled to weigh evacuation options as a precautionary measure."
Financial Markets, Airspace Closed Wednesday - "Also late Tuesday, the Federal Aviation Administration said U.S. air space will be closed at least until noon Wednesday."
Governor Urges Freeze As Gas Prices Rise - "I call upon them to voluntarily institute a freeze on the price of gas. Sharp increases in gas prices aren't in the best interest of the people of Arkansas, who still must get to work and school."
Huckabee Offers Help, Warns Against Price Gouging - The complete text of Gov. Mike Huckabee's address to Arkansans that Tuesday night.
Sept. 14, 2001
Stephens In Memo: Rough Monday Possible, But Spending Should Help - "My econ 101 book (which I still have) makes it clear that in times of economic slowdowns, fiscal stimulus (i.e. government spending) as well as monetary policy (lower rates, more money in the system) is what the government is supposed to do," Warren Stephens wrote.
Sept. 17, 2001
Market May Dip After Attacks, But Recovery Should Be Quick - "If you think the end of the world is coming, Wal-Mart will be glad to sell you what you want," Lee said. "It will actually be positive instead of negative for them."
Sept. 21, 2001
Bush to Congress: Justice Will Be Done - The complete text of President Bush's address to a joint session of Congress on Thursday night, September 20, 2001.
Tyson, IBP Merger to Close As Scheduled - "Tyson Foods Inc. of Springdale has said it expects to complete its buy of beef and pork processor IBP Inc. of Dakota Dunes, S.D., as scheduled in late September despite terrorist attacks on Washington, D.C., and New York."
Sept. 24, 2001
A Year From Now? (Karrh On Marketing) - "Those towers, 100-plus stories of glorious excess, symbolized American economic power. Maybe it was the stunning view that night that convinced this small-town Southern boy New York City was worth a shot (at least for a time). Those towers said New York and America were big, proud, strong and about as permanent as you could get."
Sept. 25, 2001
Acxiom Develops Security Product for Airlines - "Acxiom said it is developing an identity verification system to help airlines validate passengers' personal information. The checks could take place in real time as passengers buy airline tickets and check in at airports, the company said."
7/27/2018 01:53 pm
Updated 5 months ago
Comments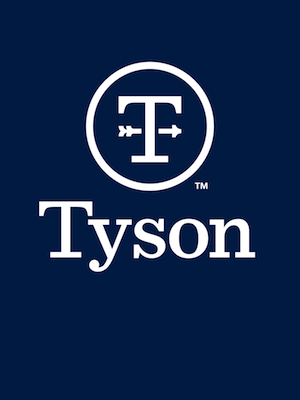 Tyson Foods Inc. of Springdale is nearing a deal expected to top $3 billion to acquire Keystone Foods LLC of West Chester, Pennsylvania, Bloomberg reported Friday.
Keystone supplies chicken nuggets to McDonald's Corp. and is owned by Marfrig Global Foods SA of Brazil.
Marfrig announced in May that it had narrowed the bidders for Keystone to five. Citing "two people familiar with the matter," Bloomberg reported that the company wants to gain more than $3 billion from the sale.
Cargill Inc. of Wayzata, Minnesota; Cofco Ltd. of China; an unnamed Japanese company; and George's Inc. of Springdale have also submitted bids for Keystone, according to Bloomberg.
Tyson CEO Tom Hayes told TheStreet in June that the company wasn't done looking for acquisitions.
"We are going to be acquisitive," Hayes said in the interview. "It doesn't mean that it will be another year and a half [until another deal] or this fiscal or calendar year, but it may."
The Keystone deal would likely be the company's biggest since last year's $4.2 billion purchase of AdvancePierre Foods Holdings Inc. of Cincinnati, but it's done other deals in the interim: the $850 million purchase of the poultry rendering and blending assets of American Proteins Inc. of Cumming, Georgia, and its subsidiary, AMPRO Products Inc.; and the purchase of an organic chicken producer, Tecumseh Poultry LLC of Waverly, Nebraska, for an undisclosed price.