The Whispers Blog
Arkansas' breaking business news blog, with news and commentary from the Arkansas Business staff.
Send us tips.
7/17/2017 12:48 pm
Updated 1 month ago
Comments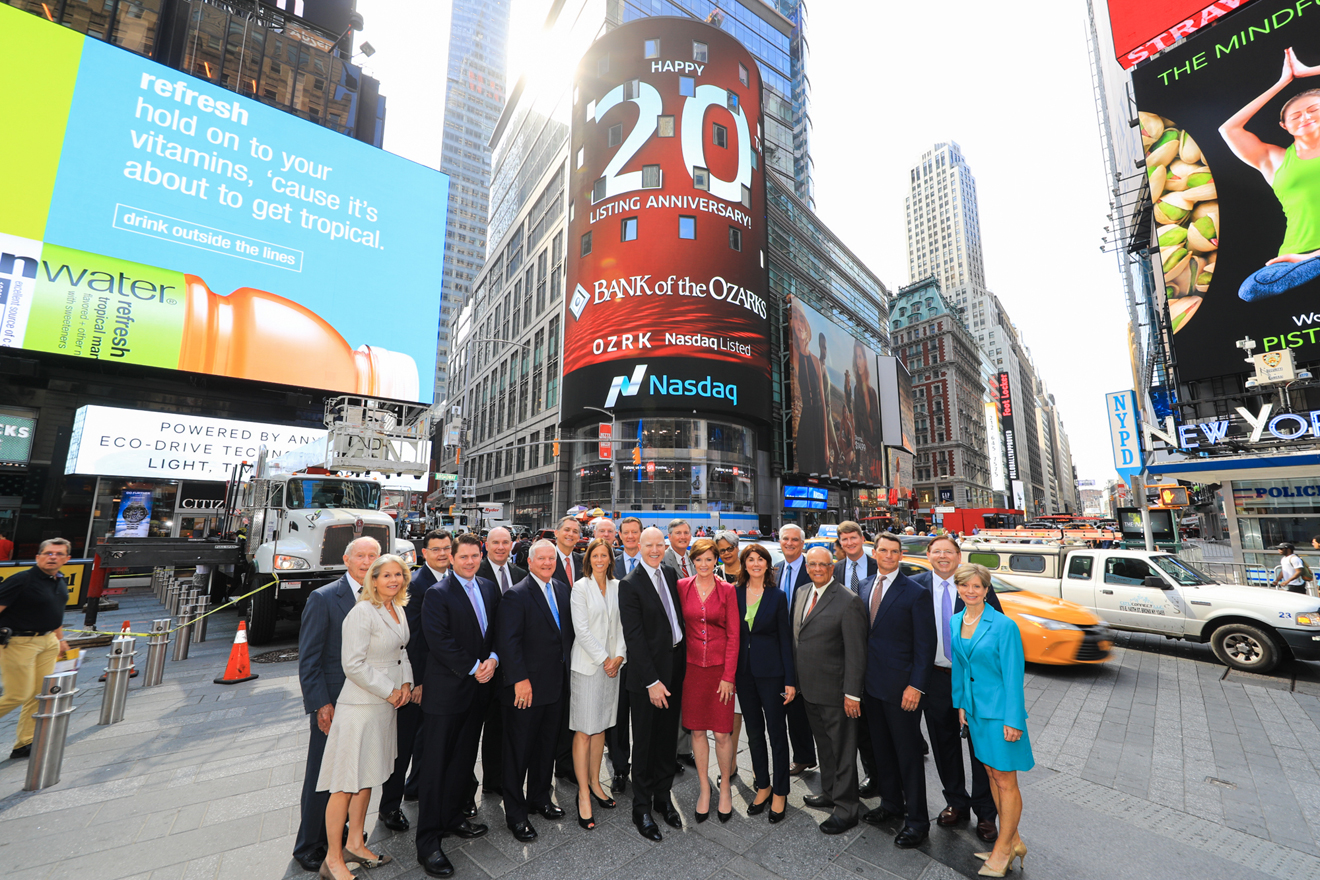 George Gleason, chairman and CEO of Bank of the Ozarks, rang the opening bell Monday at the Nasdaq MarketSite in New York's Time Square to mark its 20th anniversary as a public company.
The $20 billion-asset bank has 251 offices in Arkansas, Georgia, Florida, North Carolina, Texas, Alabama, South Carolina, New York and California.
On CNBC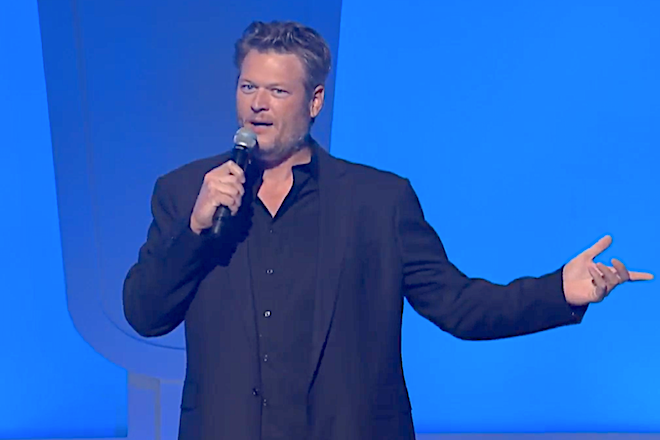 Blake Shelton, country music singer and star of NBC's "The Voice," hosted the annual shareholders' meeting.
The Wal-Mart annual shareholders' meeting takes place beginning at 8 a.m. at Bud Walton Arena on the University of Arkansas campus in Fayetteville.
You can watch the complete event live below, and Arkansas Business will have more coverage later today.
Update: The event is now over, but you can watch the whole thing below.
Video Part 1
Video Part 2
The Hartford Courant has details on a new 90,000-SF manufacturing facility that SCA Pharmaceuticals of Little Rock plans to build in Windsor, Connecticut.
The company, led by CEO Gene Graves, makes sterile pharmaceuticals for hospital pharmacies and health care facilities throughout the country. It specializes in sterile admixture services and pre-filled oral syringes.
Connecticut Gov. Dannel Malloy announced the project yesterday, saying the company aims to create 361 new jobs over the next four years.
"The commitment from SCA Pharmaceuticals to choose Connecticut for its expansion reinforces how our strategic location and world-class workforce makes our state a great place for businesses that are looking to bring their operations to the east coast," Malloy said in a news release. "This is an important sector of our economy, and we are thrilled that this company is adding hundreds of good, high-quality jobs in our state."
Malloy's office said Connecticut's Department of Economic and Community Development (DECD) will support the project with an $8.5 million loan for leasehold improvements and the purchase of machinery and equipment. The funding requires approval from the state bond commission.
SCA, which, according to Malloy's office, employs 210 people in Little Rock, is leasing space near Bradley International Airport.
Graves is a 1995 Arkansas Business of the Year award winner who pioneered the use of home intravenous medication use in Arkansas.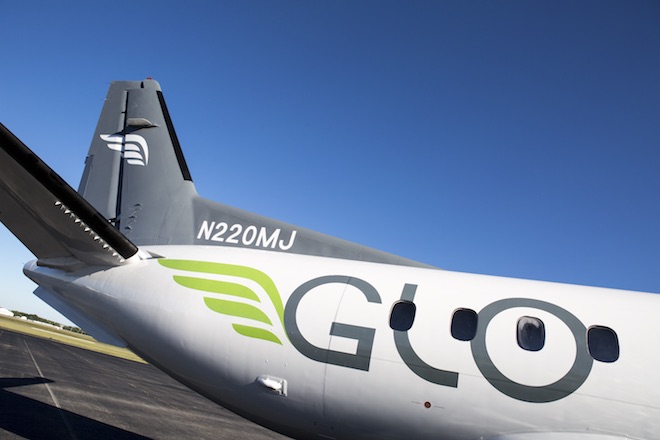 Glo Airlines, a New Orleans startup public charter operator that offers flights at the Bill and Hillary Clinton National Airport, has filed for bankruptcy reorganization.
According to a petition filed today in the U.S. Bankruptcy Court for the Eastern District of Louisiana, Glo is filing Chapter 11 reorganization, listing between $10 million and $50 million in debt and $10 million and $50 million in assets.
AL.com reports that the company announced the move this morning, saying its direct air carrier/aircraft operator, Corporate Flight Management Inc. of Smyrna, Tennessee, had "failed on its contractual obligations to deliver quality performance and solid management of GLO's program to provide air service to chosen markets."
According to AL.com's report:
"After raising serious concerns over its performance and business practices, rather than find solutions, the air carrier unilaterally terminated its contract to operate GLO's program and fly passengers," the company said. "This entirely unjustified action has put GLO's operations and the financial health of many of GLO's partners at risk."

GLO said bankruptcy protection allows the company to "reorganize the business, protect jobs, and continue to fly." Spokesman Jordan Mitchell said the reorganization is underway.
New Orleans City Business reports that founder and CEO Trey Fayard aims to "promptly and successfully" emerge from reorganization "in the near future." He called the action "a difficult decision, but a necessary one to protect everyone involved."
A hearing in the case is set for tomorrow; Glo is seeking court approval for a $750,000 loan to continue operations while it sorts out its affairs. It said it moved more than 32,000 passengers through New Orleans last year and was on track to move about 40,000 through the city this year.
Fayard founded GLO Airlines in New Orleans in 2013, and the regional airline began operations in November 2015. In 2016, he told Arkansas Business that the Gulf and Mid-South regions "have been underserved by air carriers for a long time, resulting in an overreliance on road travel." Glo aimed to fill a need for affordable, regional air travel, providing services in Little Rock; New Orleans; Memphis; Shreveport, Louisiana; Huntsville, Alabama; Fort Walton Beach, Florida.
Arkansas Business contacted Glo for comment but has not received word back. We'll update when we do. (Update: Glo has reinstated all flights after reaching an agreement in bankruptcy court.)
Meanwhile, Fayard is scheduled to speak tomorrow at the regular weekly meeting of the Little Rock Rotary Club at the Clinton Presidential Library. (Update: No surprise — Fayard has had to cancel is appearance at the Rotary Club.)
Update: Clinton Airport spokesman Shane Carter said Glo told the airport late last week that "operational changes" would temporarily halt Glo flights from April 28 to the beginning May.
Glo currently offers a flight to New Orleans and, beginning May 5, had planned to resume a popular summer route to Destin, Florida.
Carter said the airport has been pleased with Glo's level of service, and that the New Orleans flight has been popular. He said the airport hopes the company's issues are resolved to minimize any passenger inconvenience.
Wal-Mart Stores Inc. of Bentonville announced today that it will hold its 2017 annual meeting on Friday June 2 at Bud Walton Arena at the University of Arkansas in Fayetteville.
The meeting, which begins at 8 a.m., will be webcast on the company's website.
The company hasn't yet released its proxy statement, which details executive compensation and shareholder proposals up for a vote.
The annual meeting routinely draws thousands to northwest Arkansas, including Wal-Mart employees from across the globe. In addition to regular business, the event usually features an array of celebrities. Last year's event was hosted by James Corden, and Katy Perry, Andy Grammer, Maxwell and Justin Smith made appearances.