The Whispers Blog
Arkansas' breaking business news blog, with news and commentary from the Arkansas Business staff.
Send us tips.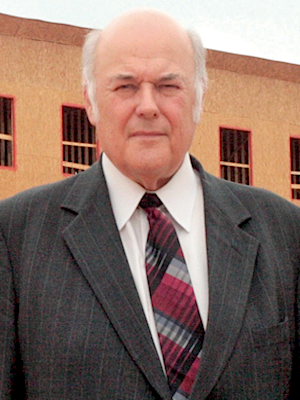 Texarkana City Manager Harold Boldt, whose Arkansas Convention Center project has been hit with $300,000 in liens.
Contractors have filed $300,000 in liens against the Arkansas Convention Center in Texarkana, Ark., owned by Hiren Patel, who's building the project with incentives championed by ousted-but-then-re-hired City Manager Harold Boldt, according to a Texarkana Gazette story in the Arkansas Democrat-Gazette today.
Arkansas Business' Luke Jones has been following the ongoing saga of Boldt and his pet economic development project, the Crossroads Business Park near Interstate 30. It includes the $18 million convention center, one of two being built on either side of the state line, and a $40 million water park (also owned by Patel).
Before he was ousted -- and subsequently re-hired -- Boldt has asked the city board for more money for the convention center and water park. "Due to several factors, the city does not have the cash available to fund our costs at this time," Boldt told the board in a January letter.
He asked the city to increase a $487,000 short-term note to $1.06 million and to pledge sales tax revenue and additional franchise fees to pay the additional debt. He also said he would ask the city's Advertising & Promotion Commission to contribute $500,000 to Texarkana Hotels LLC, the private company belonging to Patel. Boldt brought in Patel when he realized the city would never be able to pay for all that development itself.
Flash-forward to now, and the convention center project faces a laundry list of unhappy contractors seeking payment. Boldt tells the Gazette that he didn't know about the liens. Patel didn't comment.
The Texarkana Gazette story, which ran locally Sunday but appeared in central Arkansas' Democrat-Gazette today, also has what's likely to be one of the best quotations of the year, from one of the project's disgrunted contractors:
"I may be a redneck, but when someone takes $90,000 of my money, I am mad," Peek said."Pay me my money. It's Christmastime, and my kids want the G.I. Joe with the kung fu grip."
starting in 2014, razorbacks to play one game per year in little rock with contract extended through 2018. stadium commission agrees today

— Harry King (@harrykingsports) November 26, 2013
Sportswriter Harry King, above on Twitter, reporting what everyone else is now tweeting: that War Memorial Stadium in Little Rock will get one Razorbacks football game per year through 2018. A news conference on the matter is scheduled for 12:30 p.m. at War Memorial Stadium.
King notes that the deal means that instead of Little Rock getting six games over the next three years, it will get five games during next five years. He calls it a "good compromise."
The news comes nearly three months after University of Arkansas Athletic Director Jeff Long said during an appearance in Little Rock that no new negotiations were planned between the university and War Memorial Stadium regarding the number of "home games" the UA would play there.
New UA football coach Bret Bielema shed some new perspective on the Little Rock games this year, noting that, while the Little Rock games are technically "home games," coaches and players "have to treat it as a road game."
"We're in a unique situation," Long said in September. "...I never thought about it in this way, but when you bus to that game, it is your longest road trip of the year and it's a home game."
The Razorbacks have played at War Memorial Stadium since it opened in 1948.
Update: Here's AP's report on the details:
Arkansas' football program will pay Little Rock's War Memorial Stadium $400,000 in each of the next three years.
The Razorbacks will play one game per year in Little Rock through the 2018 season.
Next year's game will be a Southeastern Conference game against Georgia.
At least one game in the next four years must also be against an SEC opponent.
In the final two years of the contract, Arkansas can use the stadium rent-free. It currently pays $75,000 per game to rent the stadium.
We're certain others will have many different views and lots to say because, well, Razorbacks. Let us know what you think in comments. You can also take our poll right here.
New jobs in Morrilton and Springdale, the latest on Arkansas home sales, big plans at the University of Central Arkansas and solid earnings for Tyson Foods Inc., all in this week's Arkansas Business/THV 11 News "Week in Review."
The Log Cabin Democrat reports today that the job cuts Acxiom Corp. of Little Rock announced in its recent quarterly earnings conference call are underway:
Ines Gutzmer, Acxiom's director of corporate communications and global marketing, said the layoffs are a company wide effort.

"We're looking at every single area of the company," she said. "There's no single department."
During the Nov. 6 call (and in a filing with the U.S. Securities and Exchange Commission), Acxiom said it would work to cut its annual cost base between $20 million and $30 million over the next 6 to 12 months.
"The initiative seeks to improve the company's performance by simplifying the company's management structure, centralizing duplicative efforts and standardizing workflows," Acxiom said in the filing. "The components of the restructuring program are not finalized and actual total savings and timing may vary from those estimated due to changes in the scope or assumptions underlying the restructuring program."
Acxiom said the move will occur in phases and that it is "unable to make a determination of the estimated amount or range of future costs and cash expenditures."
Acxiom CFO Warren Jenson said during the conference call that the company is "methodically" examining it management structure and workflows in search of efficiency. He said the company is particularly looking at areas of duplication or places where operations can be centralized, such as information technology.
Jenson added that Acxiom would invest its savings from the cost-cutting effort into other parts of the company. Acxiom employs about 2,000 people in Arkansas and more than 6,000 worldwide.
The 111th Western Amateur championship, held this summer at Warren Stephens' Alotian Club golf course in Roland, raised $150,000 for the Evans Scholars Foundation, club and tournament officials said Wednesday.
The tournament marked the first time the Western Amateur had been played in Arkansas, and it was the first up-close look many people got at Stephens' ultra-exclusive golfer's paradise. The event, which took place from July 28-Aug. 4, featured 156 of the world's top amateur golfers and was won by Jordan Niebrugge of Mequon, Wis.
The tournament also raised money for the Evans Scholars Foundation, which was established by amateur golfer Charles "Chick" Evans and grants full academic and housing scholarships to caddies of modest means.
The Alotian Club has three current Evans Scholars: Brothers Joe, Kevin and Timothy Evans, who all caddied at Alotian in 2004. Joe and Kevin both attend Northwestern University and Timothy attends Marquette University.
Another Evans brother is the latest to receive an Evans Scholarship. Peter Evans, a senior at Central Arkansas Christian High School who caddied in the 2013 Western Amateur, received an Evans Scholarship to the University of Colorado, Boulder.
The Western Amateur Championship is put on by the Western Golf Association. The event showcases the country's top amateur golfers. Past winners include Jack Nicklaus, Tiger Woods, Phil Mickelson and Ben Crenshaw.

Latest Arkansas Business Poll
Did you start your holiday shopping on Thanksgiving?