The Whispers Blog
Arkansas' breaking business news blog, with news and commentary from the Arkansas Business staff.
Send us tips.
It appears Warren Stephens, CEO of Stephens Inc. of Little Rock, is the new owner of a luxurious California home overlooking the 13th green of the Pebble Beach Golf Links in Monterey County.
There's a Pacific Ocean view, to boot.
It didn't come cheap. The Carmel Pine Cone reports a purchase price of $31.25 million. The property tax is said to be more than $315,000 a year.
The home was originally purchased in 1970 for less than $300,000, according to the paper. Previously, the home's property tax was $2,700.
"That's the biggest jump I've ever seen, and it could be the biggest ever in California," Steve Vagnini, Monterey County assessor, told the paper.
It's said to be the largest home sale price in Monterey County. The newspaper states the previous record was another Pebble Beach home, sold for $28 million.
The home, which has six bedrooms and five bathrooms, was purchased by WAS & HCS PB LLC. According to the Arkansas Secretary of State website, the LLC was formed Sept. 17 and lists the address for Stephens Inc. — 111 Center St. in Little Rock — as its address.
Obviously, Warren Stephens is a big golf fan. He's a member of the Augusta National Golf Club in Georgia where his late father, Jack, was chairman. And he built his own golfer's paradise, The Alotian Club, in western Pulaski County, which boasts its own exclusive membership.
For the entire story from The Carmel Pine Cone, click here.
Former Gov. Mike Huckabee is said to be scheduling meetings with prominent GOP donors and looking for a possible campaign headquarters in Little Rock to position himself for another run at the White House in 2016, according to an article from The Washington Post on Wednesday.
The article, by political reporters Tom Hamburger and Robert Costa, said Huckabee, who ran for the country's top office in 2008, is set to lead more than 100 pastors and GOP insiders "from early primary states" on a 10-day trip overseas, including stops in Poland and England.
Huckabee is scheduled to spend part of November holding private meetings with powerful GOP financiers in Las Vegas, New York, and California, gauging their interest in being bundlers for his possible campaign and asking for pledges of five-to-six figure donations to his aligned organizations. And he is planning two strategy sessions in December, in Little Rock and Destin, Fla., new his new Gulf Coast home, to discuss timing, potential staffing, and an opening pitch to voters.
The article claims a new nonprofit advocacy group started by Huckabee, America Takes Action, has started to serve as a place of employment for his could-be political team.
Huckabee was non-committal in an interview with The Post.
"I have to be very careful about this," he told the paper, later noting his "obligations in broadcasting."
Since his unsuccessful presidential bid in 2008, Huckabee has become a hit on radio and television. He appears weekly on his own Fox News show, "Huckabee," and recently announced he will independently syndicate his three-times-daily radio report, "The Huckabee Report," which airs on more than 500 affiliates.
Bloomberg's John McCormick recently profiled the former governor and came to a conclusion similar to the Washington Post.
For the past year, Huckabee has done the things that would-be presidential candidates do: talking to party activists and donors, traveling extensively in support of 2014 congressional candidates, tossing money to some of them, and keeping his name in the mix. He's weighing whether his sunny style of social conservatism could be a good fit for a party that's showing every sign of having a wide-open-and crowded-2016 primary field.

"I'm getting a lot of encouragement from places where I didn't get it eight years ago, and that's encouraging to see and hear," Huckabee said.
Huckabee is scoring well in early polls, including various Iowa Caucus polls for possible Republican candidates. He leads in recent polls by Fox News (4 points), CNN/ORC (9 points) and USA Today/Suffolk (2 points). The Real Clear Politics Average put Huckabee ahead of other possible GOP candidates like Wisconsin U.S. Rep. and former Republican vice presidential candidate Paul Ryan, former Florida Gov. Jeb Bush, New Jersey Gov. Chris Christie, Kentucky U.S. Sen. Rand Paul and Texas U.S. Sen. Ted Cruz.
It was his win in the 2008 Iowa Caucus that propelled his presidential campaign to the national scene.
Huckabee has also found himself near the top of national polls for possible GOP candidates. The Real Clear Politics average of a handful of polls puts Huckabee just 0.5 points behind Paul, the leader.
There's been a raft of art sold in New York this week, a pair of Mark Rothko works among them. Today, two pieces by Andy Warhol go on the block.
Today, the New York Times notes speculation surrounding the new owner of one of Jasper John's "Flag" paintings, which sold Tuesday at Sotheby's. Could it be a certain art collector with a museum in northwest Arkansas?
Mark Lancaster, the British artist who had worked for Mr. Johns, was the seller. Although it was small (just shy of 12 inches by 18 inches), its rough encaustic surface — created from pigment suspended in wax — gave it a tactile quality that appealed to collectors. Four bidders went for the "Flag," which ended up selling for $36 million, way above its high $20 million estimate.

As soon as the gavel fell, rumors started circulating about who the buyer could be. Although Sotheby's declined to comment, some dealers said it was bought by Alice L. Walton, the Walmart heiress who founded the Crystal Bridges Museum of American Art in Bentonville, Ark.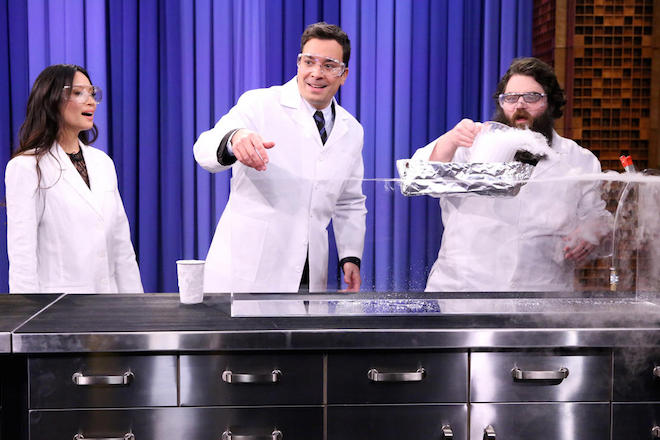 Kevin Delaney leads Jimmy Fallon and Lucy Liu in a series of science experiments on "The Tonight Show Starring Jimmy Fallon" on Nov. 7.
Once again, Kevin Delaney had Jimmy Fallon and the entire crowd eating out of his hand during an appearance Friday on "The Tonight Show Starring Jimmy Fallon."
Delaney, the director of visitor experience at the Museum of Discovery in Little Rock, was back in New York City with Jimmy Fallon as his lab assistant, performing a series of science experiments on the show. This time, Lucy Liu was also in on the fun.
He was first on the show with Fallon on May 5.
In his second visit, Delaney turned bubbles into fire, had Fallon and Liu speaking in super slow-mo and created a humongous cloud that looked more like a nitrogen bomb. Check out below to see video from his appearance.
If you need more Delaney, check out this video he did backstage, sharing eight science facts.
The Clinton Foundation today announced the headliners for next Saturday's event commemorating the Clinton Presidential Library's 10th anniversary.
Nick Jonas, Amos Lee, Court Yard Hounds and Kool & the Gang will perform at "Celebrate 10," a musical event that will take place from 8 to 10 p.m. Nov. 15 at the Clinton Presidential Center.
Kevin Spacey, star of Netflix's political thriller "House of Cards," will serve as the event's master of ceremonies.
Our sister site, Little Rock Soiree, has more details on how to register and attend right here.

Latest Arkansas Business Poll
Are you happy about the Republican wins on Election Day?