The Whispers Blog
Arkansas' breaking business news blog, with news and commentary from the Arkansas Business staff.
Send us tips.
Who knew the departure of KARK/KLRT meteorologist Greg Dee to a Cleveland TV station would raise the ire of that city's Favorite Son?
Drew Carey, the bespectled game show host and "Guy Who Used to Be on That Show With Craig Ferguson," is not amused.
First, there was this: A fake tweet from Carey, photoshopped by someone at KARK and shared on Twitter:
Ohio native @DrewFromTV is pretty excited to have @GregDeeWeather "C'Mon Down" to Cleveland! #GoodbyeGreg [satire] pic.twitter.com/lyE9d6Xd6U

— KARK 4 News (@KARK4News) January 22, 2015
The tweet included the real Drew Carey's account name, which naturally caught the comedian's attention.
So soon there was this response from the real Carey.
We won't embed Carey's tweet because, well, he uses the kind of language we'd expect from, say, Mimi Bobeck, not the host of America's Most Favorite Game Show. But the gist is this: "Don't create fake tweets from me to promote yourselves!"
As those TV news types say:
FedEx Corp. of Memphis has scheduled a groundbreaking for its new Ground distribution facility in southwest Little Rock. The publicly traded logistics firm (NYSE: FDX) has set the event for noon on Feb. 19 at a 44-acre site near the northwest corner of Alexander and Loop roads.
Arkansas Business reported in December that an affiliate of Saad Development Corp. of Mobile, Alabama, had purchased the pastureland from R&D Holding LLLP, led by Don Thompson. Saad paid $3.38 million.
Saad is a commercial development company specializing in "nationwide build-to-suit and value-add development." Among various projects on Saad's website are FedEx locations throughout the country.
The $24.9 million construction project is forecast to take a year and will involve a new street, Industry Parkway, which will link with Alexander Road to the south and Loop Road to the east.
FedEx hasn't commented on its plans for the site. Plans submitted to the city show a 305,000-SF package distribution warehouse and truck station. The documents also indicated the project could have parking for 624 employees and room for 118 more. We'll know more on Feb. 19.
Asa Hutchinson was sworn into office Tuesday as the 46th governor of Arkansas.
Here's a recap of the day, which also included the swearing in of six other state constitutional officers.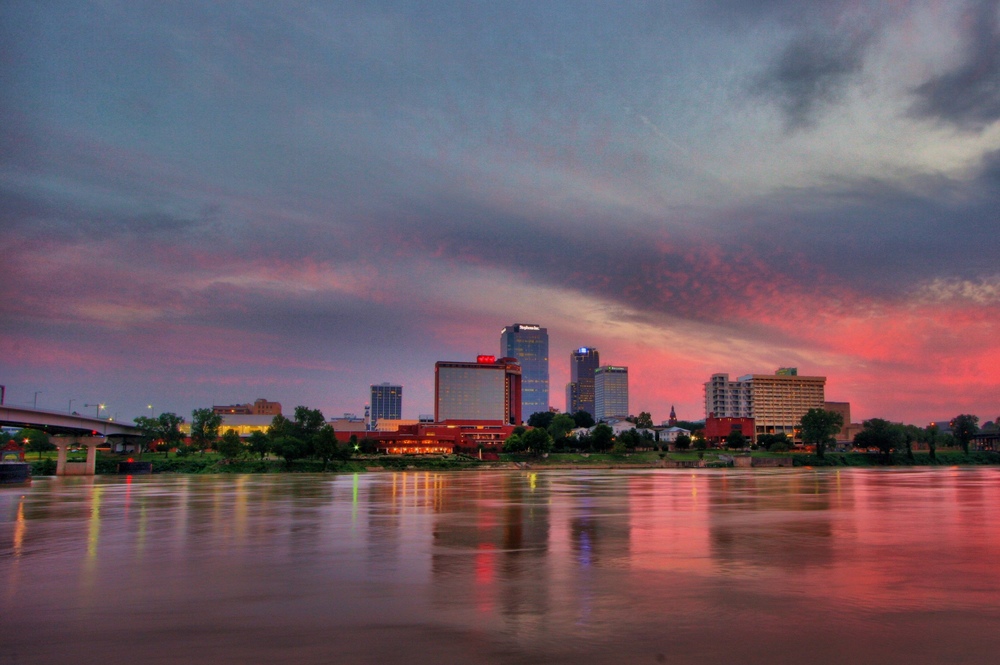 Little Rock was recently selected as the No. 3 Best State Capital in a readers' choice award from USA Today and 10Best.
Little Rock was recently selected as the No. 3 Best State Capital in a readers' choice award by USA Today and 10Best.
Arkansas' capital city was edged out by Carson City, Nevada, and Juneau, Alaska.
Here's what USA Today and 10Best had to say about Little Rock:
A downtown renaissance has transformed Little Rock into a city with culture, cuisine and abundant outdoor activities. Visitors can rent a bike and pedal the 16-mile loop along the Arkansas River Trail, visit the Clinton Presidential Center and the Little Rock Central National Historic Site, a National Park Service unit that interprets the crucial role played by the school in the civil rights struggle.
For the complete list, click here.
The University of Arkansas has extended men's basketball coach Mike Anderson's contract through March 2020.
Anderson, in his fourth season at the school, will make $2.029 million per year, with a total compensation of more than $2.2 million, according to the school. The extension includes a $1 million buyout if the UA fires Anderson, or if Anderson takes a job at another school.
A clause in the original contract, which was to expire in June 2018, prohibits Anderson from accepting a job at another institution in the Southeastern Conference.
More: Check out the extension here (PDF).
The following incentives were included in the extension:
Athletic Incentives
$400,000 for NCAA national championship
$200,000 for Final Four appearance
$100,000 for Elite 8 appearance
$100,000 for SEC regular season championship
$50,000 for Sweet 16 appearance
$50,000 for SEC Tournament championship
$25,000 for NCAA Tournament appearance
$25,000 for National Coach of the Year
$25,000 for SEC Coach of the year
Academic Incentives
$25,000 for Academic Performance Rate at intervals of 930, 950, 970 and 990 for a cumulative total of $100,000.
$25,000 for graduation rates at intervals of 60 percent, 65 percent, 70 percent and 75 percent for a cumulative total of $100,000.
The men's basketball team is currently 11-2 and ranked No. 23 in the Associated Press poll. In his tenure in Fayetteville, Anderson is 70-41 overall and 26-26 in conference play.

Latest Arkansas Business Poll
Are you happy with Arkansas ethics reform as approved by voters in November?