The Whispers Blog
Arkansas' breaking business news blog, with news and commentary from the Arkansas Business staff.
Send us tips.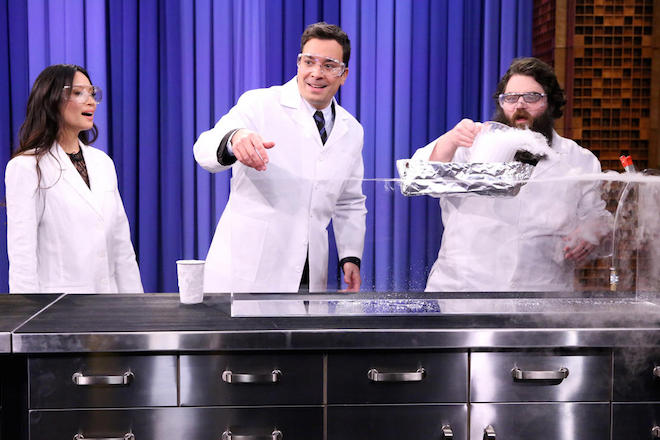 Kevin Delaney leads Jimmy Fallon and Lucy Liu in a series of science experiments on "The Tonight Show Starring Jimmy Fallon" on Nov. 7.
Once again, Kevin Delaney had Jimmy Fallon and the entire crowd eating out of his hand during an appearance Friday on "The Tonight Show Starring Jimmy Fallon."
Delaney, the director of visitor experience at the Museum of Discovery in Little Rock, was back in New York City with Jimmy Fallon as his lab assistant, performing a series of science experiments on the show. This time, Lucy Liu was also in on the fun.
He was first on the show with Fallon on May 5.
In his second visit, Delaney turned bubbles into fire, had Fallon and Liu speaking in super slow-mo and created a humongous cloud that looked more like a nitrogen bomb. Check out below to see video from his appearance.
If you need more Delaney, check out this video he did backstage, sharing eight science facts.
The Clinton Foundation today announced the headliners for next Saturday's event commemorating the Clinton Presidential Library's 10th anniversary.
Nick Jonas, Amos Lee, Court Yard Hounds and Kool & the Gang will perform at "Celebrate 10," a musical event that will take place from 8 to 10 p.m. Nov. 15 at the Clinton Presidential Center.
Kevin Spacey, star of Netflix's political thriller "House of Cards," will serve as the event's master of ceremonies.
Our sister site, Little Rock Soiree, has more details on how to register and attend right here.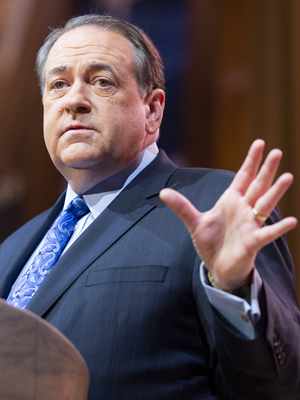 Former Arkansas Gov. Mike Huckabee has announced his daily radio report is going independent, ending a nearly six-year relationship with Westwood One.
Former Gov. Mike Huckabee has announced he will independently syndicate his three-times-daily radio report, "The Huckabee Report," that currently airs on more than 500 affiliates.
The move ends a nearly six-year relationship with Westwood One. A Thursday news release announcing the move said new distribution details would be announced soon.
Huckabee's report hits on news, pop culture and politics each day and is broadcast mornings, mid-day and in the afternoon.
Huckabee, who served as Arkansas' governor from 1996-2007 and ran for president in 2008, ended his daily syndicated radio show in December of last year. The three-hour show was syndicated through Cumulus Media of Atlanta and aired on about 225 stations, including 10 in Arkansas.
Arkansas Business profiled Huckabee in 2013, at which time he was contemplating his future in radio.
"I've got to always weigh how much time I'm putting in it and what the return is," Huckabee told Arkansas Business. "How long it will take to make it what I call hopefully disgustingly profitable. That's what one always hopes for in a deal like this."
Huckabee also appears every weekend on his own Fox News show, "Huckabee."
Earlier this month, Bloomberg profiled the former governor who appears to be contemplating another run at the White House.
"For the past year, Huckabee has done the things that would-be presidential candidates do: talking to party activists and donors, traveling extensively in support of 2014 congressional candidates, tossing money to some of them, and keeping his name in the mix. He's weighing whether his sunny style of social conservatism could be a good fit for a party that's showing every sign of having a wide-open-and crowded-2016 primary field.

"I'm getting a lot of encouragement from places where I didn't get it eight years ago, and that's encouraging to see and hear," Huckabee said.
"The advantage that I have is that I've done it before," Huckabee added. "Talking about it is pretty easy. Doing it is pretty hard."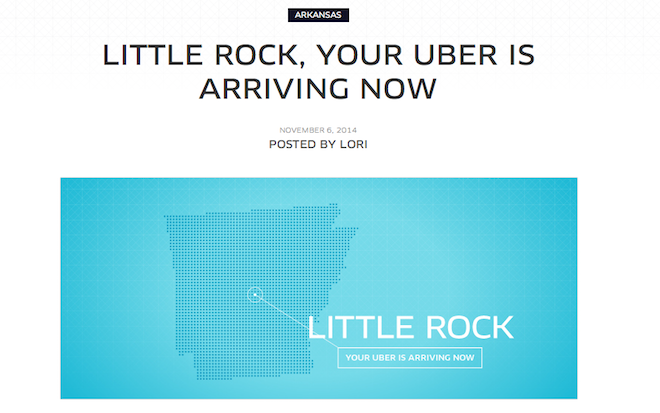 It looks like Little Rock residents needing a ride across town have some new options with the news circulating that Uber is here.
The San Francisco, Calif.-based ride sharing company announced Thursday it was beginning operations at noon.
"Whether you're grabbing dinner at the River Market, or soaking up some history at the Arkansas State Capitol, let Uber be your ride," the blog post reads.
As part of the launch, Uber is giving new and existing customers their first five rides in the capital city, up to $25 each, for free. The offer extends through Nov. 9. According to the site, uberX, identified as "low-cost Uber," is the only available option in Little Rock. The base fare is $2.50 with rides charged at $0.20 per minute and $1.65 per mile.
The blog offers a few sample fares around town:
Bill and Hillary Clinton National Airport to downtown Little Rock: $15
Midtown to Capital View: $13
University of Arkansas at Little Rock to Union Station: $14
At 1:54 p.m., there were at least five Uber drivers available in the downtown Little Rock area, as shown in a picture above.
The Arkansas Times has reported no ordinance has been issued by the Little Rock City Board to permit ride sharing companies in the city.
"Uber started operations similarly in Fayetteville without a permit and its drivers have received occasional tickets for operating without a permit. They company has similarly steamrolled other cities and inspired a rising organized protest from cab drivers who focus on, among others, difference in insurance coverage. Uber limits insurance liability to the time a rider is on an Uber-obtained ride."
The Times article says the city board was to address Uber at a Monday meeting, but discussion was deferred.
Uber's blog post addressed the issue:
"Your Little Rock city board members are taking steps toward finding a permanent home for new technologies like ridesharing. Much like we do in every other city in which we operate, we hope to continue to work with them in ensuring that this ordinance is in the best interest of Little Rock riders and drivers."
Our sister publication, Little Rock Soirée, is reporting the latest and greatest restaurant from the Yellow Rocket Concepts folks is set to open in January.
You might remember we reported back in May that the group purchased Browning's Mexican Grill at 5805 Kavanaugh Blvd. in the Heights, and had plans to open its own Mexican restaurant, Heights Taco & Tamale Co.
The group, which also owns and operates Big Orange Bugers + Salads & Shakes, Local Lime Tacos & Margaritas and ZaZa Fine Salad & Wood Oven Pizza Co., hoped to open in the summer or fall, but that wasn't possible.
Soirée reports:
"In addition to a full bar, HT&T's menu will offer authentic Mexican and Spanish dishes with Texas flair. House-made tamales, burritos, nachos and churros are just some of what Yellow Rocket Concepts Executive Chef Scott McGehee has planned for the restaurant."

Latest Arkansas Business Poll
Do you approve of the president taking executive action on immigration?