The Whispers Blog
Arkansas' breaking business news blog, with news and commentary from the Arkansas Business staff.
Send us tips.
The ARK Challenge startup accelerator last week concluded its fourth installment, and first in Little Rock, with Demo Day presentations of company pitches held inside the Clinton Center's Great Hall.
Spencer Jones and his Little Rock venture Jones Innovative Medical Solutions was the winner of $150,000 in additional investment. The seven teams selected for the Little Rock cohort of the ARK received $20,000 in seed funding to develop their products.
The ARK amounts to a three-month startup boot camp that aims to attract out-of-state ventures to Arkansas, plus retain and develop promising Arkansas ventures.
The ARK's first two installments in Fayetteville were federally funded, while another Fayetteville edition earlier this year and the Little Rock run were funded by the state and private investment.
Check out Arkansas Business coverage of Demo Day here.


Above, videographer Barry Deere takes us look the ARK's fourth installment.
Little Rock Soirée, our sister publication, has news that The Hop Diner is closing its doors after seven years of business.
The last day of business will be Nov. 26. The Hop, known for its burgers and shakes, moved downtown to the corner of Markham and Scott in 2008, after its lease ran out on Cantrell Road. When it made the move, it left two tables and four chairs for a sit-down restaurant in the River Market.
In its place will be At the Corner, run by new ownership. The new restaurant, owned by Kamiya Merrick, is expected to open around New Year's.
At the Corner will serve the Americana favorites like burgers, salads, fries and onion rings. The modern diner will be open for breakfast and lunch, and will also feature daily chalkboard specials.

But here's one thing on the menu we're particularly excited about: poutine. What is this dish, you ask? It's only fries, cheese curds and gravy; nothing but a pure, heaven-sent delight.
For more, check out Soirée's story here.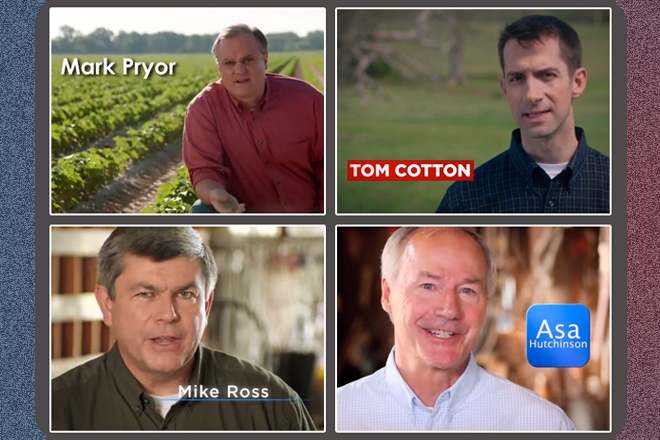 The dust has settled on the midterms and the GOP takeover that occurred in Arkansas, but more importantly, the political ads have ceased.
When it was all said and done, Arkansans were exposed to $41.1 million in ads, according to extensive research from The Center for Public Integrity.
That's 96,000 ads in all.
It shows a big spending push on ads that ran in final weeks of the campaign. Remember that as of Oct. 24, CPI counted $33.1 million spent on 80,100 ads in Arkansas.
The U.S. Senate race — one of the most closely watched races in the country — was responsible for the majority of the money and ads. It alone flooded the airways with 65,700 ads worth $29.4 million.
In terms of money spent, Arkansas ranked No. 8 overall, and jumped to No. 4 in terms of money spent per voter: $14. It trailed Iowa ($16), Alaska ($15) and New Hampshire ($15).
Republicans and their allies spent $15.5 million on 32,200 ads, while Democrats and their allies spent $13.9 million on 33,500 ads.
At the state-level, CPI found $11.7 million was spent on 30,300 ads, most coming from the gubernatorial race, which racked up $6.9 million worth of ads.
Republican Gov.-elect Asa Hutchinson led the way with $2.5 million spent on 6,085 ads, while his Democratic opponent Mike Ross spent $1.9 million on 4,864 ads. Races for attorney general ($2.5 million) and lieutenant governor ($1.8 million) also crossed the six-figure mark. Not far behind were two ballot issues — Issue 3 and Issue 4 — that resulted in $936,200 worth of ads.
At the national level, the numbers are staggering. U.S. Senate races saw $477.4 million spent on 1 million ads. The money was split almost down the middle, with $219.9 million from candidates and $200.4 million from outside groups. Political parties kicked in the remaining $43.3 million.
In state races, there was $855 million spent on 1.5 million ads. Candidates outspent the competition, accounting for $536.6 million, while outside groups were responsible for $199.4 million and political parties spent $116.4 million.
Overall, that's $1.3 billion spent on 2.5 million ads, according to research from CPI.
Those hoping for some political downtime might be out of luck, as the next presidential election gains more attention each day. That's not to mention U.S. senators and representatives who are already back in the fundraising mode.
Those include U.S. Sen.-elect Tom Cotton, who according to CPI sent out an invite for a Washington, D.C. fundraiser the day after he was elected. Attendance required a minimum contribution of $500.
First order of business for Sen.-elect @RepTomCotton (R-Ark.): Raise money in #DC Minimum contribution: $500 pic.twitter.com/hTdeEfME0d

— Dave Levinthal (@davelevinthal) November 5, 2014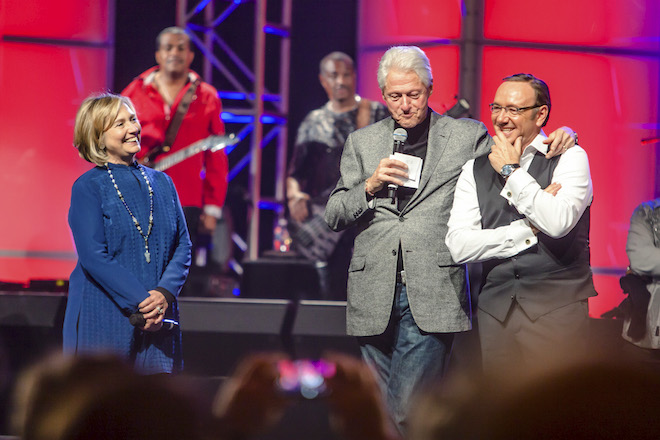 Hillary Clinton, Bill Clinton and Kevin Spacey at Saturday's Celebrate 10 event on the grounds of the Clinton Presidential Library in Little Rock.
Arkansas Business' sister publication, Little Rock Soirée, went inside the star-studded celebration Saturday marking the 10th anniversary of the Clinton Presidential Library.
Called "Celebrate 10," the event was hosted by "House of Cards" actor Kevin Spacey and featured musical performances by Nick Jonas and Kool & the Gang. You can see photos from the event by Daniel Moody here.
Anniversary events continue this week, including a panel discussion at noon today at the library's Great Hall about the effects the Clinton Library has had on state and city tourism and economic development.
The panel, hosted by Fox 16's David Goins, includes Gretchen Hall, CEO of the Little Rock Convention and Visitors Bureau; Sadie Mitchell, Little Rock School District associate superintendent for elementary schools; Bruce Moore, Little Rock city manager; Grant Tennille, executive director of the Arkansas Economic Development Commission; and Van Tilbury, 2015 chairman of the Little Rock Regional Chamber of Commerce.
You can see a full schedule of remaining anniversary events right here.
It appears Warren Stephens, CEO of Stephens Inc. of Little Rock, is the new owner of a luxurious California home overlooking the 13th green of the Pebble Beach Golf Links in Monterey County.
There's a Pacific Ocean view, to boot.
It didn't come cheap. The Carmel Pine Cone reports a purchase price of $31.25 million. The property tax is said to be more than $315,000 a year.
The home was originally purchased in 1970 for less than $300,000, according to the paper. Previously, the home's property tax was $2,700.
"That's the biggest jump I've ever seen, and it could be the biggest ever in California," Steve Vagnini, Monterey County assessor, told the paper.
It's said to be the largest home sale price in Monterey County. The newspaper states the previous record was another Pebble Beach home, sold for $28 million.
The home, which has six bedrooms and five bathrooms, was purchased by WAS & HCS PB LLC. According to the Arkansas Secretary of State website, the LLC was formed Sept. 17 and lists the address for Stephens Inc. — 111 Center St. in Little Rock — as its address.
Obviously, Warren Stephens is a big golf fan. He's a member of the Augusta National Golf Club in Georgia where his late father, Jack, was chairman. And he built his own golfer's paradise, The Alotian Club, in western Pulaski County, which boasts its own exclusive membership.
For the entire story from The Carmel Pine Cone, click here.

Latest Arkansas Business Poll
Do you approve of the president taking executive action on immigration?