The Whispers Blog
Arkansas' breaking business news blog, with news and commentary from the Arkansas Business staff.
Send us tips.
Dear Mr. Bagley,
I am deeply disappointed that you have chosen to stand by a story that appears on your station's website, even though you know of a serious conflict of interest that wasn't disclosed to your audience. I am especially disappointed that you have chosen to stand by a wholly unsupported smear on a professional woman who has done absolutely nothing wrong.
The article by Larry Henry, your managing editor, and Shain Bergan, is headlined "Top Pick to Lead University of Arkansas Ethics Center Lacks Ethics Experience." I am outraged that Henry and Bergan suggested that the "top pick," Donna Lampkin Stephens, was part of a pattern of hiring unqualified applicants at the UA — the only other example for which was the hiring of Jessica Dorrell, Bobby Petrino's 25-year-old mistress who was fast-tracked over more than 150 other applicants at his specific request.
In an email to Mr. Henry, I objected strenuously to his suggesting such an unfair comparison. He and Bergan knew that a solid majority of tenured journalism faculty members favored Ms. Stephens, a PhD who has been teaching journalism at the University of Central Arkansas for 14 years, to lead the Center for Ethics in Journalism after a four-month application process.
"I think the question of whether she is the best, most qualified choice for the UA Ethics job is a fair one," I wrote in my first email to Mr. Henry. "But I think you should reconsider whether it is journalistically supportable to suggest to your readers that the selection of Donna Stephens was in ANY way comparable to the hiring of Jessica Dorrell. If that's the only other questionable hire that the UA has made, it is so utterly different that it doesn't even suggest a pattern. Shame on you."
Mr. Henry's response to my complaint didn't actually address my complaint at all. Instead, he wrote:
"Do you want to go on the record defending this hire and the hiring decisions in general at the university, including the Jessica Dorrell hire, which was signed off on by the athletics director, Jeff Long?
"If you won't go on the record, then shame on you."
Yes, your managing editor's idea of journalism is to give a potential source the opportunity to go on the record, but only if I would agree to the words that he wrote that didn't actually address the subject of my comment.
His astonishing response to my complaint led me to wonder exactly why this particular offer, for a job that would pay an experienced professor with a PhD the mighty sum of $60,000 a year, should be of such importance to KFSM that it deserved almost 1,500 words online — but zero minutes on air.
So I launched my own investigation and learned that Mr. Henry's mother-in-law, Phyllis Miller, is an associate professor of journalism (with an advertising and public relations emphasis) at the University of Arkansas. And she was a member of the committee that made Donna Stephens the top pick for the Center for Ethics in Journalism, although she was part of the small minority that preferred a different candidate.
When I asked Mr. Henry to confirm that his mother-in-law was on the selection committee — something that he obviously failed to reveal in his report — he insulted me personally and professionally and even offered some choice words for my husband for good measure. I will be happy to share those emails with you if you are interested in knowing how your managing editor responds to a legitimate complaint from a member of the audience.
Using the same Freedom of Information Act that he used, I was able to determine that Larry Henry has twice applied for jobs in the UA journalism department. The first was in 2008, when he was a managing editor for the Chattanooga Times Free Press. The second was less than a year ago, in May 2013. Perhaps the fact that neither his bachelor's degree (English) nor his master's (fine arts) is in journalism worked against him.
Of course, there's nothing wrong with applying for a job. There's nothing wrong with applying even when one's resume wouldn't seem to be a perfect fit. The only thing Ms. Stephens did that Larry Henry hasn't done is actually get a job offer from the journalism department at the UA.
I have known Donna Stephens slightly but over a long period of time. I have seen her work as a journalist, and I have employed her students from UCA as interns at Arkansas Business and have found them to be well-prepared. We are friends only in the casual, Facebook sense, but I have always had a high opinion of her. And I'm not alone; as Henry and Bergan reported, her references include Arkansas journalism legends like Roy Reed and Ernest Dumas. I could die happy if I thought journalists of that caliber would vouch for my skills.
I am not in a position to judge Ms. Stephens relative to the other candidates for this particular job in the UA journalism department. I know that seven of 10 tenured faculty members thought she was the best, even if she didn't fit the original job description perfectly. And I know her and her work well enough to know that she could not possibly be a bad choice.
I am, however, in a position to recognize unethical journalism, and Henry and Bergan's report on (ironically) the UA's Center for Ethics in Journalism was tainted with it. If I were their news director, I would consider whether they are qualified to practice journalism at all.
But I'm not their news director; you are. In standing by their work, you have personally approved the comparison of an accomplished professor with a woman who slept her way into a job and you have personally affirmed that the KFSM audience didn't deserve to know that the story was produced by the son-in-law of a faculty member who didn't get her way. Professional standards truly are set at the top.
Gwen Moritz
Editor
Arkansas Business
Editor's Note: Presented with questions about KFSM's reporting of the story about the UA Center for Ethics in Journalism, News Director Rick Bagley provided this statement:
"We stand by the reporting of this story. The story speaks for itself. We will not get into the process or the collaboration that went into its reporting. It's a records-based story, centering on documents we obtained through a Freedom of Information Act request. Based on the documents, readers can make their own decisions about the recommendation to hire Stephens for the job."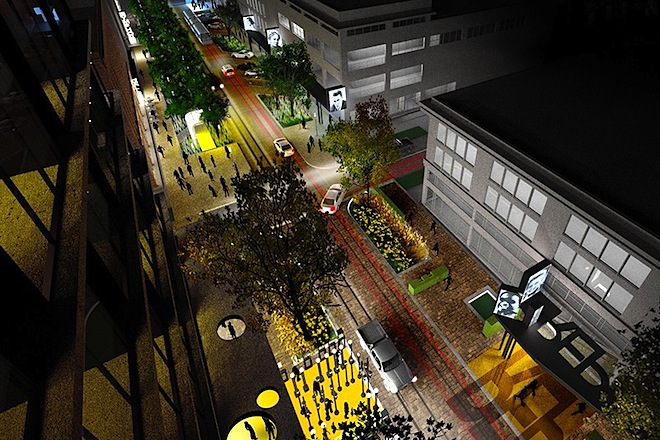 A rendering of Main Street's Creative Corridor by the University of Arkansas Community Design Center and Marlon Blackwell Architect.
Our all-new sister site, Little Rock Soirée, is checking in on progress along Main Street in Little Rock, where millions of dollars in renovation is promising a new "creative corridor" of arts, culture and tech.
This week, Soirée talks to Downtown Little Rock Partnership Executive Director Sharon Priest, visual artist Matt McLeod, Arkansas Symphony Orchestra Executive Director Christina Littlejohn, Arkansas Repertory Theatre Producing Artistic Director Bob Hupp and artisan cheesemaker Kent Walker about how downtown revitalization is coming together.
This, as a laundry list of projects -- the Mann on Main development, the K Lofts, a new hotel, CRJW's move to the Fulk Building, Orbea's North American headquarters and the Tech Park -- are moving ahead:
For visual artist Matt McLeod, who will have a gallery coming this summer in the Arkansas Building, the early plans and backing for the creative corridor showed him people were serious about having a "strong, creative culture" on Main Street.

"It's absolutely the reason I chose this spot," he said. "There's a very cooperative environment going on. The [City of Little Rock] wants this to happen and developers do, too."

With the great opportunity and support from city leaders, McLeod said he believes this is something he could look back on in 20 or 30 years and feel proud to have been a part of "something special."
"Little Rock is my city," he said. "I've lived here all my life, and to be a part of this for creative culture, that's exciting for me."
You can read Soirée's complete report here.
And speaking of Kent Walker, Arkansas Business' Managing Editor Jan Cottingham checked in with him for her restaurants column this week. Six months after an equipment failure spoiled 2,500 pounds of his handcrafted cheese, Walker is ready to get going again on Main Street.
And speaking of Main Street, the Arkansas Times reports that Bennett's Military has found its new home, moving to 608 Main Street. CJRW is taking Bennett's current space at the corner of Main and Third.
The New York Institute of Technology on Friday approved a resolution to establish a second site of its College of Osteopathic Medicine at Arkansas State University's campus in Jonesboro.
The NYIT announcement is available here.
Tim Hudson, chancellor at ASU in Jonesboro, issued a statement saying the university was pleased by the NYIT's vote:
We're excited that the NYIT board authorized our joint plans for an osteopathic medical school at Arkansas State. We have enormous respect for Dr. Guiliano, Dr. Ross-Lee and the rest of the NYIT leadership for their success in developing one of the largest and best D.O. schools in the country. We couldn't ask for a better partner to help us educate physicians and meet the growing primary care needs of northeast Arkansas and the Delta.
ASU's board already approved a resolution to partner with NYIT. As we reported at the time, the two will now take steps with state agencies and the national accrediting board to seek approval for the medical school. ASU is hoping to begin enrollment at the school in August 2016.
And of course, ASU isn't the only entity pursuing an osteopathic school in Arkansas. The Fort Smith Regional Healthcare Foundation Board of Trustees has also voted to move ahead with plans for its own osteopathic medical school at the Chaffee Crossing development. The board recently approved more than $58 million to the project, and voted to create positions of college CEO and dean.
The Polk County Pulse has an update on the ongoing Queen Wilhelmina renovation saga, which Arkansas Business began noting back in September.
In short, construction delays on a $7.5 million renovation of the Queen Wilhelmina Lodge on Rich Mountain has so far cost $11.5 million in lost revenue there. The number comes from an Arkansas Department of Parks and Tourism report commissioned by the joint House and Senate Committee of Governmental Affairs, which held a meeting on the delay in January.
Much of the blame for the delay has fallen on the project's former construction company, Wade Abernathy Inc. of Mount Ida (Montgomery County). Nabholz Construction is now working the project.
The Pulse report says the most recent projections from Parks and Tourism has the lodge re-opening in early 2015.

Latest Arkansas Business Poll
Has the winter weather affected your business?