The Whispers Blog
Arkansas' breaking business news blog, with news and commentary from the Arkansas Business staff.
Send us tips.
The El Dorado Promise, which has marked its seventh anniversary this year, gets some good ink in American Way magazine, a publication of American Airlines and American Eagle. The article begins by noting how El Dorado High School has been purposefully designed to mimic a college:
"We tried to get as close to a college environment as we could," says Bob Watson, the superintendent of the El Dorado School District. But what's so intriguing about the deliberate college-oriented design of El Dorado High School is that it's not strictly a way to reinforce the idea that the student body should strive for college. No, the high school in this economically challenged, rural Southern town of around 19,000 is designed the way it is because every single student who graduates knows he or she actually can go to college, and this is a way to get them ready.
You can read the full article, which includes a slideshow of photos inside the school, here.
You'll remember that the El Dorado Promise, announced in 2007 and funded by Murphy Oil Corp. of El Dorado, gives El Dorado Public Schools graduates the chance to earn college degrees tuition-free.
Last month, the program said there have been 1,444 Promise scholarship recipients to date.
Donnie Smith, the CEO of Tyson Foods Inc. of Springdale, and his wife Terry are giving $3.2 million to the University of Tennessee Institute of Agriculture.
According to WRCB-TV in Chattanooga, Tenn., the money will establish the Donald and Terry Smith Endowed Chair:
"The new faculty position will help bring science-based agricultural solutions to areas of the world with struggling agricultural practices and economies, as well as provide unique opportunities for the State of Tennessee," said Larry Arrington, Chancellor of the University of Tennessee Institute of Agriculture.

With the global population increasing to more than 9 billion people by 2050 and per-person food consumption also increasing, experts estimate the world will need to produce twice as much food as is produced today. To help meet this challenge, UTIA, known as a top-tier land grant university, has been placing a priority on becoming more internationally involved in academic and research programs in partnership with other U.S. land-grant universities.
The Smiths are UT graduates.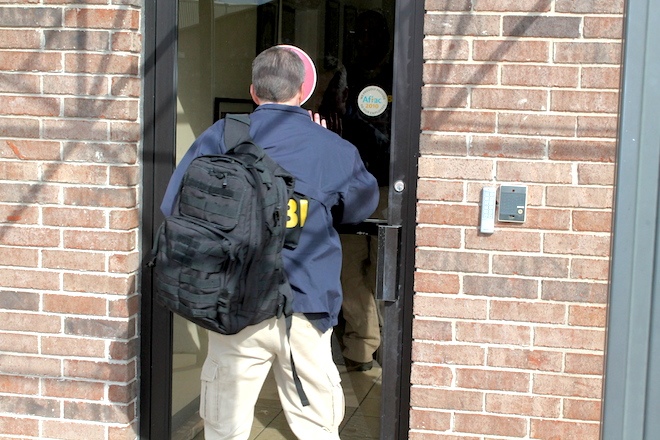 FBI agents conduct an investigation last week at the John Rogers Archive in North Little Rock. The FBI also visited Rogers' home in North Little Rock.
We're starting to learn a little more about what might be behind the FBI's search last week of John Rogers' archive business and home in North Little Rock last week.
Some of the information comes from this report last week in the New York Daily News. The Arkansas Times linked to it Monday afternoon, and it lends some support to what a source close to the Rogers Photo Archive told us last week: that the search was related to a side business in which Rogers is a minority stakeholder, and that two of his partners in that business had been indicted.
We couldn't confirm the information last week — we couldn't even get the names of the people who were said to be Rogers' partners.
But the Thursday New York Daily News story reported that Rogers "is an investor" in a Chicago-area company called Legendary Auctions. The men who started the company are Doug Allen and Mark Theotikos, and they were indicted on fraud charges in July 2012.
You can click here to read the FBI's news release on the indictment, the big target of which was William Mastro. The fed says Mastro, the owner of Mastro Auctions of suburban Chicago, "routinely defrauded customers" through "a series of deceptive practices," including schemes to inflate prices and misrepresent the authenticity of items to customers.
The FBI said Allen and Theotikos, both of Illinois, are "former executives" of Mastro Auctions. The two had entered not guilty pleas to charges of mail fraud and wire fraud and were awaiting trail, but documents filed Jan. 10 show that Theotikos wants to change his plea. A hearing on that is set for Feb. 19.
Mastro, meanwhile, pleaded guilty to fraud in October and is awaiting sentencing. Mastro Auctions was dissolved in 2009. That same year, according to the Illinois Secretary of State's office, Allen and Theotikos founded Legendary Auctions.
We should note that, best we can tell, Allen and Theotikos haven't been charged with anything relating to their Legendary Auctions business. And of course Rogers hasn't been charged with anything, either.
Meanwhile, Rogers' attorney, Blake Hendrix, told our Mark Friedman late yesterday that the FBI had returned some items from Tuesday's searches. He expected to get more back by the end of the week. Hendrix said that was all he could say on the matter.
Update: We sent Rogers a list of questions about Legendary Auctions, Allen and Theotikos, along with some other general questions about the sports memoribilia business. He declined comment.
For Data Privacy Day — led by the National Cyber Security Alliance and celebrated today in the U.S., Canada and 27 European countries — Little Rock's Acxiom Corp. is promoting the measures it's taken to make its data mining activities more transparent.
According to CEO Scott Howe, the company's AboutTheData.com consumer portal will soon be upgraded.
"We are working on some major enhancements to AboutTheData.com to provide more visibility, value and control to consumers," Howe said in a news release. "It is our hope that others in the industry follow suit in providing increased transparency and choice — developments we belief benefit everyone."
The portal was launched September, attracting both praise and skepticism, and as of December had seen around 500,000 visitors.
The company also announced it would host a global conference on the topic of ethical use of personal data this fall, along with a competition awarding $100,000 in grants recognizing "the brightest thinking" on that topic.
"When used appropriately, we believe data is a catalyst for better decisions, experiences and societal progress," said Jennifer Barrett Glasgow, Acxiom's chief privacy officer. "We hope this conference will fuel a constructive discussion on the topics of personal data usage and control; we welcome the submission of papers with innovative, progressive ideas."
More details on the conference will be released "in the near future," the release said.
The Wall Street Journal's Theo Francis (a former Arkansas Democrat-Gazette reporter) examines why American companies are so cautious about adding jobs even as factories run at capacity.
The piece begins with an anecdote from Malvern, where Prime-Line Inc. makes medium- and light-density fiberboard moulding and millwork for nationwide distributors including Lowe's. You might remember that the company announced in November an expansion and plans to add 50 workers.
Francis talks to Brian Feeney, Prime-Line's CEO:
Mr. Feeney is just now taking the leap of faith to invest in the housing recovery that has kept his plants at capacity after the housing crash six years ago. "It's that beaten-dog mentality," said Mr. Feeney, Prime-Line's chief executive. "We were thinking, 'this is too good to be true.' "

As public companies continue to unveil their year-end results this week and offer insight into prospects for 2014, the future of many of America's job seekers rides on how many executives are willing to take the plunge Mr. Feeney took last fall. The news so far is mixed.
Francis finds that companies across the country are balking at hiring, afraid that the fragile economic recovery will falter. There's more on what other companies are doing, as well as Feeney 2014 and 2015 growth expectations, in Francis' full story.

Latest Arkansas Business Poll
Has the winter weather affected your business?