The Whispers Blog
Arkansas' breaking business news blog, with news and commentary from the Arkansas Business staff.
Send us tips.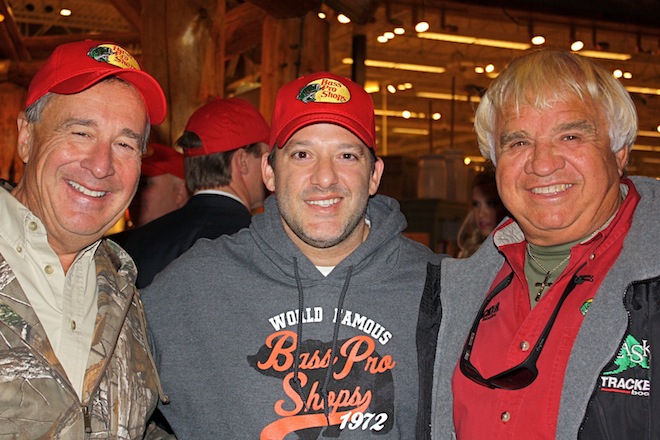 Inside a private reception before the grand opening of the Bass Pro Shops at the Gateway Town Center in Little Rock.
Folks brave enough to deal with traffic and crowds were among the first to step in inside the 120,000-SF Bass Pro Shops at the Gateway Town Center in Little Rock on Wednesday night.
The grand opening event, which featured celebrities including Nascar Driver Tony Stewart, Jimmy Houston of the "Jimmy Houston Outdoors" TV Show, legendary bass angler Bill Dance, Miss Arkansas USA Hannah Billingsley, has been a long time coming for fans of the outdoor superstore.
Last night, Arkansas Business was able to get a peek inside the store before the crowds rushed in, getting some photos during a reception featuring Bass Pro founder Johnny Morris and store manager Will Anderson.
Click the photo above to see a slideshow from the event.
Also, you can revisit our 2012 cover story on Tommy Hodges, the Gateway Town Center developer who finally lured Bass Pro to Arkansas.
Acxiom Corp. CEO Scott Howe has given an interview to Direct Marketing News about a host of issues concerning the publicly traded data mining firm, including its AboutTheData.com website and recent revelations about NSA spying.
The full interview is available here and is a worth the read, but I've included this snippet below about AboutTheData.com, the site Acxiom launched late last summer that allowed people to see what personal information Acxiom had collected about them.
In the segment below, Howe sheds a little more light on Acxiom's motivations for launching the site, including how the site was branded. The question is in bold and Howe's answer follows:
Is AboutTheData.com the first step in creating that relationship between consumers and their data?

Quite frankly, what we've been talking about isn't the intent of why we did it. We did it because we believe it's the right thing to do. How can we work in an industry that prides itself in connecting people to businesses and vice versa and not have the voices of those people be heard? It's like being a date matchmaker and not knowing who you're setting up on dates. Ethically, it was the right thing to do to give people more visibility and control over the data that's collected about them.

Do we see an evolutionary path for AboutTheData? Absolutely. One reason we didn't brand it as Acxiom: We took a page out of what the credit bureaus did [which have unfamiliar brand names]. They created FreeCreditReport.com.

To your more immediate question: Is this a first step? We still have [AboutTheData] branded as a beta so in the spirit of full disclosure, it's more of a first half-step.
Under Scott Howe, Acxiom has moved deeper into online data collection, including so-called "big data." And he's been remaking the company in other ways that are still unfolding. Last week, the firm said it plans to cut its annual cost base "between $20 million and $30 million over the next 6 to 12 months."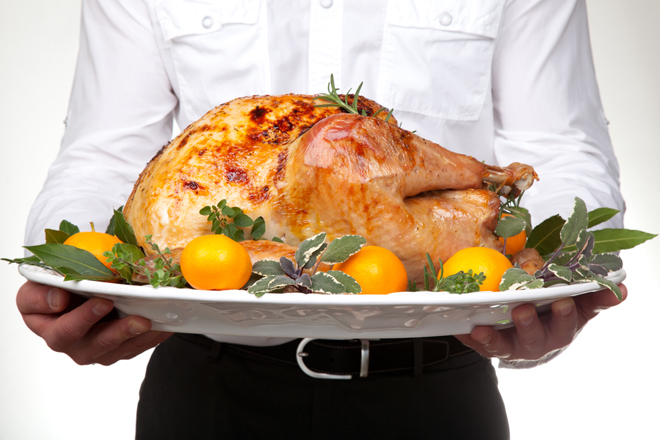 Wal-Mart workers who are scheduled for shifts on Thanksgiving day will receive a Thanksgiving meal provided by the company.
As noted here yesterday, Wal-Mart Stores Inc. of Bentonville is among U.S. retailers who will open even earlier on Thanksgiving Day, further eroding the holiday for folks who absolutely have to get in early on those Black Friday shopping deals.
We don't cry for the bargain hunters among us. But what of the Wal-Mart employees called in to work during Thanksgiving? They apparently won't miss out on a holiday feast, according to ABC News:
Though aisles filled with processed foods and discount clothes are a nontraditional place to spend Thanksgiving, Walmart employees who work the holiday will at least be treated to a traditional feast of turkey, mashed potatoes, rolls and pie.

Workers who are scheduled for overnight shifts, day shifts and evening shifts on turkey day will receive a Thanksgiving meal provided by the company, according to Kory Lundberg, a Walmart spokesman.
The story also notes that, Wal-Mart turkey dinners notwithstanding, some employees are unhappy about the encroachment of cold capitalism on their holiday day off with family. Wal-Mart EVP Duncan MacNaughton says such complaints are in the minority.
And really, throwing the doors open on Thanksgiving day is fast becoming the norm among all retailers. This year, stores including Macy's, J.C. Penney and Kohl's are all opening for the first time on Thanksgiving evening.
And retailers will likely continue to whittle away at the holiday, according to one marketing professor at Wake Forest University School of Business in North Carolina, who told the Associated Press that he thinks in five years, most retail chains will be open all day on Thanksgiving.
Olga Khazan, blogging at The Atlantic, examines Arkansas as "the state where Obamacare is working." In a post up today, Khazan talks to Gov. Mike Beebe and Arkansas House Speaker Davy Carter about how the "private option" made Medicaid expansion more palatable to Republicans:
Beebe said the ultimate argument was that the Medicaid expansion would grant an escape hatch to Arkansan small businesses, who would otherwise be on the hook for either offering health insurance to their employees or paying a fine.

And conservative lawmakers were able to score one for private companies, as well.

"We felt getting people off of the government program onto private insurance is better for the state, the providers, and most importantly, for the consumer," Arkansas house speaker Davy Carter told me. "The private sector has the ability to provide coverage plans structured in a way that encourages the right behavior by the consumer and rewards positive outcomes from the provider."

Sure, this isn't the way it was supposed to work, and in some cases the private plans can be skimpier or more expensive than Medicaid. Still, Arkansas' story is pretty remarkable.
Khazan also says that the private option, by getting more insurance providers involved, introduced more competition that could drive down costs and improve services.
So far, more than 54,000 Arkansans eligible for Medicaid coverage have enrolled in the program -- 49,000 of those signing up under the private option. This, despite the well-publicized problems with the federal health care coverage website, healthcare.gov.
Still, Arkansas' method isn't without its critics, especially among Arkansas Republicans. The measure passed by a narrow margin in both the Arkansas House and Senate, and there have been whispers that renewing the private option during the upcoming fiscal session of the state Legislature isn't a foregone conclusion.
In short, there may be a few more chapters in the story of the private option in Arkansas.
Above, the latest "Arkansas Week" on AETN, featuring an interview with State Department of Community Correction Director Sheila Sharp. Also, Steven Brawner and I on a host of the week's news stories, including the Arkansas economy, Big River Steel vs. Nucor, a brewing hospital war in Conway and much more.

Latest Arkansas Business Poll
U.S. unemployment is at a 5-year low. Do you think the economy is improving?