The Whispers Blog
Arkansas' breaking business news blog, with news and commentary from the Arkansas Business staff.
Send us tips.
The El Dorado Promise, which today marks its seventh anniversary, has issued its 2014 annual report. You'll remember that the program, announced in 2007 and funded by Murphy Oil Corp. of El Dorado, gives El Dorado Public Schools graduates the chance to earn college degrees tuition-free. The brief report says that there have been 1,444 Promise scholarship recipients to date.
Other notable numbers:
90 percent of the 2013 Promise-eligible class enrolled in college.
91 percent of Promise college freshmen completed at least one year of college.
62 percent have completed at least two years of college.
The report also includes figures on where Promise scholarship recipients have attended college. The report said 21 percent attended South Arkansas Community College; 17 percent attended Southern Arkansas University; 12 percent attended the University of Arkansas; and another 12 percent attended the University of Central Arkansas.
You can download the brief, two-page report here (PDF).
Yesterday, our Jan Cottingham reported on Tyson Foods Inc.'s acquisition of Bosco's Pizza Co. of Warren, Mich.
Bosco's, which is not related to the River Market restaurant, makes stuffed breadsticks and frozen pizzas. It serves the food service sector and retail customers throughout the Midwest and some retailers nationwide. Tyson says the deal is perfect for its plan to expand its prepared foods offerings.
Terms of the deal weren't disclosed, but there's no way it comes close to the value of another purchase Reuters reports that the meat processor is considering.
That'd be a $2 billion-plus acquisition of Michael Foods Group Inc., a large distributor of egg and dairy products.
Citing three "people familiar with the matter," Reuters said last week that Tyson is exploring a possible deal with Michael Foods' current owner, a private equity unit belonging to Goldman Sachs Group Inc.
Reuters says Goldman "is in the early stages of finding a buyer," and that it sources cautioned that Tyson might "ultimately choose not to move forward with an offer." Tyson, Michael and Goldman would not comment for the story.
If it turns out to be true, the deal would be among Tyson Food's biggest, but not the biggest. That honor would still belong to the company's 2001 merger with IBP Inc., which weighed in at about $3.2 billion.
Last week, Arkansas Business brought you the story of Connecticut artist Brendan O'Connell, whose paintings depicting Wal-Mart shoppers and products are attracting more attention, including from Wal-Mart itself:
O'Connell, born in New York City but raised in Tucker, Ga., paints the inner lives of Wal-Mart stores and their customers: shelves of Wonder Bread ("Wonderbread"), an Orthodox Jew contemplating the varieties of Utz potato chips ("Catskills 1"), a woman pondering hair care products ("Shampoo").

He's focused on Wal-Mart for a decade now, but publicity about his work has picked up in the last couple of years, particularly with a lengthy article by writer Susan Orlean in the Feb. 11, 2013, New Yorker and O'Connell's appearance last summer on "The Colbert Report."

Now O'Connell's work hangs in Wal-Mart's corporate headquarters in Bentonville. And he's finding success with his "brand" paintings, with Tyson Foods of Springdale spending up to $40,000 (O'Connell declined to share the exact price) for a piece depicting Tyson's products — chickens, Any'tizers — in their natural habitat, a supermarket freezer. Several other corporations are exploring commissioning O'Connell to create works for them.
Late last week, O'Connell got more press from Time magazine, which featured a gallery of his work here. More importantly, the article notes that O'Connell has launched a new website where fans can purchase his art.
So, if you're so inclined, you can snap up this small painting of a Cheerios box for the everyday low price of $1,250, or this large work of Mobil oil on the shelf for $15,000. Plus: there are prints ($500) and one poster ($50).
Yellow Rocket Concepts, the parent company of Big Orange Burgers + Salads & Shakes, Local Lime Tacos & Margaritas, and ZaZa Fine Salad & Wood Oven Pizza Company, announced Friday that it is planning to launch a brewery in late summer/early fall in downtown Little Rock.
Yellow Rocket partners Scott McGehee, John Beachboard and Russ McDonough announced the Lost 40 Brewing Company in a news release:
Through our five restaurants in central Arkansas we sell a large volume of quality craft beer. Along with beginning to produce and sell our own craft beer, we will continue to offer a wide variety of craft beers from across the country, and particularly from across Arkansas, as we continue to strongly support the craft beer industry, and offer the best craft beers available to our customers.
Yellow Rocket says Omar Castrellon, the master brewer at Thr3e Wise Men Brewery in Indianapolis, is to Little Rock to work at Lost 40, which will offer brewery tours and an on-site tap room for sampling. The company plans to sell Lost 40 Beer in its own restaurants, other restaurants, liquor stores and grocery stores in Arkansas.
The Arkansas Times reports that Yellow Rocket has leased a 19,000-SF space -- the former Candy Bouquet headquarters -- at McLean and Capitol for the brewery.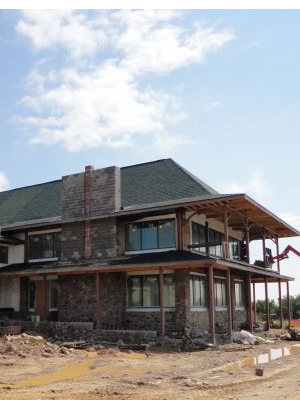 Work on Queen Wilhelmina Lodge atop Rich Mountain isn't where it should be, according to state officials.
You might recall that Arkansas Business has reported on delays in the $7.4 million renovation and expansion of the Queen Wilhelmina Lodge in Mena.
The renovation has kept the lodge closed to visitors since March 2012. In early September, we reported that the Arkansas Department of Parks & Tourism had put the project's contractor, Wade Abernathy Inc. of Mount Ida, on notice and even called the company's performance bond, provided by Travelers Casualty & Surety Co. of America in Hartford, Conn.
By the middle of the month, Parks & Tourism had canceled its contract with Abernathy and was seeking a new contractor. At that point, about 40 percent of the work on the project remained, and Parks & Tourism had pushed the completion deadline from December to spring 2014.
Now, the Polk County Pulse is reporting that legislators are getting involved:
Multiple delays, a terminated contract, and a deep concern on its economic impact to the local region has spurred State Representative Nate Bell to request a meeting of the State Agencies and Governmental Affairs Committee regarding the $6.7 million remodel of Queen Wilhelmina Lodge atop Rich Mountain.

The two-day meeting will be held in Mena January 30 and 31, tentatively at 1:30 p.m. at Rich Mountain Community College. In his capacity, Bell is in the process of requesting leaders of Arkansas State Parks to appear before the committee and he will also request representatives from W.A.I. (Wade Abernathy, Inc.), the contractor firm that was terminated in August 2013, and representatives for the surety on the bond, Travelers Insurance to all appear before the committee. Testimony before the committee is expected on the first day with an on-site visit tentatively scheduled for the second day.
Bell tells the Pulse that while he's no fan of holding committee meetings "all over the state," he thinks the project's delays justify the hearing.
"The project should have already had a positive economic impact to our region and to date has instead had a negative effect due to lost tourism revenue," he said. "There has to be some accountability and oversight."
Meanwhile, while Abernathy hasn't returned Arkansas Business calls for comment, the Pulse obtained a Travelers report on the delays. In short, Abernathy attributes construction delays to circumstances beyond its control, including an issue with mold that occurred before construction began.
You can read the full report here.

Latest Arkansas Business Poll
Has the winter weather affected your business?