The Whispers Blog
Arkansas' breaking business news blog, with news and commentary from the Arkansas Business staff.
Send us tips.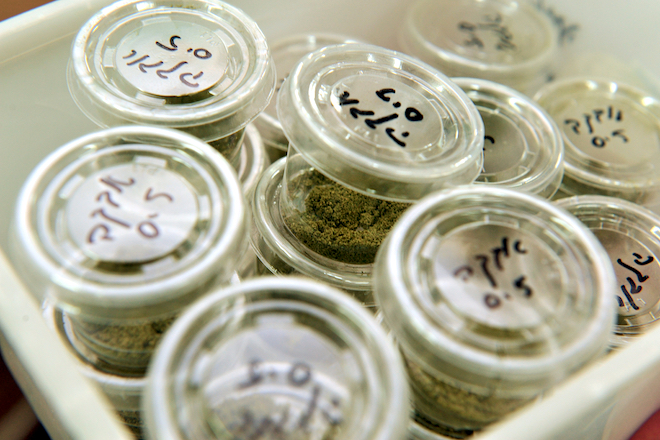 Final draft rules of the Arkansas Medical Marijuana Commission will be published in statewide newspapers starting tomorrow and running through Monday, Feb. 27, marking the start of the formal 30-day public comment period.
The state Department of Finance and Administration posted the draft on Friday.
You can download the entire document here.
The medical marijuana amendment, adopted by voters in November, established the commission and required that it develop rules governing the licensure of marijuana cultivation facilities and dispensaries. Rules dealing with medical marijuana are also being drafted by the administration's Alcoholic Beverage Control and the state Department of Health.
People who wish to review and comment on the rules can visit the commission's website, and written comments can also be mailed to the commission, c/o Alcoholic Beverage Control Administration, 1515 Building 7th St., Suite 503, Little Rock, Arkansas 72201. They can also be submitted via email to MMCAdmin@dfa.arkansas.gov.
The commission plans to hold a public hearing on the draft rules from 2-6 p.m. March 31, at the UA-Little Rock Bowen School of Law.
Tyson Foods Inc. of Springdale — fresh off announcing a new leadership team — unveiled a new corporate logo and more details about its growth strategy Tuesday morning at the 2017 Consumer Analyst Group of New York (CAGNY) Conference in Boca Raton, Florida.
CEO Tom Hayes and Sally Grimes, president of Tyson's North American retail operations, charted the publicly traded meat processor's path in a presentation emphasizing sustainability, technology and the company's value-added and branded products.
One of the keys to growth: fresh foods. Grimes said that while fresh foods is functioning as a commodity right now, Tyson can find growth by applying a branded model to it. She noted that 74 percent of supermarket growth is taking place in fresh, unpackaged foods — items often found in the perimeter of grocery store.
Appearing on CNBC later this morning, Hayes said that perimeter is ripe for Tyson to find growth.
"We have so much potential in the fresh food space — it's where the shopper is going today. The perimeter of the store is where all the action is; the center of the store is dying," he said. "So we are doing everything to build fresh foods."
The executives also laid out strategies to find profit while building a sustainable food system, aiming to deliver healthier food, animals, workplaces and environment.
"As we make the right investments for the future, they'll pay for themselves in the present," Hayes said during the presentation.
Goals in that initiative include expanding its "no-antibiotics ever" chicken offerings, reducing workplace injuries and illnesses by 15 percent year over year, setting "science-based" sustainability goals and improving how chickens are raised.
It was also clear from the presentation just how transformative the $8.55 billion acquisition of Hillshire Brands in 2014 is to the company.
Tyson Foods has reoriented its management team to better focus on higher margin value-added branded products, and it aims to roll out more of those products in the coming months.
The portfolio is aimed at a consumer whose eating habits have changed from three square meals per day to "on demand" eating that takes place throughout the day — a lifestyle that might find Tyson's array of packaged protein products attractive.
In all, Hayes said Tyson aims to "lead for tomorrow by growing its portfolio of protein-packed brands and delivering sustainable food at scale."
"The purpose of our company is to raise the world's expectations for how much good food can do, and we're uniquely positioned to deliver just that," he said.
Below, video of Hayes' full CNBC interview, which also includes his comments about a U.S. Securities and Exchange investigation tied to a lawsuit that alleges the company colluded to fix chicken prices. Hayes called the claims "baseless" and that they represented "plaintiffs' lawyers grasping at straws."
Tom Hayes on CNBC
Gov. Asa Hutchinson, in Washington this week to attend the Donald Trump inauguration, appeared on CNBC's "Squawk Box" to talk about the appeal of the Patient Protection & Affordable Care Act and the incoming Trump administration's trade plans.
Yesterday, Hutchinson met with congressional leaders to talk Medicaid and Obamacare repeal. Bloomberg reports today that some Republican governors — even those eager for repeal — are telling their congressional delegation that doing so without a replacement "would ravage budgets and swamp hospitals with the uninsured."
Hutchinson says Arkansas, which took Medicaid expansion dollars under the reform program, is ready. "Congress should repeal the ACA and return the power of regulating insurance to the states," Hutchinson wrote in a letter to the House majority leader, according to Bloomberg.
He echoed those comments on CNBC today, and said Arkansas is ready to move quickly — as quickly as 90 days — into a new federal partnership for health insurance.
"We ought to have a federal partnership to make sure there is a smooth transition into a system that assures care [but] at the same time is affordable and gives the states the flexibility as needed," he said.
But another part of the Trump agenda concerns the governor: trade. The Trump administration has floated the idea of raising taxes on imports as they push for fair trade. Hutchinson said that could pose problems for agriculture and retail — two industries near and dear to Arkansas.
"I understand the need to rebuild manufacturing in the United States, to have a tougher trade policy, but we cannot jeopardize our place in the global marketplace," the Arkansas governor told "Squawk Box."

Not only would an effective tariff raise costs on goods coming into the country, but those costs would trickle down to consumers, who would see prices rise on the shelves of big retailers like Arkansas-based Wal-Mart, which import most of their products, Hutchinson said.

Hutchinson said he is also concerned about the backlash it would invite from the United States' global trading partners.

"In a state like Arkansas, not only do we have Wal-Mart, ... but also we have agriculture, and if you have other countries retaliating against the United States, it's going to cost us in our agricultural exports, and that retaliation is something we'd be very concerned about," he said.
You can see Hutchinson's comments on health care and trade in the clip below: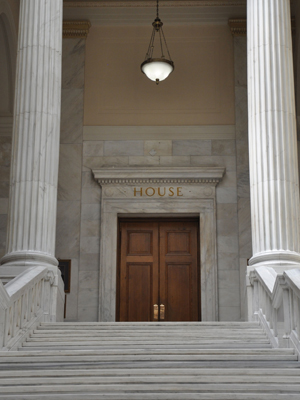 Gov. Asa Hutchinson is scheduled to address a joint session of the state Legislature at 10:30 a.m., and he's expected to call for lawmakers to approve his proposed $50 million tax cut for low income Arkansans.
You can watch the speech live below.
The 91st General Assembly convened Monday, with legislators facing a host of issues, including the reauthorization of the state's hybrid Medicaid expansion program, Arkansas Works; implementation of Arkansas' medical marijuana law; and whether to cut taxes.
Republicans have expanded their majority in both legislative chambers since last year's fiscal session. The GOP has 76 seats in the 100-member House; they have 26 seats in the 35-member Senate.
On Monday, House members re-elected Jeremy Gillam as speaker, and Jonathan Dismang will be Senate president for a second year.
Asa Hutchinson's Speech to the Joint Legislative Session
U.S. Sen. Tom Cotton, R-Ark., appeared on MSNBC's "Morning Joe" today to talk about Donald Trump's continued skepticism about U.S. intelligence reports that attribute the hacking of Democratic party emails to the Russians.
But Cotton also touched on Republicans' plans to repeal the Patient Protection & Affordable Care Act, or Obamacare.
Cotton was asked what he'd say to those on Obamacare who might be concerned about losing their health insurance.
"We don't want anyone to lose their coverage," Cotton said, and, in short, he cited Arkansas' hybrid Medicaid expansion as a possible model for how the GOP could replace the current system.
Here's what he said in full:
Well, we don't want anyone to lose their coverage. When we replace Obamacare, we want to fix the problems that Obamacare made worse from the pre-existing system. Now Arkansas has something of a unique system under Obamacare — our state government didn't just expand Medicaid like most states; it used that money to help people buy private insurance. That may be something we look at when we replace Obamacare. Whether it's a tax deduction or a tax credit, we provide every American with the ability to go out and find affordable health insurance to fit their needs, not the needs that are dictated by politicians in Washington.
Health care was also the topic of Gov. Asa Hutchinson's appearance yesterday on Neil Cavuto's Fox Business program.
Hutchinson's comments came amid reports that the president would meet today with Democratic leaders to find ways of preserving elements of Obamacare under the new presidential administration.
Hutchinson's message to the president: Stop trying to preserve a plan that must be scrapped. He also said states want more control of their health care programs and cited block grants as key to whatever new system the GOP devises.
Here's the governor's full comments:
President Obama needs to simply not make any additional foreign policy announcements, not make any additional executive orders, let the new administration initiate their policies the people of America elected them to do. And so, when it comes to the Affordable Care Act, there's nothing more President Obama can or should do — enough damage has been done.

From a state's perspective, we simply want more control. We want to be able to have broader block grants to manage the Medicaid program, to create the savings, the work incentives. You give us that authority, we'll manage it well, make sure people have health care, but also as something we can afford. I'm looking forward to a Trump administration that will, with Congress, repeal the Affordable Care Act and will move us in a different direction.
Hutchinson was also asked how long he thought a repeal could take. "From a state perspective, I think you can make a transition within two years," he said. "It looks to me like the first thing you do is give the states more broad authority. We need that in Arkansas."
You can watch both segments below:
Tom Cotton on MSNBC today:
Asa Hutchinson on Fox Business Tuesday: