The Whispers Blog
Arkansas' breaking business news blog, with news and commentary from the Arkansas Business staff.
Send us tips.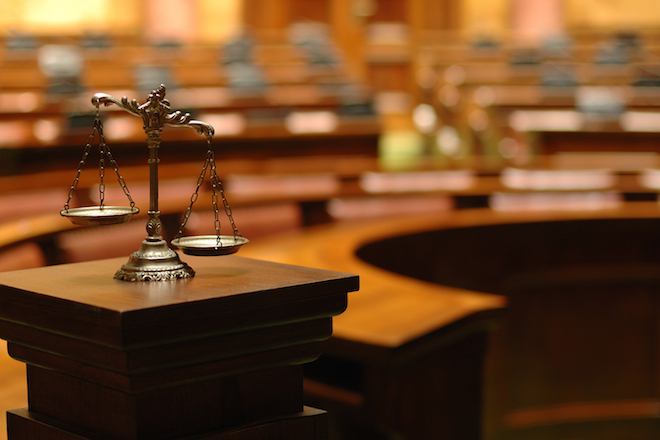 The Arkansas Supreme Court today granted a request by the Board of Law Examiners to raise the fee law students must pay to take the Arkansas Bar Examination.
The fee was $400. Today's per curiam by the high court raises it to $500, beginning with the February exam.
The order cites increased expenses tied to administering the exam as reason for the increase. The court set the $400 rate in November 2006.
The increase comes at a tough time for new lawyers seeking a job. Arkansas Business' Mark Friedman reported in July that the University of Arkansas at Little Rock's Bowen School of Law would reduce its enrollment for the fall because of the tight job market for new attorneys.
The American Bar Association reported in April that, nine months after graduating, 57 percent of the 2013 graduates of ABA-approved law schools were employed in long-term, full-time positions where bar passage was required. That percentage was up only slightly from 56.2 percent for the graduating class of 2012.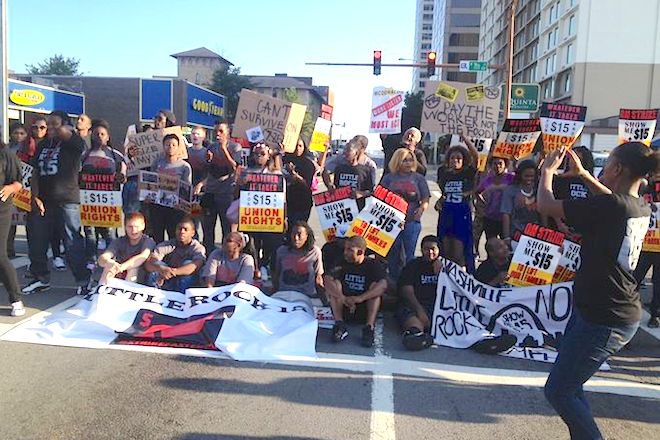 About 50 people held signs and blocked traffic Thursday morning at the corner of Broadway and 7th Street downtown.
Arkansas Business news partner THV 11 News reports that Little Rock Police arrested 11 people during a Thursday morning demonstration calling for a higher minimum wage.
The 11 were among about 50 who held signs and blocked traffic at the corner of Broadway and 7th Street downtown. Police told THV that it arrested 11 people for disorderly conduct.
The protests were part of a nationwide demonstration called "Strike Fast Food," which calls for a minimum wage increase to $15 and the "right to form a union without retaliation." The protests were led by a group named Fight for 15 from St. Louis.
Police had cleared the area by 9 a.m.
8/29/2014 01:21 pm
Updated 2 months ago
Comments
The Central Delta Argus-Sun newspaper in Brinkley is reporting that the FBI is investigating Turner Grain Merchandising Inc., the grain buyer that two groups of farmers have sued over defaults on payments.
The Argus-Sun report, available via subscription on its website, says the local police chief turned files related to Turner Grain and a bounced check to a farmer over to the FBI. The U.S. Department of Agriculture had also requested those files.
In a lawsuit filed Aug. 22, a lawyers for a group of Lonoke County farmers had noted that the USDA, acting through its Grain Warehouse Division, has, "at least temporarily, suspended the grain warehouse license" of one the many companies related to Turner Grain, Agribusiness Properties LLC.
Congressional Request
Meawhile, Arkansas' congressional delegation sent a joint letter to U.S. Department of Agriculture Secretary Tom Vilsack on Thursday requesting an extension on USDA loans for Arkansas farmers affected by the fallout at Turner Grain.
The letter, sent by U.S. Reps. Rick Crawford, Tim Griffin, Steve Womack and Tom Cotton, requested the USDA's Farm Service Agency extend the repayment date by at least 180 days.
"Dozens, if not hundreds of Arkansas farmers stand to lose everything as a direct result of Turner Grain's apparent mismanagement," the letter said. "At a time when the average age of a row crop is 58, this business failure could deal a devastating long-term blow to Arkansas' agricultural community and have a chilling effect on young farmers now positioned to replace our aging agricultural producer base."
More: Read the entire letter here (PDF).
The Arkansas delegation also asked for a review after 90 days to see if additional time would be needed past 180 days.
It's the second time this week Vilsack has been called upon to give some sort of relief to Arkansas farmers, as Arkansas Secretary of Agriculture Butch Calhoun on Tuesday requested an extension for farmers delivering their Commodity Credit Corp. grain under a CCC-681-1 to Turner Grain.
Calhoun also asked the USDA make low-interest emergency loans available to affected farmers.
Those darn kids are at it again.
Sydney Brazil, a junior at eStem High in downtown Little Rock and a member of the Noble Impact student entrepreneurship program, has expanded her gourmet doughnut hole business.
Downtown workers can get their doughnut hole fix beginning Friday, Sept. 5, at Spokes' coffee and smoothie shop inside Orbea's North American headquarters in the 100 block of Main in Little Rock. Spokes is a retail outlet for Orbea, and it recently opened a coffee/smoothie shop inside the high-end bicycle showroom.
Brazil launched The Hole Thing, a gourmet "donut holery," last year and currently creates her goodies in the kitchen at the Copper Grill, the downtown restaurant located at Third and Cumberland streets. Her holes appear on Copper's dessert menu, and Brazil continues to fill catering orders.
Hole Thing concoctions now will appear each morning beginning Sept. 5 at Spokes, which will buy "holesale" from Brazil and then sell the holes in packages of three for $3. Brazil's first order from Spokes: three dozen holes for that first Friday morning and another three dozen for the following Saturday.
Brazil tells us she will "circulate" her ever-growing variety of flavors through the Spokes menu (which include chocolate chip, birthday cake, apple fritter, even Mexican hot chocolate).
There's more. Brazil recruited help for The Hole Thing from fellow Noble Impact/eStem student Jase Burton. Burton moved on to form his own startup business, the Burton Agency, which just signed Spokes as its first official client. Burton says he'll help Spokes "extend its brand and build relationships in the community" through social media marketing.
"Our goal is to engage businesses with their target market within the community and build relationships between business owners and local consumers to make the community stronger and generate more leads to help businesses remain healthy and grow," he said.
And to think some of us used to waste away after school in front of "Gilligan's Island" reruns.
Arkansas Business news partner THV 11 News takes a look at the still-unfolding Turner Grain Merchandising situation, noting state Agriculture Department Secretary Butch Calhoun's assistance request to the U.S. Department of Agriculture.
THV 11 also talks to a farmer, Dewayne Chappell, who's owed money by Turner for corn the company purchased.
"I had corn booked, upwards of $5 and now it is $3.60 delivered 20 miles away," Chappell tells THV 11's Alyssa Raymond. "It is quite a bit of difference in price."
Chappell says he also sold wheat to Turner and received payment.
You can watch Raymond's report below:

Latest Arkansas Business Poll
Should the alcohol amendment remain on the ballot?