The Whispers Blog
Arkansas' breaking business news blog, with news and commentary from the Arkansas Business staff.
Send us tips.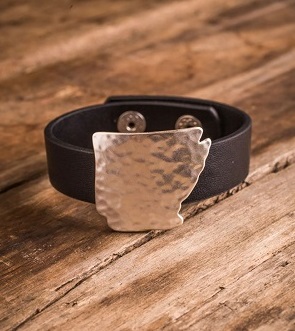 An example of the Bourbon & Boots by Dillard's line: a leather cuff with a silver plate fashioned in the shape of Arkansas.
Bourbon & Boots has quietly become one of the leading online marketplaces for Southern-themed gifts.
The Little Rock startup, from former political wonk and serial entrepreneur Matt Price, recently signed on with Innovate Arkansas and signed up with Dillard's.
In partnership with the Little Rock-based department store, Bourbon & Boots has launched its own line of Southern-themed jewelry available in-store at Dillard's locations and online at BourbonandBoots.com.
Price tells us B&B is working with in-house designers at Dillard's to craft the specialty jewelry, which includes bracelets, leather cuffs, earrings and necklaces adorned with the shapes of Southern states.
The line -- Bourbon & Boots by Dillard's -- ranges in price from $15 to $27.50.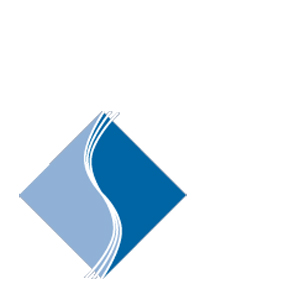 In case you missed it, Stephens Media LLC, which is owned by Little Rock's Stephens family but headquartered in Las Vegas, has sold some of its newspapers in Washington state and Hawaii.
The news comes via the Las Vegas Review-Journal, Stephens' flagship newspaper:
The Daily World, a three-day-a-week newspaper in Washington state, and associated weeklies Montesano Vidette, North Coast News and South Beach Bulletin were sold to Sound Publishing Inc. That transaction closed today.

The daily newspapers West Hawaii Today, of Kailua-Kona, the Hawaii Tribune-Herald, of Hilo, and Stephens' interest in the Hawaii.com website, were sold to Oahu Publications Inc., another Black subsidiary, with an effective date of Dec. 1.

Financial terms were not disclosed.
Stephens Media CEO Ed Moss, who joined the company in December, said the papers were no longer a strategic fit for the company.
Stephens has been paring its operations since Moss came aboard. In February, the company laid off five at its North Little Rock-based Arkansas News Bureau, leaving one reporter. The company laid off several more in May and July at its Times-Record newspaper in Fort Smith.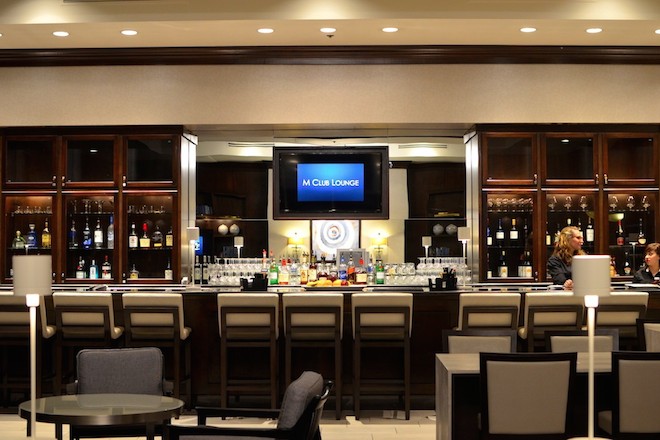 Marking the end of about six months of a $16 million renovation, the Little Rock Marriott hosted a relaunch party Tuesday night.
The Little Rock Marriott unveiled the finished result of its $16 million renovation with a relaunch party Tuesday night.
The renovation, which began in March, included all 418 guest rooms, and all public meeting and dining spaces.
Our sister publication, Little Rock Soirée, was at the relaunch and had this to say:
"Crowds got to sample some of the delicious offerings from the brand new Heritage Grille Steak and Fin while touring the completely remodeled facilities, and were treated to performances by the Arkansas Symphony Orchestra Brass Band, the St. Mark's Baptist Church Sanctuary Choir, the Mabelvale Elementary and Little Rock Central High drumlins, complete with LRCH cheerleaders to send you home."
For more photos and information from the relaunch party, check out Soirée's story here.
Little Rock is on its way to becoming a true entrepreneurial hub in the image of inland startup hotbeds like Austin, Nashville, Des Moines and Omaha, writes local tech founder Rod Ford.
Ford, serial tech startup founder, former CEO of nGage Labs and Arkansas Venture Center board member, on Tuesday morning launched part 1 of a two-part discussion on the local growth of tech-based entrepreneurship.
Ford believes the first steps have been taken to grow a successful startup ecosystem in Little Rock:
The initial steps to create this ecosystem are well underway in central Arkansas. This infrastructure is critical if we hope to foster real entrepreneurship, attract and keep founder-level talent here. Arkansas, in particular, needs entrepreneurs and entrepreneurial success to improve and sustain its economic health. Communities similar to Little Rock like Austin, Des Moines, Nashville and Omaha are growing cities where startup ecosystems are prospering. Leading national support organizations and private philanthropists, such as the Kauffman Foundation, and Steve Case, founder of AOL, are investing in national support initiatives. In short, entrepreneurial activity is the cornerstone of any budding city - a must have for communities like Little Rock if the 'brightest and the best' are to stay in Arkansas, build companies and create jobs for the future.
Ford points out, though, that Arkansas falls behind glaringly in one area: access to capital. Finding seed capital is a daunting task for local tech-based startups looking to gain traction:
Private Equity at Work, an organization that researches the private equity industry, reports that Arkansas is distressed and not near at par with our neighboring states in the availability of capital for emerging companies. Private equity sources made 2,670 investments in Texas, 439 in Tennessee, 370 in Missouri, but only 63 in Arkansas (2013 data).

In my businesses through the years, capital raises have always taken me two times the amount of time I envisioned while they were four times more difficult. It's time as we make great strides towards the emergence of an entrepreneurial hub we get busy ensuring there will be oxygen in the tank before to fund the new ideas exiting our ecosystem investment into job creating commercial successes.
You can read Ford's full post here.
We've reported how banks have cast a wary eye at Wal-Mart's ever-expanding foray into financial services. The retailer unveiled its latest move yesterday: a mobile checking account produced in partnership with Green Dot called GoBank.
Today, Camden R. Fine, president and CEO of the Independent Community Bankers of America, issued this statement about Wal-Mart's plans to offer checking accounts in stores nationwide. In short, the ICBA says that if Wal-Mart is going to offer banking services to customers, it needs to be subject to the same regulatory oversight as banks.
The nation's community banks have offered low-fee and no-fee basic checking accounts for decades. Meeting the financial needs of citizens in thousands of communities across America is at the heart of the community banking business model.

So the message is simple: if a retailer like Wal-Mart is going to serve as a conduit for offering checking accounts and other traditional banking services, they need to know their customer and protect the customer's financial health just as is required of all banks. This means that these accounts should be subject to the same legal and regulatory framework, consumer protections, and oversight as traditional checking accounts offered by banks.

Federal and state regulators need to take appropriate steps to ensure Wal-Mart banking services comply with all appropriate banking laws and regulations, including consumer protection and federal deposit insurance. Further, policymakers should insure that Wal-Mart is in compliance with all state consumer-protection and other applicable laws.

Our nation's policy makers have separated the business of retail from the business of banking for a reason, for which the wisdom of such policies became crystal clear during the Great Recession. If consumers are interested in checking accounts, they can look to their local community bank for the best possible customer service that's based on the time-tested community bank relationship business model.
Bankers have been far more blunt in their opinions of Wal-Mart's plans in the past. We noted this quotation, from 2006, today in our Morning Roundup morning email:
"I think we should keep these guys out of the business," Richard Kovacevich, Walls Fargo & Co.'s former CEO, said at a conference in New York in 2006, according to Bloomberg. "If we cannot be in the commerce business, it is appropriate that commerce not be in the finance business."

Latest Arkansas Business Poll
Will you vote for the Arkansas minimum wage increase?