The Whispers Blog
Arkansas' breaking business news blog, with news and commentary from the Arkansas Business staff.
Send us tips.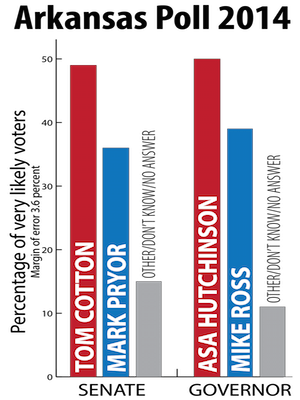 The Arkansas Poll shows U.S. Rep. Tom Cotton and Asa Hutchinson with significant leads in their respective races for U.S. Senate and Arkansas governor.
Most polls correctly placed Republicans Asa Hutchinson and Tom Cotton ahead of their Democratic foes for governor and U.S. Senate. What most did not do is predict the large margin of victory each would enjoy on Election Day.
The Arkansas Poll, released Thursday by the University of Arkansas, was one that did.
Hutchinson defeated Democrat Mike Ross by 13.91 percent, obtaining 55.42 percent of the votes, compared to 41.51 percent for Ross.
The Arkansas Poll gave Hutchinson an 11-point lead. It was one of only two polls to give the GOP candidate a double-digit lead. Public Polling Policy also gave the Republican a double-digit lead, at 10 points.
A Talk Business/Hendrix poll conducted in October gave Hutchinson an 8-point lead, and a Rasmussen poll gave Hutchinson a 7-point lead. A CBS News/New York Times/YouGov poll conducted in September gave Hutchinson an 11-point lead, however, an updated poll in October shrank his lead to 9 points.
For a complete list of gubernatorial polls conducted, click here.
In the U.S. Senate race, Cotton enjoyed a 16.72 percent margin of victory over two-term Democrat U.S. Sen. Mark Pryor. The Arkansas Poll was the only one to give Cotton a double-digit lead at 13 percent.
Talk Business and Public Polling Policy both gave Cotton an 8-point lead. For a complete list of U.S. Senate polls, click here.
Below is a graphic of actual election results, compared to pre-election polls.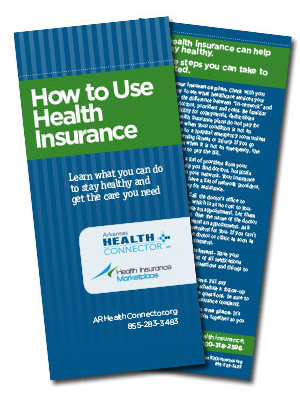 There are still a few races yet to be called, but what we know already about Tuesday's results in the state legislature is that an interesting battle over the state's private option has been set.
Arkansas' version of the Medicaid expansion, which at last count had nearly 205,000 people on its rolls, was reauthorized in the spring by a Republican-controlled House of Representatives, 76-24, and Senate, 27-8. It took mulitple votes in the House to meet the three-fourths majority threshold.
Looking ahead, some of last night's victories for the GOP put the future of the private option on shaky ground.
By all accounts, the number of seats held by Republicans in the House of Representatives is expected to jump from 51 to at least 64. There are still three races that have not been declared. In the Senate, the Republicans gained two seats, pushing its control of that chamber to 24-11 over Democrats.
Some of the seats won by Republicans, in both chambers, were by candidates that stated their opposition to Obamacare and the state's private option during the campaign, which is not encouraging for an act that narrowly met the three-fourths majority required — 27 votes in the Senate and 75 votes in the House — in both chambers for reauthorization.
One silver lining for the future of the private option could be if Republican Gov.-elect Asa Hutchinson throws his support behind the private option and brings fellow GOP members in the Senate and House with him. Republicans are sure to be more inclined to listen to a newly elected governor from their own party than outgoing Democrat Gov. Mike Beebe.
Either way, the debate on the state's private option should be a key item to watch for in next year's general session.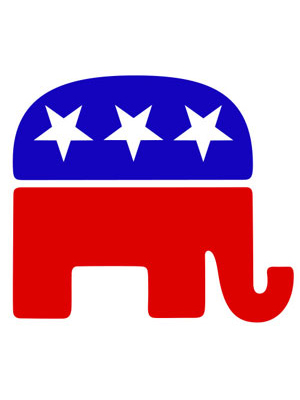 It was more than a banner night for the GOP in Arkansas. It was an historical night.
Behind Asa Hutchinson and Tom Cotton, the GOP candidates took all state constitutional offices, swept up the only Democratic held U.S. Senate seat and took all U.S. Congressional Districts.
Republicans also retained control of the state legislature, and even gained on their lead in the House chamber.
Below are a few of the reactions on Twitter from last night's GOP route.
Wal-Mart Stores Inc. of Bentonville is close to another milestone: its 5,000th store.
The world's largest retailer announced Tuesday that it will open the store, a Neighborhood Market, at 7:30 a.m. Wednesday in Greenbrier. How will the retailer celebrate? Moon Pies of course!
To celebrate the 5,000th opening, on Thursday all Walmart stores and Walmart Neighborhood Markets in Arkansas will be giving their first 100 customers of the day free Moon Pies, one of Walmart founder Sam Walton's favorite products.

The new Greenbrier store is part of Walmart's plan to open an additional 270 to 300 small-format locations this year. The first Walmart Neighborhood Market opened in 1998, and today there are approximately 300 Walmart Neighborhood Market stores nationwide.
According to the most recent numbers available on Wal-Mart's corporate website, the retailer has 116 stores in its home state: 76 Supercenters, 10 discount stores, 19 Neighborhood Markets, three Wal-Mart Expresses, one Wal-Mart On Campus and eight Sam's Club warehouse stores. It employees more than 49,000 people in its stores here.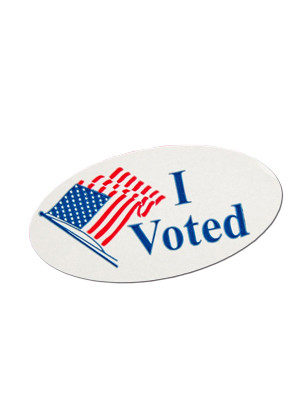 Updated: The day is finally here! On this (rainy) Election Day, Arkansas Business political columnists Robert Coon and Blake Rutherford join me for a special podcast wrapping up the 2014 midterm elections.
Once we get acclimated to the podcast service (the first few seconds aren't terribly polished -- apologies), Blake, Robert and I talk about the latest news from the final hours of the campaign trail, including the latest polls and those final GOTV efforts. We also assess the U.S. Senate race between Democratic U.S. Sen. Mark Pryor and his Republican challenger, U.S. Rep. Tom Cotton.
Also: Our thoughts on the Arkansas governors race between Republican Asa Hutchinson and Mike Ross, the prospects of a majority Republican party in Arkansas and our biggest surprises of the midterm cycle.
You can hear the show, recorded earlier this morning, right here:
Earlier:
Got questions or topics you'd like to hear us cover? Tweet us at @robertwcoon, @blakerutherford, @LT or @ArkBusiness, or drop us a line here or in comments below. We'll do our best to respond.
Meanwhile, catch up on some of our favorite #ARPX columns of the year:

Latest Arkansas Business Poll
Do you approve of the president taking executive action on immigration?