The Whispers Blog
Arkansas' breaking business news blog, with news and commentary from the Arkansas Business staff.
Send us tips.
4/11/2016 10:03 am
Updated 6 months ago
Comments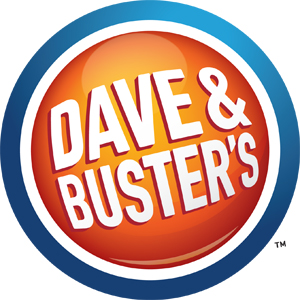 Dave & Buster's will open its first Arkansas location at The Grove at Gateway Town Center adjacent to the Outlets of Little Rock in mid-June.
The Arkansas arrival comes 34 years after James "Buster" Corley and Dave Corriveau conceived of a business that featured good food and drinks along with arcade games and billiards, all in a space averaging about 45,000 SF.
"After 34 years, Dave & Buster's is excited to come home to Arkansas," Charles Beyer, general manager of the new location, said in a news release Monday announcing the opening. "The original idea for Dave & Buster's began in Little Rock in 1982, so this grand opening is like a homecoming. Our new location will raise the bar as central Arkansas' premier destination for food, games and sports."
Dave & Buster's aims to offer food, drinks and entertainment in an "upscale and modern interior." The location will also feature more than 30 high-definition, big-screen TVs and a 360-degree sports bar. Guests can games in the "Million Dollar Midway" including "Luigi's Mansion," "Angry Birds Arcade" and "SpongeBob Pineapple Arcade."
The franchise is returning to the state after State Sen. Jeremy Hutchinson of Little Rock sponsored a bill making it possible for the company to operate here.
That measure, approved by the Legislature as Act 1209, raised the cap on how much a player of arcade games can win. State law had capped the prize at 10 times what it cost to play the game or $5, whichever was less.
In a game in which a player wins multiple tickets, the value of the prize was limited to $12.50. Hutchinson's bill increased that cap to $500, a sum that accommodates the PlayStation, Wii and Xbox video game systems Dave & Buster's sometimes bestows as prizes.
3/23/2016 01:52 pm
Updated 7 months ago
Comments
With only eight months until the reopening of the Robinson Center, the Little Rock Advertising and Promotion Commission on Tuesday approved the addition of a 5,800-SF outdoor terrace.
According to the Little Rock Convention & Visitors Bureau, the terrace was part of the original plans for the $70 million renovation, but was removed in 2014 during contract negotiations due to budget constraints. (You can see a larger rendering of the terrace at the end of this post.)
According to Gretchen Hall, president and CEO of the LRCVB, the addition of the outdoor terrace will cost $332,479, but it will not affect the scheduled substantial completion date of Oct. 31. Funding for the terrace is provided through a combination of owner's contingency funds and cost savings related to construction efficiencies, according to the city.
The finished outdoor space will offer views of the Arkansas River and sits on the highest level of the new conference center.
The LRCVB is also now booking events at the center, set to reopen in November.
"We are so pleased with the progress of this complex project," Hall said. "Our project team ... [has] continued to provide meticulous attention to detail and countless effort to this project. The all-new Robinson Center is going to be a show-piece for Little Rock and all of Central Arkansas."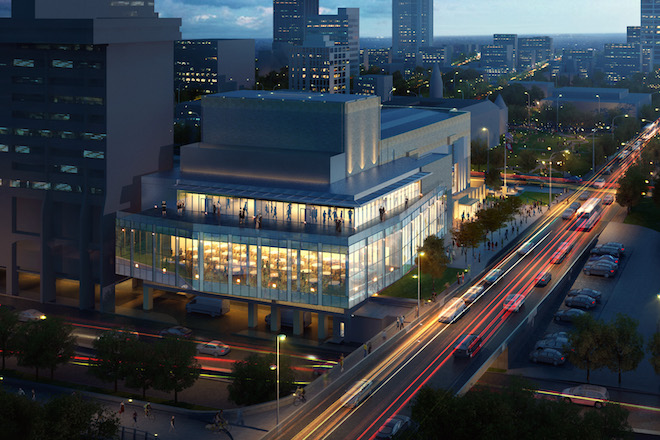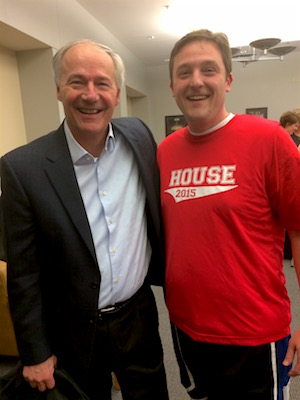 Gov. Asa Hutchinson (left) and House Speaker Jeremy Gillam at last year's Hoops for Kids' Sake basketball game.
March Madness is right around the corner, but if you just cannot wait until the first round of the NCAA finals on Thursday, you can get your fix tonight in Little Rock at the fourth annual Hoops for Kids' Sake basketball game.
The event raises money for Big Brothers Big Sisters of Central Arkansas, the Boys & Girls Club of Bryant and Boys & Girls Club of Saline County. It pits members of the Arkansas House versus the Senate, along with local media celebs as players and coaches.
So far, the event at the Jack Stephens Center on the UALR campus has raised more than $110,000 for the three nonprofits, including $30,000 raised for this year's game. General admission tickets are $10 at the door. Doors open at 6 p.m. for the 7 p.m. tip-off.
Below is the roster for both teams. Competition is expected to be heated, but the House is undefeated in the series so far. This year, Gov. Asa Hutchinson will play for the House team.
Arkansas House
Asa Hutchinson
Rick Beck
Charles Blake
Justin Boyd
David Branscum
Bruce Cozart
Jim Dotson
Lance Eads
Les Eaves
Jeremy Gillam
Michelle Gray
Kim Hendren
Jack Ladyman
Mark Lowery
Reginald Murdock
Mathew Pitsch
Chris Richey
Marcus Richmond
Matthew Shepherd
Dan Sullivan
Clarke Tucker
DeAnn Vaught
John Vines
Celebrity players
Former Razorback D.J. Williams
Former A-State Red Wolves Freddy Hicks and Micah Marsh
Honorary coach
KATV-TV, Channel 7 sports anchor Steve Sullivan
Arkansas Senate
Alan Clark
Linda Chesterfield
Linda Collins-Smith
John Cooper
Joyce Elliott
Jane English
Bart Hester
Jeremy Hutchinson
Keith Ingram
Missy Irvin
Blake Johnson
Bruce Maloch
Bobby Pierce
Bill Sample
David Sanders
Gary Stubblefield
Larry Teague
Eddie Joe Williams
Jon Woods
Andy Goodman (Senate staffer)
Mike Preston (Arkansas Economic Development Commission executive director)
Celebrity players
Former Arkansas Razorbacks Scotty Thurman and Blake Eddins
KATV-TV, Channel 7 reporter Janelle Lilley
Arkansas Democrat-Gazette's Spencer Willems
KARK/KLRT-TV reporter Drew Petrimoulx
Team Captain
Honorary coach
KTHV-TV, Channel 11 sports anchor Mary Dunleavy
3/7/2016 03:55 pm
Updated 8 months ago
Comments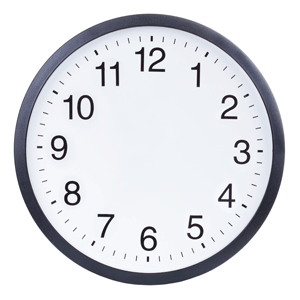 Wal-Mart Stores Inc. of Bentonville said Monday that, as part of its $2.7 billion investment in its U.S. stores, more than 1.2 million of its Walmart and Sam's Club employees will get a raise on their March 10 paychecks.
The retailer says the moves constitutes "largest single-day, private-sector pay increase ever." In Arkansas, 29,151 employees will get raises, the company said.
Here's how the company says the raises will break down:
All employees hired before Jan. 1 will earn at least $10 per hour.
New entry-level employees hired after Jan. 1 will continue to start at $9 per hour and will move to at least $10 per hour after completing the company's new retail skills and training program called "Pathways."
Employees who already make more than $10 per hour will see their annual pay increase starting in March rather than their anniversary date.
In December, Wal-Mart said it would spend $64 million on raises at its Arkansas stores.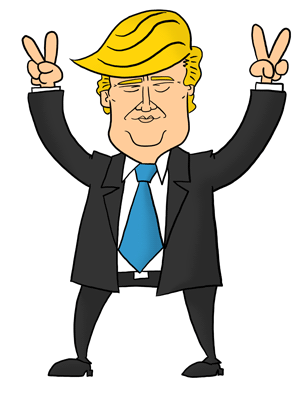 Gov. Asa Hutchinson talked to NPR yesterday about his endorsement of U.S. Sen. Marco Rubio of Florida and his thoughts on the GOP frontrunner Donald Trump.
In the interview, Hutchinson called Trump's words "frightening" and said he doesn't see Trump's discussion of the issues as being serious.
Michael Hibblen of Little Rock affiliate KUAR-FM, 89.1, writes:
Hutchinson said he will support whoever becomes the Republican nominee, but doesn't feel Trump is displaying the appropriate temperament. He said candidates need to "help educate the public as to what's the right ideas, what is the right thing that we're going to replace Obamacare with, what is the right direction for our country in terms of security, and these are serious discussions. They're not salesmanship, there's not a circus atmosphere. These are serious discussions as to really the free world."

Hutchinson told program host Robert Siegel that he doesn't see Trump's discussion of the issues as being serious.

"How you're going to build a wall, how you're going to have Mexico pay for it… what does this mean? Let's be realistic in our discussions and how we discuss these issues with the American people."
Trump is set to be in Bentonville on Saturday ahead of Tuesday's primary elections in Arkansas and 11 other states. We wouldn't be surprised to hear Trump fire back at the governor, but we'll see.
Meanwhile, in an editorial, The Washington Post urges GOP leaders to do "everything in your power" to stop Trump.
Listen to the full interview with Hutchinson right here:

Latest Arkansas Business Poll
How has the Broadway Bridge closing affected your travel?