The Whispers Blog
Arkansas' breaking business news blog, with news and commentary from the Arkansas Business staff.
Send us tips.
Asa Hutchinson and Mike Ross claimed their respective parties' nomination for Arkansas governor last night, setting the stage for what will be a closely watched, well-funded race for the office. Fresh off their primary wins, both candidates stopped by "THV 11 This Morning," where we talked about the issues that will be at play, including tax cuts, jobs and education.
Hutchinson's interview is above, and Ross' is below:
Wal-Mart Stores Inc. of Bentonville is about to invest even more in its Sunnyvale, Calif., e-commerce operations, according to a report today by the Oakland Tribune:
Walmart's Global eCommerce unit intends to hire hundreds of tech workers in a big expansion of its operations in Sunnyvale.

The retail giant's eCommerce unit has struck a deal to lease about 107,000 square feet on West California Avenue near the corner of Central Expressway and Mathilda Avenue.

"We are planning to expand to about 1,000 employees in Sunnyvale," said Bao Nguyen, a spokesman with Walmart Global eCommerce, whose operations are headquartered in San Bruno.
The move is no surprise given Wal-Mart's growing focus on online sales and its battle with Amazon. The retailer, which has seen U.S. same-store sales stagnate, has been able to point to some successes already, including this report by MultiChannel Merchant that says Wal-Mart's e-commerce sales rose in the first quarter at a faster clip than Amazon's.
And of course e-commerce is a key component of Wal-Mart's experiments with the current holy grail of retailing: same-day delivery. Arkansas Business' Mark Friedman notes that Wal-Mart is taking customers' demands for the service seriously, expanding pilot programs to select U.S. cities:
Wal-Mart started its program in 2011 in San Francisco and San Jose, California. In October it added Denver to the test program. In January Wal-Mart also began offering Denver customers the option of picking up their online orders at a Walmart store without leaving their cars, said Ravi Jariwala, a spokesman for Wal-Mart.

"As a retailer we recognize that customer behavior is shifting," he said.

Customers aren't concerned about where they place the order or how they receive the items, Jariwala said. "They just want to be able to shop and get what they want and get it at a great price. And that's what we're committed to," he said.
You can read Friedman's complete cover story here.
A tale of two stocks on Friday.
First, Dillard's Inc. of Little Rock has resumed its bull run a day after reporting first-quarter earnings. Shares of the department store chain (NYSE: DDS) have been up more than 15 percent today.
Right now, the shares are trading at more than $111, well into record territory. You'll recall that Dillard's reached record highs on Monday and Tuesday.
Also noted: Dillard's announcement yesterday that the company purchased nearly $66 million of its own stock during the first quarter. Having bought those shares at an average price of $89.34 per share, Dillard's is seeing a good return on its investment.
On the other end of the spectrum, shares of USA Truck Inc. of Van Buren, now down about 8 percent to $15 per share.
The decline comes as Knight Transportation Inc. of Phoenix sold off more than 111,000 shares of USA Truck stock (Nasdaq: USAK). Knight been trying to acquire USA Truck since late last year but finally gave up earlier this year.
Knight still owns about 1.2 million shares of USA Truck.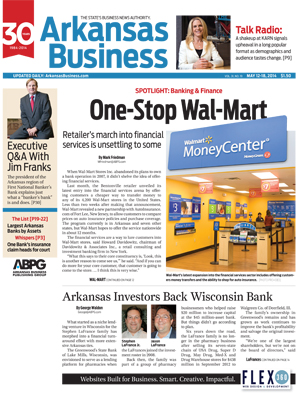 You might have noticed Mark Friedman's cover story in this week's Arkansas Business examining Wal-Mart Stores Inc.'s push into financial services, including money transfers, auto insurance services and pre-paid cards that act like checking accounts.
The whole story's a good read that show's that, despite the multi-pronged approach the retailer is taking, it all boils down to a pretty simple idea, helpfully articulated by Howard Davidowitz, chairman of Davidowitz & Associates Inc., a retail consulting and investment banking firm in New York, who says it's all about luring more customers into Wal-Mart's stores.:
"What this says to their core constituency is, 'Look, this is another reason to come see us,'" he said. "And if you can do more for your core customer, that customer is going to come to the store. … I think this is very wise."
Friedman's story happens to coincide with a look at one aspect of Wal-Mart's financial services arsenal: allowing independent banks to lease space inside Wal-Mart's Supercenters.
An examination by the Journal finds that customers of some of those independent banks are among America's highest payers of bank fees — a large chunk of which come from overdraft charges. Those overdrafts, some say, are looking a lot like loans.
How does it work? From the Journal story:
On a rainy morning in April, Anna Proctor entered a Wal-Mart Supercenter near some of this city's poorest areas to get $300 for urgent car repairs—money she didn't have.

Inside, she joined a line at a Woodforest National Bank branch and intentionally overdrew her account. When her paycheck was deposited 12 days later, she said, the bank would take the borrowed sum plus a $30 fee.

"It's cheaper than a payday loan," said Ms. Proctor, a 35-year-old customer-service worker. If her overdraft and fee were calculated as a loan, the annual percentage-rate interest, or APR, would be over 300%. She said she overdraws "all the time."
Last November, Arkansas Business noted an Oklahoma bank's entrance into the Arkansas market via in-store deals with Wal-Mart. Fort Sill National Bank has four branches in Arkansas, all of them inside Supercenters. According to the Journal, 62 of the bank's 80 branches are inside Wal-Marts, and the company has generated more than $50 million in fees in 2013.
For Wal-Mart's part, a spokesman tells the Journal that the company has a "very thorough process" for vetting banks that lease store space to make sure "they're in line with Wal-Mart's philosophy of saving customers money." Wal-Mart also noted that it has no role in how the banks operate.
You can read Friedman's cover story here, and The Wall Street Journal story here.
Kevin Delaney, the director of visitor experience at the Museum of Discovery in Little Rock, had his big moment in the spotlight last night, appearing on "The Tonight Show Starring Jimmy Fallon." Delaney performed science demonstrations with host Fallon as his "laboratory assistant."
As we reported last week, Delaney was chosen to appear on the show after "Tonight Show" producers contacted educators at more than 50 museums across the country. They selected Delaney based on a video the museum submitted.
You can watch Delaney's appearance below. The pair conducts three experiments, showcasing some pretty cool scientific principles. Fun stuff.

Latest Arkansas Business Poll
Do you want to see professional hockey return to Arkansas?