The Whispers Blog
Arkansas' breaking business news blog, with news and commentary from the Arkansas Business staff.
Send us tips.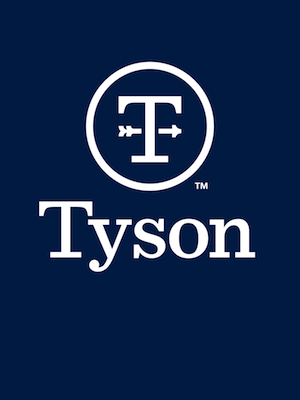 Tyson Foods' plans for a $320 million poultry processing plant in Tonganoxie, Kansas, have hit a snag.
Amid local opposition, Leavenworth County commissioners voted 2-1 Monday morning to rescind a a pledge of $500 million in revenue bonds for the facility, according to the Topeka Capital-Journal.
A spokesman for the publicly traded, Springdale-based meat processor said the bonds were among the factors the company considered when determining where to put the plant.
"We're evaluating our options in light of today's vote," he said.
Tyson, Kansas Gov. Sam Brownback and other state and local officials announced the plant earlier this month. Built outside the town of about 5,300 residents, the plant would employ 1,600 and was scheduled to open in mid-2019. Tyson said it needs the plant to keep up with a growing consumer demand for fresh poultry.
But the plant sparked an uproar by locals who criticized Tyson Foods' environmental record and the idea of a large industrial agriculture complex coming to the area. About 2,500 people attended a rally Friday night to protest the plant.
In a Facebook post on Monday, Little Rock Mayor Mark Stodola said the city will submit a bid to be home to Amazon's second North American headquarters.
The online retail giant announced last week that it was seeking a site for a $5 billion complex that would employ up to 50,000 people. The company already has a headquarters in Seattle but is running out of space there.
"We expect HQ2 to be a full equal to our Seattle headquarters," Amazon CEO Jeff Bezos said in a statement. "Amazon HQ2 will bring billions of dollars in up-front and ongoing investments, and tens of thousands of high-paying jobs. We're excited to find a second home."
The announcement has sent major U.S. cities scrambling.
On Monday, Stodola said Little Rock would toss its hat into the ring:
The City along with our economic development team at the Chamber and AEDC have received the RFP and will be preparing our submission. Amazon is looking for strong local and regional talent in software and related fields and is particularly interested in entrepreneurs who are seizing the opportunity of the digital economy! Some of their requirements are challenging but I think our talent pool is deep with The Venture Center, the Tech Park, the Innovation Hub, Acxiom and Merkle and the UofA Little Rock's Emerging Analytics Center all located here in central Arkansas. We will "Think Big and Be Creative!" Send us your ideas!
Little Rock would be a long shot. Amazon has posted a list of criteria, which takes into account population, distance from an international airport and the local pool of qualified workers.
One analyst, looking at those factors and others, created a list of likely candidates. Svenja Gudell, chief economist at real estate data firm Zillow, put Austin, Texas, at the top, followed by Denver and Chicago. She said each has the amenities of a big city, aren't geographically constrained and have cheaper housing than Seattle.
7/17/2017 12:48 pm
Updated 1 year ago
Comments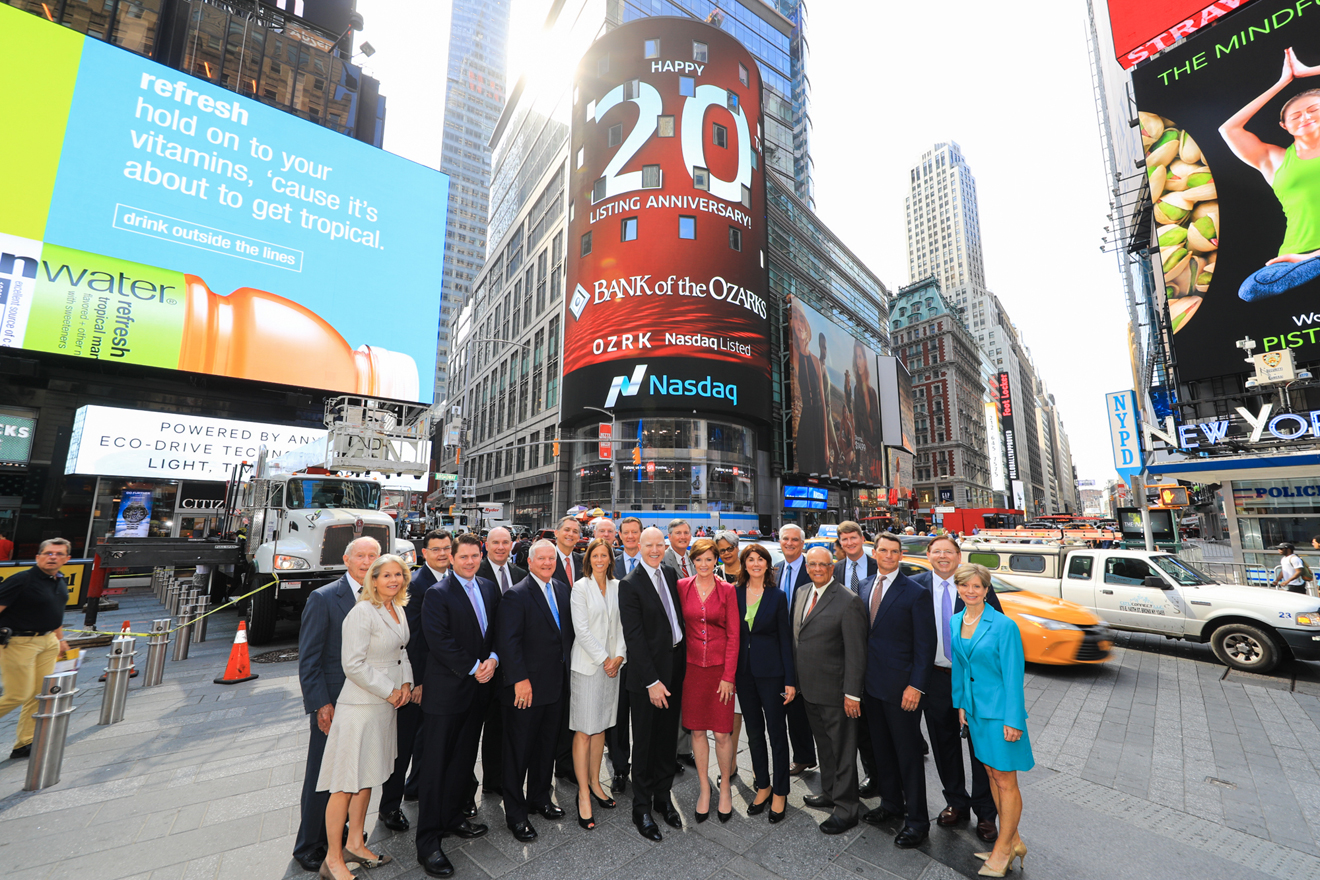 George Gleason, chairman and CEO of Bank of the Ozarks, rang the opening bell Monday at the Nasdaq MarketSite in New York's Time Square to mark its 20th anniversary as a public company.
The $20 billion-asset bank has 251 offices in Arkansas, Georgia, Florida, North Carolina, Texas, Alabama, South Carolina, New York and California.
On CNBC
The Hartford Courant has details on a new 90,000-SF manufacturing facility that SCA Pharmaceuticals of Little Rock plans to build in Windsor, Connecticut.
The company, led by CEO Gene Graves, makes sterile pharmaceuticals for hospital pharmacies and health care facilities throughout the country. It specializes in sterile admixture services and pre-filled oral syringes.
Connecticut Gov. Dannel Malloy announced the project yesterday, saying the company aims to create 361 new jobs over the next four years.
"The commitment from SCA Pharmaceuticals to choose Connecticut for its expansion reinforces how our strategic location and world-class workforce makes our state a great place for businesses that are looking to bring their operations to the east coast," Malloy said in a news release. "This is an important sector of our economy, and we are thrilled that this company is adding hundreds of good, high-quality jobs in our state."
Malloy's office said Connecticut's Department of Economic and Community Development (DECD) will support the project with an $8.5 million loan for leasehold improvements and the purchase of machinery and equipment. The funding requires approval from the state bond commission.
SCA, which, according to Malloy's office, employs 210 people in Little Rock, is leasing space near Bradley International Airport.
Graves is a 1995 Arkansas Business of the Year award winner who pioneered the use of home intravenous medication use in Arkansas.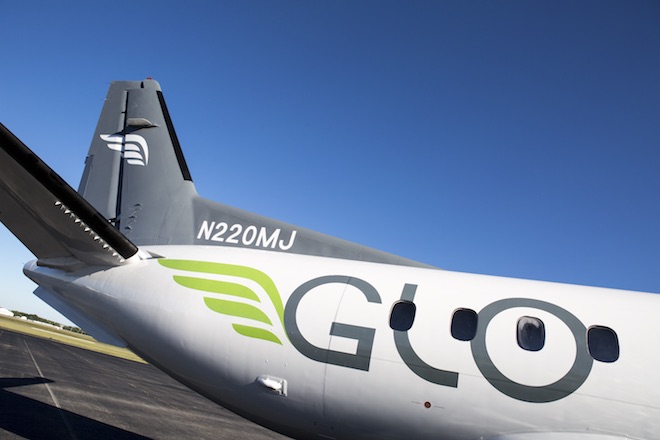 Glo Airlines, a New Orleans startup public charter operator that offers flights at the Bill and Hillary Clinton National Airport, has filed for bankruptcy reorganization.
According to a petition filed today in the U.S. Bankruptcy Court for the Eastern District of Louisiana, Glo is filing Chapter 11 reorganization, listing between $10 million and $50 million in debt and $10 million and $50 million in assets.
AL.com reports that the company announced the move this morning, saying its direct air carrier/aircraft operator, Corporate Flight Management Inc. of Smyrna, Tennessee, had "failed on its contractual obligations to deliver quality performance and solid management of GLO's program to provide air service to chosen markets."
According to AL.com's report:
"After raising serious concerns over its performance and business practices, rather than find solutions, the air carrier unilaterally terminated its contract to operate GLO's program and fly passengers," the company said. "This entirely unjustified action has put GLO's operations and the financial health of many of GLO's partners at risk."

GLO said bankruptcy protection allows the company to "reorganize the business, protect jobs, and continue to fly." Spokesman Jordan Mitchell said the reorganization is underway.
New Orleans City Business reports that founder and CEO Trey Fayard aims to "promptly and successfully" emerge from reorganization "in the near future." He called the action "a difficult decision, but a necessary one to protect everyone involved."
A hearing in the case is set for tomorrow; Glo is seeking court approval for a $750,000 loan to continue operations while it sorts out its affairs. It said it moved more than 32,000 passengers through New Orleans last year and was on track to move about 40,000 through the city this year.
Fayard founded GLO Airlines in New Orleans in 2013, and the regional airline began operations in November 2015. In 2016, he told Arkansas Business that the Gulf and Mid-South regions "have been underserved by air carriers for a long time, resulting in an overreliance on road travel." Glo aimed to fill a need for affordable, regional air travel, providing services in Little Rock; New Orleans; Memphis; Shreveport, Louisiana; Huntsville, Alabama; Fort Walton Beach, Florida.
Arkansas Business contacted Glo for comment but has not received word back. We'll update when we do. (Update: Glo has reinstated all flights after reaching an agreement in bankruptcy court.)
Meanwhile, Fayard is scheduled to speak tomorrow at the regular weekly meeting of the Little Rock Rotary Club at the Clinton Presidential Library. (Update: No surprise — Fayard has had to cancel is appearance at the Rotary Club.)
Update: Clinton Airport spokesman Shane Carter said Glo told the airport late last week that "operational changes" would temporarily halt Glo flights from April 28 to the beginning May.
Glo currently offers a flight to New Orleans and, beginning May 5, had planned to resume a popular summer route to Destin, Florida.
Carter said the airport has been pleased with Glo's level of service, and that the New Orleans flight has been popular. He said the airport hopes the company's issues are resolved to minimize any passenger inconvenience.