The Whispers Blog
Arkansas' breaking business news blog, with news and commentary from the Arkansas Business staff.
Send us tips.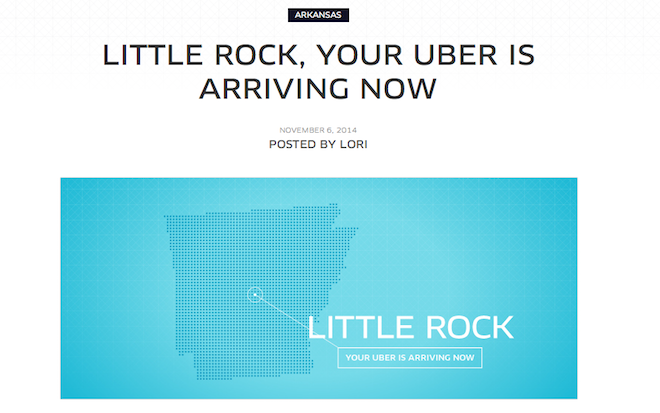 It looks like Little Rock residents needing a ride across town have some new options with the news circulating that Uber is here.
The San Francisco, Calif.-based ride sharing company announced Thursday it was beginning operations at noon.
"Whether you're grabbing dinner at the River Market, or soaking up some history at the Arkansas State Capitol, let Uber be your ride," the blog post reads.
As part of the launch, Uber is giving new and existing customers their first five rides in the capital city, up to $25 each, for free. The offer extends through Nov. 9. According to the site, uberX, identified as "low-cost Uber," is the only available option in Little Rock. The base fare is $2.50 with rides charged at $0.20 per minute and $1.65 per mile.
The blog offers a few sample fares around town:
Bill and Hillary Clinton National Airport to downtown Little Rock: $15
Midtown to Capital View: $13
University of Arkansas at Little Rock to Union Station: $14
At 1:54 p.m., there were at least five Uber drivers available in the downtown Little Rock area, as shown in a picture above.
The Arkansas Times has reported no ordinance has been issued by the Little Rock City Board to permit ride sharing companies in the city.
"Uber started operations similarly in Fayetteville without a permit and its drivers have received occasional tickets for operating without a permit. They company has similarly steamrolled other cities and inspired a rising organized protest from cab drivers who focus on, among others, difference in insurance coverage. Uber limits insurance liability to the time a rider is on an Uber-obtained ride."
The Times article says the city board was to address Uber at a Monday meeting, but discussion was deferred.
Uber's blog post addressed the issue:
"Your Little Rock city board members are taking steps toward finding a permanent home for new technologies like ridesharing. Much like we do in every other city in which we operate, we hope to continue to work with them in ensuring that this ordinance is in the best interest of Little Rock riders and drivers."
Our sister publication, Little Rock Soirée, is reporting the latest and greatest restaurant from the Yellow Rocket Concepts folks is set to open in January.
You might remember we reported back in May that the group purchased Browning's Mexican Grill at 5805 Kavanaugh Blvd. in the Heights, and had plans to open its own Mexican restaurant, Heights Taco & Tamale Co.
The group, which also owns and operates Big Orange Bugers + Salads & Shakes, Local Lime Tacos & Margaritas and ZaZa Fine Salad & Wood Oven Pizza Co., hoped to open in the summer or fall, but that wasn't possible.
Soirée reports:
"In addition to a full bar, HT&T's menu will offer authentic Mexican and Spanish dishes with Texas flair. House-made tamales, burritos, nachos and churros are just some of what Yellow Rocket Concepts Executive Chef Scott McGehee has planned for the restaurant."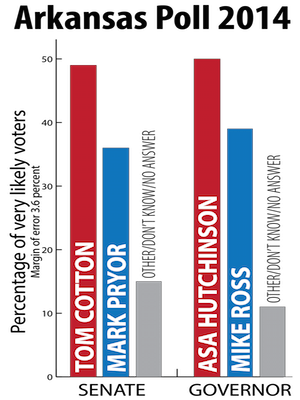 The Arkansas Poll shows U.S. Rep. Tom Cotton and Asa Hutchinson with significant leads in their respective races for U.S. Senate and Arkansas governor.
Most polls correctly placed Republicans Asa Hutchinson and Tom Cotton ahead of their Democratic foes for governor and U.S. Senate. What most did not do is predict the large margin of victory each would enjoy on Election Day.
The Arkansas Poll, released Thursday by the University of Arkansas, was one that did.
Hutchinson defeated Democrat Mike Ross by 13.91 percent, obtaining 55.42 percent of the votes, compared to 41.51 percent for Ross.
The Arkansas Poll gave Hutchinson an 11-point lead. It was one of only two polls to give the GOP candidate a double-digit lead. Public Polling Policy also gave the Republican a double-digit lead, at 10 points.
A Talk Business/Hendrix poll conducted in October gave Hutchinson an 8-point lead, and a Rasmussen poll gave Hutchinson a 7-point lead. A CBS News/New York Times/YouGov poll conducted in September gave Hutchinson an 11-point lead, however, an updated poll in October shrank his lead to 9 points.
For a complete list of gubernatorial polls conducted, click here.
In the U.S. Senate race, Cotton enjoyed a 16.72 percent margin of victory over two-term Democrat U.S. Sen. Mark Pryor. The Arkansas Poll was the only one to give Cotton a double-digit lead at 13 percent.
Talk Business and Public Polling Policy both gave Cotton an 8-point lead. For a complete list of U.S. Senate polls, click here.
Below is a graphic of actual election results, compared to pre-election polls.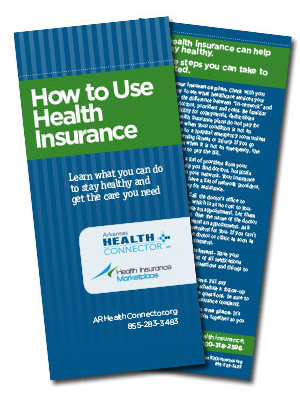 There are still a few races yet to be called, but what we know already about Tuesday's results in the state legislature is that an interesting battle over the state's private option has been set.
Arkansas' version of the Medicaid expansion, which at last count had nearly 205,000 people on its rolls, was reauthorized in the spring by a Republican-controlled House of Representatives, 76-24, and Senate, 27-8. It took mulitple votes in the House to meet the three-fourths majority threshold.
Looking ahead, some of last night's victories for the GOP put the future of the private option on shaky ground.
By all accounts, the number of seats held by Republicans in the House of Representatives is expected to jump from 51 to at least 64. There are still three races that have not been declared. In the Senate, the Republicans gained two seats, pushing its control of that chamber to 24-11 over Democrats.
Some of the seats won by Republicans, in both chambers, were by candidates that stated their opposition to Obamacare and the state's private option during the campaign, which is not encouraging for an act that narrowly met the three-fourths majority required — 27 votes in the Senate and 75 votes in the House — in both chambers for reauthorization.
One silver lining for the future of the private option could be if Republican Gov.-elect Asa Hutchinson throws his support behind the private option and brings fellow GOP members in the Senate and House with him. Republicans are sure to be more inclined to listen to a newly elected governor from their own party than outgoing Democrat Gov. Mike Beebe.
Either way, the debate on the state's private option should be a key item to watch for in next year's general session.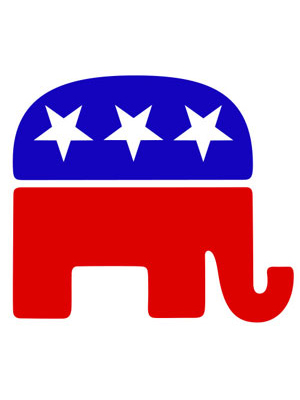 It was more than a banner night for the GOP in Arkansas. It was an historical night.
Behind Asa Hutchinson and Tom Cotton, the GOP candidates took all state constitutional offices, swept up the only Democratic held U.S. Senate seat and took all U.S. Congressional Districts.
Republicans also retained control of the state legislature, and even gained on their lead in the House chamber.
Below are a few of the reactions on Twitter from last night's GOP route.

Latest Arkansas Business Poll
Do you approve of the president taking executive action on immigration?