The Whispers Blog
Arkansas' breaking business news blog, with news and commentary from the Arkansas Business staff.
Send us tips.
1/26/2016 03:08 pm
Updated 9 months ago
Comments
University of Arkansas graduate Joseph Weishaar's design was selected as the winning entry for a World War I memorial to be built in Washington, D.C.
Weishaar is an architect-in-training with Brininstool & Lynch Architecture & Design in Chicago. He entered his design in the U.S. World War I Centennial Commission's competition. Collaborating artist, veteran sculptor Sabin Howard of New York, was also part of the design team.
Weishaar's project, titled "The Weight of Sacrifice," will be located in Pershing Park in downtown Washington, D.C. The site is across the street from the Willard Hotel, and is also next door to the White House Visitors Center.
According to WLS-TV in Chicago:
Weishaar is 25 years old and is the only architect-in-training in the group of five finalists. He created the winning design on his own time as an intern at another firm.

"The Weight of Sacrifice" will have a raised lawn, surrounded by three bronze walls which will feature various scenes in relief or sculptures designed by New York City sculptor Sabin Howard. Visitors will be able to touch the artwork.
In May, the commission opened an international design competition and received more than 360 design concepts from designers around the world. In August, an independent jury of design professionals and historians selected five of the design concepts to advance to Stage II of the competition.
Wal-Mart Stores Inc. of Bentonville announced Friday that it is closing 269 stores, including 154 in the United States.
The stores, including 11 in Arkansas, account for a fraction of the company's 11,000 stores worldwide and less than 1 percent of its global revenue, the retail giant said in a news release.
Arkansas Closures
Closing Jan. 17:
Neighborhood Market:
#5783: 117 Audubon Drive, Maumelle
Closing Jan. 28:
Walmart Express:
#2498: 720 N Hwy 71, Mansfield
#2578: 3500 Mulberry Hwy 64 W, Mulberry
#2601: 814 W. Main, Charleston
#2669: 1531 E Hwy 64, Coal Hill
#3819: 8848 N Hwy 59, Van Buren
#3878: 5 Hwy 124 West, Damascus
#4217: 154 E Roller, Decatur
#3032: 905 S Gentry Blvd, Gentry
#3033: 800 1st Ave SE, Gravette
#3034: 881 W Buchanan, Prairie Grove
(We previously catogorized these stores incorrectly. They are now correct.)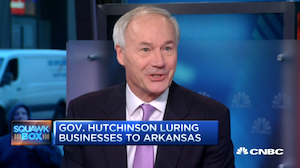 Appearing on "Squawk Box," Hutchinson touted his computer coding initiative, said he'd love to get Arkansas' income tax lowered to 5 percent from 7 percent, and said lawmakers will find "a unique Arkansas solution" for changing Medicaid.
Gov. Asa Hutchinson is in New York today, having pushed the start button on the New York Stock Exchange this morning. The Wall Street appearance was part of economic development trip aiming to tout Arkansas and lure companies to do business here.

J.R. Davis, the governor's spokesman, and Scott Hardin, a spokesman at the Arkansas Economic Development Commission, indicate the trip is about raising Arkansas' profile among global businesses leaders in the media and financial capital of the world.
Hutchinson — along with Arkansas Economic Development Commission Director Mike Preston — hit the ground running today, not only ringing the opening bell of the New York Stock Exchange but also appearing on two cable business networks: CNBC and Fox Business.
On cable TV, Hutchinson noted Arkansas as the home to several Fortune 500 companies — Wal-Mart Stores Inc., Tyson Foods Inc., J.B. Hunt Transport Services Inc. and the like — and a place where technology upstarts like Inuvo Inc. and Metova are adding jobs.
He also told CNBC that he'd like to continue to reduce Arkansas income tax rate, taking it from around 7 percent to 5 percent. It's a reduction the governor thinks would make Arkansas a more palatable place for businesses to set up shop.
The tech jobs are another key part of the governor's pitch. Hutchinson led an effort last year to pass a bill requiring that all Arkansas K-12 students take computer coding classes, and the governor clearly wants to show Arkansas as a state working to meet the job requirements of high-tech employers.
In addition to meeting with representatives from Arkansas companies and site selectors in New York, Hutchinson is meeting with key business media outlets. Today, he meets with editors at the Wall Street Journal, Forbes magazine and Bloomberg. Tomorrow, he'll appear on MSNBC's "Morning Joe," meet with Time magazine editors and appear on another Fox Business program. On Wednesday, he'll be on the "Fox and Friends" morning show and NPR.
You can see video of the governor's CNBC appearance, the ringing of the opening bell and a photo of the governor on Fox Business below:
On CNBC
At NYSE (skip to 3:45)
On Fox Business
Gov. @AsaHutchinson on @Varneyco with @cvpayne now on @FoxBusiness. pic.twitter.com/EqcF8gS1EF

— J.R. Davis (@JR__Davis) January 11, 2016
1/8/2016 09:25 am
Updated 10 months ago
Comments
Little Rock might not have many skyscrapers, but the view from atop of the construction crane at the Robinson Center is impressive nonetheless.
Or maybe better, since there's no windows or walls between the climber and the world. But in case heights aren't your thing and you'd prefer to be surrounded by brick and mortar, the Little Rock Convention & Visitors Bureau took a look for us all and recorded it.
In the video below, posted Wednesday, photographers scale the heights of the construction crane, GoPros in tow, to deliver some stunning sunset views of downtown. They also go inside the crane's control cabin, which boasts near-panoramic views of the Arkansas River and city skyline and, curiously, its own micowave (you gotta eat lunch, right?).
The $70 million Robinson Center renovation is set to be complete in November, when the CVB will host a grand re-opening.
An auction date has been set for items belonging to Dale Bartlett, one of the former executives of Turner Grain, which collapsed in 2014 leaving some farmers without payment.
Bartlett filed bankruptcy last year. Arkansas Business reported in November that, to help repay debt, he's auctioning his coin collection and three cars, including a 2007 Mercedes.
The collection includes 250 U.S. half dollars, 149 U.S. Peace dollars, 87 U.S. Morgan pieces and 35 gold pieces, according to a filing by the bankruptcy trustee, Warren Dupwe of Jonesboro. The Peace dollars, so called because the word "Peace" is on the coin's back side, contained silver and were minted from 1921-35. The Morgan dollars also had silver in them and were minted from 1878-1904.

...

Other items to be sold include a 2007 Mercedes GL4, 2012 GMC truck and a 2013 Volkswagen.
Auctioneer Joel M. King of Jonesboro said the auction is set for Thursday, Jan. 14 at the Hilton Garden Inn in Jonesboro. An auction of land that Bartlett has interest in is scheduled for sometime in February.

Latest Arkansas Business Poll
How has the Broadway Bridge closing affected your travel?