The Whispers Blog
Arkansas' breaking business news blog, with news and commentary from the Arkansas Business staff.
Send us tips.
USA Truck Inc. of Van Buren didn't offer comment Monday when Knight Transportation Inc. of Phoenix, Ariz., once again made its case for a takeover of the firm. But that doesn't mean USA Truck is letting criticism of his turnaround strategy go unanswered.
On Monday, Knight dropped a 17-page presentation detailing some of its key arguments for a $9 per share buyout of the USA Truck. Among Knight's criticisms: USA Truck's aging equipment, including its tractor fleet. Knight says USA Truck has "consistently" underinvested in its equipment.
Low and behold, there's this today from USA Truck: a news release touting "initial delivery of 150 2014 Navistar International ProStar model tractors."
They are slated for arrival throughout the fourth quarter of 2013 and into January 2014. This new order follows the 250 new tractors and 400 new trailers purchased and put into service earlier this year.

Through this continued investment of equipment, USA Truck is maintaining and reinvesting in a modern fleet of Class 8 trucks with an average age of 2.5 years, well below the industry average of 6.6 years for 2012 according to ACT Research.
USA Truck makes no mention of Knight or its Monday presentation in the news release. CEO John Simone says the order is part of USA Truck's "ongoing fleet reinvestment program," through which the firm will replace "almost one-fifth" of its company tractors in 2013.
Wal-Mart Stores Inc. of Bentonville is taking green building to a higher level. The roof.
The world's largest retailer is working with Portland State University to build a green roof research site on top of Wal-Mart's new store in North Portland.
PSU's Green Building Research Laboratory will deploy scores of sensors and a weather station on Walmart's new Hayden Meadows store. It will feature 40,000 square feet of vegetative roof installed in three separate sections—each devoted to testing different aspects of green roof design, such as materials and soil depth. The remaining 52,000 square feet of white membrane rooftop will also be monitored by sensors, providing an opportunity to deliver side-by-side comparisons on factors including surface temperature, water flow and building operations.

Data collected from the Hayden Meadows roof will be compared to similar data collected on a Walmart green roof in Chicago, thus providing a comprehensive view of green roof performance under various conditions, PSU says.
Yep, Wal-Mart has a green roof project in Chicago, as well. In fact, Arkansas Business wrote about it waaay back in 2004, part of a story on how Wal-Mart was adapting its stores to different cities. At the time, Wal-Mart was the first "big-box" retailer to take part in a Chicago program that encourage green roof projects:
John Bisio, the Wal-Mart spokesman, said the company has been building stores with white rooftops for at least seven years now, but the foliage on the roof will be an added benefit to urban Chicago.

"It will keep things cooler in the summer, beautify the area and reduce air pollution," he said.
Green roofs have also been popping up in Arkansas. The University of Central Arkansas began testing one on Laney Hall in 2010. And the new Hillside Auditorium on the University of Arkansas campus in Fayetteville features a three-tiered roof design that will support trees, shrubbery, ornamental grasses and other plantings.
Wal-Mart's Portland project will include lots of student involvement and community partners, including the local Bureau of Environmental Services and the Audubon Society, which will monitor bird habitats.
"The data we collect will help the green building industry improve upon the many benefits provided by green roofs—from reducing heat island effects to improving overall building performance," said David Sailor, director of the PSU Green Building Research Laboratory and professor of mechanical engineering. "This research project will lead to better green roof design for buildings around the world."
As we've noted, Arkansas' first Bass Pro Shops is set to open next week, and the store is promising a big grand opening celebration, with appearances by Nascar Driver Tony Stewart, Jimmy Houston of the "Jimmy Houston Outdoors" TV Show, legendary bass angler Bill Dance, Miss Arkansas USA Hannah Billingsley, and several others.
Still, we haven't gotten a proper peek inside the 120,000-SF store -- until now.
Arkansas Business news partner THV 11 News went inside the store and brought back several photos, which you can see here. If you've been inside any of the retailer's other stores, you know what to expect: fish tanks, woodland displays, taxidermy, etc.
You'll of course be able to see it all in person when the store officially opens at around 6 p.m. Nov. 13, just in time for holiday shopping.
U.S. Sen. Mark Pryor, D-Ark., said Friday that he'll hold a U.S. Department of Defense nominee until "Arkansas State University receives the justification for the Army's abrupt decision to shutter its Reserve Officers' Training Corps Program."
Pryor's move comes about a month after the U.S. Department of the Army officially informed the university that it would end the 77-year-old Army ROTC program at ASU.
"This action is not a reflection of either the quality of your program or the outstanding Cadets you have produced," Thomas R. Lamont, assistant secretary of the Army for manpower and reserve affairs, wrote in a letter to ASU Chancellor Tim Hudson, according to a news release from ASU in October.
From Pryor's news release:
U.S. Senator Mark Pryor this week said he will hold a U.S. Department of Defense nominee until Arkansas State University receives the justification for the Army's abrupt decision to shutter its Reserve Officers' Training Corps Program.

"Despite our repeated requests, the Army has yet to provide its justification for closing ASU's ROTC Program," Pryor said. "This lack of information is completely unacceptable. I refuse to release this nominee until the Army fulfills its promise and provides a reasonable explanation for its decision. This is a successful program, and I will fight tooth and nail to keep it open."

In October, the Army announced that ASU's ROTC program would be discontinued at the end of the 2014-2015 school year. Following the announcement, Senators Pryor and Boozman, along with Representative Crawford demanded justification from U.S. Army officials. Despite the Army's commitment to turn over data and materials, the delegation has yet to receive any information. This week, Pryor placed a hold on the Army's nomination of the Under Secretary of Defense for Personnel and Readiness to ensure ASU receives the answers it deserves.
At the time of the annoucement, U.S. Rep. Rick Crawford's office told The Jonesboro Sun that ASU was one of several campuses losing the program for not meeting "viability standards." ASU administrators said they would work with Arkansas' congressional delegation in hopes of reversing the decision.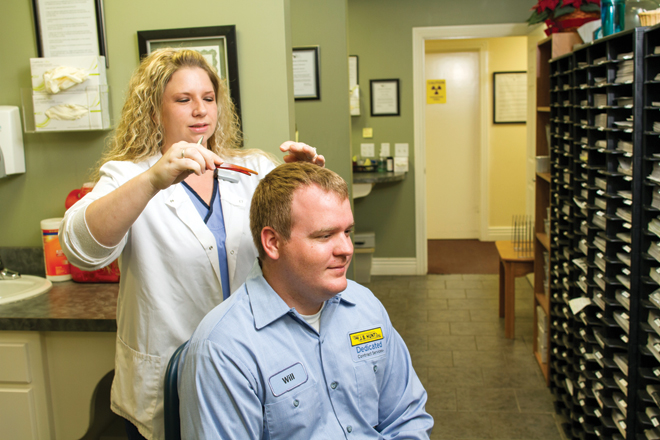 J.B. Hunt is now sampling hair follicles from its drivers, which usually involves cutting or shaving an inch-and-a-half of hair.
There's been some steps forward in key legislation for the trucking industry today, thanks to a bipartisan group of Arkansas' congressional delegates.
U.S. Sen. Mark Pryor, D-Ark., U.S. Sen. John Boozman, R-Ark., and U.S. Rep. Rick Crawford, R-Ark., have proposed legislation that would instruct the U.S. Department of Transportation to recognize hair testing as an option when conducting drug and alcohol testing.
Arkansas Business wrote about the issue back in June. In short, current government regulations stipulate urinalysis as the only universally accepted and sharable method of drug testing for transportation companies, including J.B. Hunt Transport Services Inc. of Lowell.
But J.B. Hunt also uses hair testing to screen its drivers, and the company told Arkansas Business earlier this year that the method is more accurate, can detect drug use over a longer window of time and is more tamper-proof than urinalysis.
The problem has been that companies can't report hair test results to others in the industry. That means that it's entirely possible that the 3,221 drivers who failed J.B. Hunt's drug tests since 2006 are on the road for somebody else.
"Advanced uniform drug testing requirements for trucking companies will help cut costs, spur economic growth and improve safety on our roads," Boozman said in a news release announcing the legislation. "Hiring drivers who lead a drug-free lifestyle is good for the industry and other drivers who share the roads. It makes sense to have the most accurate drug tests available and the ability to share those results among the industry."
The bills, one introduced in the Senate and another in the House, both have the support of the Arkansas Trucking Association.
Update: I'm told that U.S. Reps. Tim Griffin and Steve Womack, both Arkansas Republicans, have signed on as bill co-sponsors.

Latest Arkansas Business Poll
U.S. unemployment is at a 5-year low. Do you think the economy is improving?