The Whispers Blog
Arkansas' breaking business news blog, with news and commentary from the Arkansas Business staff.
Send us tips.
Apparently, Little Rock residents were interested in learning how to meditate and how to twerk in 2014. Well, we hope you found what you were looking for, Little Rock.
Google released its top searches in Arkansas' capital city Tuesday, which included different lists pertaining to "how to" and "what is" questions, and top news and events searches.
Overall, Robin Williams and ebola led the way in top 10 trending searches in Little Rock. Riverfest, the World Cup and Joan Rivers rounded out the top five. Also in the top ten trending searches was Phillip Seymour Hoffman, Black Friday 2014, Tracy Morgan, Maya Angelou and LeBron James.
As far as news and events go, ebola led the way in Little Rock, followed by Riverfest. The rest of the top five included the World Cup, the NFL draft and ISIS. The bottom-half of the top ten included blood moon, the Olympics, Ferguson, Missouri, Malaysia Airlines Flight 370 and April's tornado that ravaged the communities of Vilonia and Mayflower.
On the how-to front, once you guys figured out how to meditate and twerk, here's what else you were concerned with learning how to do:
How to draw
How to whistle
How to knit
How to kiss
How to coupon
How to cook
How to monogram
How to blog
As far as learning what something was, ebola, again, led the way. Followed by:
What is gluten?
What is ALS?
What is bitcoin?
What is ISIS?
What is love?
What is neuropathy?
What is Spotify?
What is airdrop?
What is kik?
So, maybe if you're looking to meditate your way through Christmas and New Year's, or, if twerking is more your style, maybe one of your friends can teach you.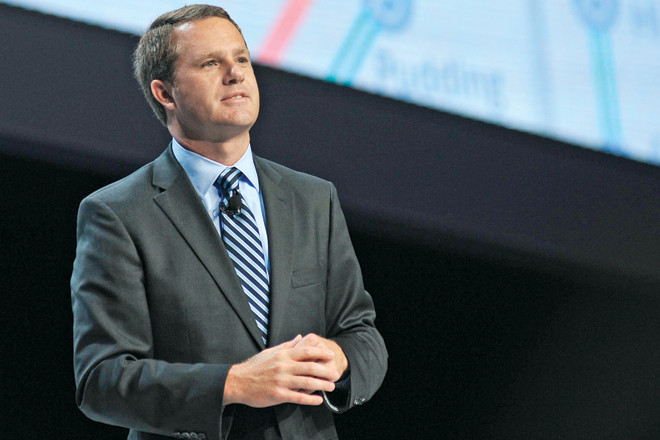 The CEO of Wal-Mart Stores Inc. of Bentonville says all U.S. workers of the company will soon make more than the federal minimum wage of $7.25.
Employees of Wal-Mart Stores Inc. of Bentonville have protested for wage increases, and according to company CEO Doug McMillon, that raise is coming soon.
In a sit-down interview with Charlie Rose of "CBS This Morning," McMillon said it wouldn't be long before all of the retailer's U.S. workers make more than the federal minimum wage, which is currently $7.25. It might not be the raise several protestors have pushed for, but it's a start.
Here's an excerpt from the interview:
"We're going to make some changes in a few months that will create a situation where no Wal-Mart associate in the United States makes federal minimum wage. We'll be ahead of that with our starting wage," McMillon said.

He said he believes there is a difference between the perception of Wal-Mart and the reality of Wal-Mart.

"In the world there is a debate over inequity, and sometimes we get caught up in that and retail does in general. But we couldn't run a good business if we don't take care of people and have compensation plans that work," McMillon said.
McMillon didn't go into details about how much more than the federal rate workers would make. Check out the entire video below, and story here.
In the interview with Rose, McMillon also discussed a June accident involving a Wal-Mart truck driver and comedian Tracy Morgan. The accident critically injured Morgan and killed comedian James McNair. Wal-Mart now faces litigation from Morgan.
"It was a tragedy," McMillon said. "I would first of all say to the McNair family how sorry we are for their loss. And to Tracy Morgan and everyone else involved in it, we feel very bad about what happened, and from the beginning have tried to say we want to take responsibility for it and do what's right."
Watch the video below for more.
Rose's entire 20-minute interview with McMillon is available here via Bloomberg.
Voters in Fayetteville have repealed Ordinance 5703, which the city council passed by a 6-2 vote in the early-morning hours of Aug. 20.
The ordinance prohibited discrimination in the workplace or in housing based on veteran status, sexual orientation, gender identity and socioeconomic background. In a Nov. 24 cover story, Arkansas Business examined how the issue had split the Fayetteville Chamber of Commerce, which opposed the ordinance, and the city.
According to unofficial results from the Washington County Clerk's office, the vote was:
7,523 for repeal (52 percent)
7,040 against repeal (48 percent)
Supporters of the ordinance said it was a great step for Fayetteville to become the first Arkansas city to ban such discrimination. Opponents, who successfully organized a petition to put the ordinance to a recall vote in a special election, said the ordinance was too vague, poorly worded and would hamper business operations.
"We absolutely abhor discrimination," said Steve Clark, the president and CEO of the Fayetteville Chamber of Commerce. "You should not be fired or not hired because of it. This is about an ordinance that isn't workable or well defined."
In a statement issued this morning, the Human Rights Campaign's Arkansas State Director Kendra R. Johnson called the vote "deeply disappointing."
"Tonight's vote is a deeply disappointing reminder that equality doesn't always move forward in a straight line. Make no mistake about it, tonight's election results — and the repeal of this ordinance — will inflict direct harm on LGBT Arkansans, their families and their friends," Johnson said. "But we remain convinced that the progress of fairness will continue despite this result. All Arkansans should have the legal right to live safely within their communities, homes and workplaces, and the day will come soon when LGBT young people will wake up in this state and enjoy true equality under the law. We'll keep up the fight until that dream is achieved."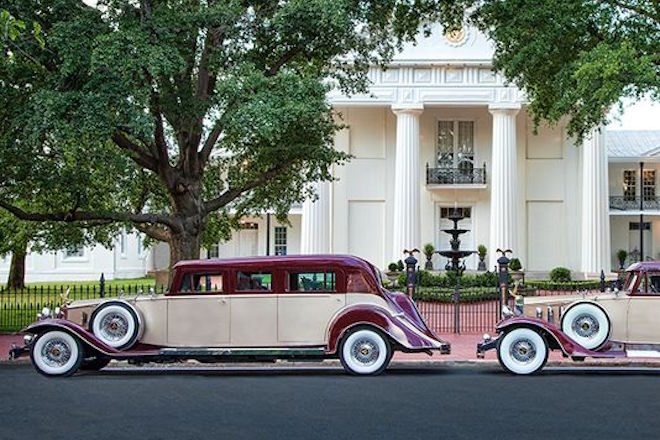 Rosewood Classic Coach of Morrilton, owned by Richard Neal, helps people go out in style with retro hearses.
If you're looking to go out in style, literally, Rosewood Classic Coach of Morrilton is the business for you.
The company, owned by Richard Neal, builds hearses to be used for funerals, but these aren't your typical hearses.
Neal builds retro cars that usually sell anywhere from $99,000 to $105,000. Rented out, the cars are usually about $1,200. Neal's cars are about 22-foot long, six-foot tall and weigh about 6,000 pounds. Right now, he's got 17 cars on back order.
He even builds retro limos for the family, which can be customized to include special lighting, bars, DVD players and sound systems.
"We have had services where we have actually had trouble having graveside services because the families were taking pictures with the car rather than having the committal service," Neal said in an interview with THV 11's Ashley Blackstone.
Neal and his company are featured on this week's "Made in Arkansas" by THV 11, Arkansas Business' news partner.
Check out the video below, and the story here.
I'll be brief. There's this report making the rounds that University of Arkansas football coach Bret Bielema is in "serious talks" with the folks at Nebraska to talk to the top coaching job there.
There are others better to suited than me to weigh in on how legit that report is. But what I can tell you by looking at our website analytics is that people are suddenly interested in Bielema's UA contract details.
So here they are, including our summary of its key points. You can also download a copy right here (PDF).
Also: One of our resident sports gurus, Lee Hogan, notes that Bielema's buyout is $2.5 million, $2 million starting Jan. 1.
And: Here's my friend and your's, Doc Harper, weighing in on all this.
For good measure, Bielema has offered a few thoughts as his name is tossed around the rumor mill.
Sitting in Indianapolis recruiting for 2015. This city has been great in my coaching career. Best wishes to Wisco coming back to Champ Game!

— Bret Bielema (@BretBielema) December 3, 2014
Has been a good start this week in recruiting for the future at #Arkansas Excited to be headed to a bowl and momentum into 2015! #WoooPig

— Bret Bielema (@BretBielema) December 3, 2014
Oh, and now here's this: #AllHog. I gotta get back to work.
Talked to Bret Bielema and he said he's not going to Nebraska and that he's all Hog.

— Chris Low (@ClowESPN) December 3, 2014

Latest Arkansas Business Poll
Is the new religious objections law a good compromise?