The Whispers Blog
Arkansas' breaking business news blog, with news and commentary from the Arkansas Business staff.
Send us tips.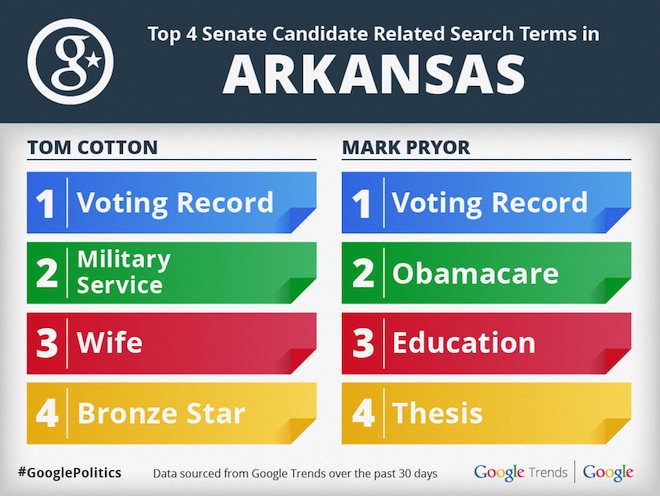 This Nov. 3 graphic from Google shows the top searches for Tom Cotton and Mark Pryor in the last 30 days.
According to Google, the top issue in the U.S. Senate race, between Democratic incumbent Mark Pryor and Republican challenger Rep. Tom Cotton, is education.
That's based on searches made on Google in the last 30 days, pertaining to the Pryor-Cotton race. Google, who has a nifty politics Twitter account and Google+ page, has taken it a step further, breaking down the top four searches in the last 30 days for each candidate.
For Pryor:
"mark pryor voting record"
"mark pryor obamacare"
"mark pryor education"
"mark pryor thesis"
For Cotton:
"tom cotton voting record"
"tom cotton military service'
"tom cotton wife"
"what did Tom Cotton do to win a bronze star"
On Oct. 21, a graphic was uploaded to the Google Politics page that showed the top four questions in the Pryor-Cotton race, according to data from Google Trends dating back 14 days.
For Pryor:
Who has paid for TV ads for Mark Pryor?
How old is Mark Pryor?
Where did Mark Pryor stand on government closing?
What does Mark Pryor consider middle class?
For Cotton:
How old is Tom Cotton?
Why did Tom Cotton vote against the farm bill?
What did Tom Cotton do in the military?
What is Tom Cotton saying about why he voted against violence against women?
In a time when there is no shortage of campaigning and spin from the two candidates, it's interesting to get somewhat of a pulse on what matters to the voters.
For more from Google on midterm elections around the country, click here.
Everyone's new favorite scientist is headed back to New York City for another appearance on "The Tonight Show Starring Jimmy Fallon."
The Museum of Discovery in Little Rock announced its director of visitor experience, Kevin Delaney, will be on Nov. 7.
Just like his first appearance, the museum says Delaney will perform "Awesome Science" experiments, much like he does every day at the Museum of Discovery.
Delaney first appeared on "The Tonight Show" on May 5. He was selected based on a video the museum submitted after the show's producers reached out to more than 50 museums across the country.
With Fallon participating as his lab assistant, Delaney became a hit with burning candy, shooting foam and smoke rings. Check out video from Delaney's first visit below.
Bentonville finds itself in the Advertising Age spotlight Tuesday.
Ad Age has a look at how Bentonville -- aka Vendorville -- and the region have been transformed by the growth of Wal-Mart and its cache of vendors on the ground in northwest Arkansas.
It even calls Bentonville "hip and urban." Anyone who's visited recently would have to agree.
Here's a sample from the piece, "City Spotlight: Walton Wealth Creates Booming Arts, Marketing Tech Hub in Bentonville":
If Sam Walton were alive, he might have trouble recognizing the hub of the empire he created.

Downtown Bentonville, home to the original Walton's 5 and 10, has been transformed in recent years thanks to the success of his business and the largess of his heirs. His original store still stands, around the corner from the Walmart vendor outpost of DreamWorks. Down the road is the Crystal Bridges Museum of American Art, the first major art museum to open in the U.S. since 1974, thanks to more than $300 million invested by his daughter, Alice Walton. There are tony, if reasonably priced, restaurants such as Table Mesa and the Hive, the latter located at 21c Museum Hotel, a boutique hotel and art museum. Bentonville has also lured young professional residents and even, some say, hipsters.
The story quotes John Andrews of Collective Bias, Lisa Bridgers of Rockfish and Henry Ho of Innovate Arkansas firm Field Agent:
While getting people into Northwest Arkansas can be a tough sell, frequently they stay a long time. Take Henry Ho, a Chinese-American New Yorker and die-hard Yankees fan, who was among the first "feet on the ground" from Procter & Gamble when its top sales executive, Lou Pritchett, agreed with Mr. Walton to locate the first vendor enclave in Fayetteville -- 20 miles from Bentonville -- in 1989. The idea was that the distance would prevent fraternization among vendor and retailer executives, a notion discarded long ago.

At the time, it was jokingly dubbed "Fayette-Nam," Mr. Ho recalls. Yet he fell in love with the area. After a tour of duty that saw him become VP of P&G's Hong Kong division, he opted to return to Northwest Arkansas rather than Geneva or Cincinnati when he accepted a P&G global e-commerce assignment in 2000. In 2009, he became co-founder of Field Agent, which operates a mobile-phone-based panel of consumers for shopper and marketing research.
The Los Angeles Times offers a look at the battle being waged over Arkansas' alcohol amendment that, if approved, would make the entire state wet, and the inconceivable allies it has formed.
Package stores have forged an unlikely coalition here in the heart of the Bible Belt, joining preachers pounding their pulpits against the Arkansas Alcohol Beverage Amendment, which they say will spread the evils of drink.

"This fight has made for some unusual alliances," said Brian Richardson, chairman of the Citizens for Local Rights, which opposes the amendment. "The package stores and religious moral objectors — they're certainly strange bedfellows."
The article highlights an array of the religious aspects at play in the battle, and speaks to a few on either side of the amendment, including a Jasper preacher who sees the amendment causing an influx of drunk driving and an amendment supporter who says she was called "a tool of the devil" in a letter to the editor in the Newton County Times.
The article, by John M. Glionna, also centers on Mary Jackson, the owner of 67 Liquor in Possum Grape, who is worried about passage of the amendment and the effects it would have on her popular county-line store.
"It'll hurt me," Jackson tells the L.A. Times.
One of her customers, who drives from 40 miles away to buy his liquor, told Glionna he won't support the amendment.
"Hell, no," he said. "I like to stay off the radar. That's why I live out here."
To read the full L.A. Times article, click here.
According to extensive research by The Center for Public Integrity, Arkansans have been inundated with $33.1 million worth of television ads this election season.
Overall, that's 80,100 ads on your television screens. And there's still a few weeks to go before Election Day.
The majority of those ads have come from the race between Democratic incumbent U.S. Sen. Mark Pryor and Rep. Tom Cotton for a U.S. Senate seat. According to CPI, $24.1 million has been spent on 56,000 ads. According to the center's research, most of that money, $13 million, has come from outside groups.
On the Democratic side, some of the major donors include the Senate Majority PAC ($2.3 million), the Democratic Senatorial Campaign Committee ($2 million) and Patriot Majority USA ($1.3 million), in addition the Pryor campaign, which has shelled out $4.2 million.
In support of Cotton, the major players have been Crossroads Grassroots Policy Strategies ($2.7 million), Americans for Prosperity ($1.6 million), American Crossroads ($1.1 million) and the National Republican Senatorial Committee ($1.1 million). The Cotton campaign has dished out $2.8 million for ads.
To date, research by The Center for Public Integrity shows Cotton is outspending Pryor, $12.7 million to $11.3 million. However, the research also shows Pryor and his supporters have run 28,300 ads, compared to 27,700 ads from the Cotton camp.
Compared against all other races for U.S. Senate, Arkansas is tied for No. 7 in dollars spent. Per eligible voter, Arkansas jumps to No. 3 with $11 spent per voter, which only trails races in Alaska and Iowa where $12 is being spent per voter.
At the state level, Arkansas ranks No. 17 in the country with $9 million spent in various political races, which comes to $4.23 per eligible voter and 24,100 ads. Unlike the Pryor-Cotton race, state-level races in Arkansas have seen more money from the candidates ($5.5 million) than outside groups ($3.5 million).
The majority of that $9 million comes from the race for governor, between Republican Asa Hutchinson and Democrat Mike Ross, where $5.9 million has been spent.
The Hutchinson campaign leads the way with $2 million spent on ads, compared to $1.5 million by the Ross campaign. Outside groups supporting the candidates — the Republican Governors Association and Jobs & Opportunity — have spent identical totals, $1.2 million, on ads targeting the opposing candidate.
Races for attorney general ($1.4 million) and lieutenant governor ($1.3 million) have also crossed the six-figure mark.
For more numbers on political ads in Arkansas, check out the U.S. Senate numbers here and state-level race numbers here.

Latest Arkansas Business Poll
Do you approve of the president taking executive action on immigration?