The Whispers Blog
Arkansas' breaking business news blog, with news and commentary from the Arkansas Business staff.
Send us tips.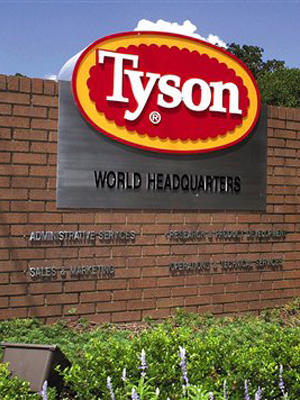 The Associated Press reports that the Environmental Protection Agency has started an investigation into Tyson Foods Inc. of Springdale.
This, after a May 16 discharge of a food supplement that allegedly led to ammonia entering a Missouri creek and killing 100,000 fish. The publicly traded meat processor revealed the investigation earlier this month in a filing with the U.S. Securities and Exchange Commission.
"We're cooperating with the Environmental Protection Agency in its investigation, as we have with state and local agencies regarding this incident," spokesman Worth Sparkman told the AP.
KSPR, an ABC affiliate in Springfield, has more on the investigation and the spill here.
In other news, Tyson has for the second time extended the tender offer for its purchase of Hillshire Brands as the U.S. Department of Justice's Antitrust Division continues its review of the $8.5 billion deal.
Tyson announced last week that it had extended its tender offer for the Chicago firm as the DOJ sought more details of the deal. At the time, Tyson said the request related "only to a very small portion of the combined Tyson/Hillshire Brands business," and that it still expects the deal, reached in July, to go through.
Tyson announced the second extension of the tender offer in a news release on Tuesday. The offer has now been extended to Tuesday.
Weird photo scandals notwithstanding, Jerry Jones is having a decent month.
His Dallas Cowboys are once again ranked as the top U.S. sports franchise, topping $3 billion value, according to Forbes magazine. That puts the NFL team second only to Spain's soccer, er, futbol, powerhouse Real Madrid, as the most valuable team in the world. Forbes says Real is worth $3.4 billion.
This is the eighth straight year the Cowboy's have topped the list in the U.S. According to The Associated Press:
Dallas posted the NFL's highest revenue, $560 million, and operating income, $246 million. That was far ahead of second-place New England, worth $2.6 billion and with $428 million in revenues, $147 million in operating income.

But the Patriots had the biggest increase since last year, up 44 percent in value. Dallas was up 39 percent.

The average NFL franchise value for 2014 is $1.43 billion, the highest in the 17 years the business magazine has tracked professional football. That shows a 23 percent increase, the largest in one year since 1999.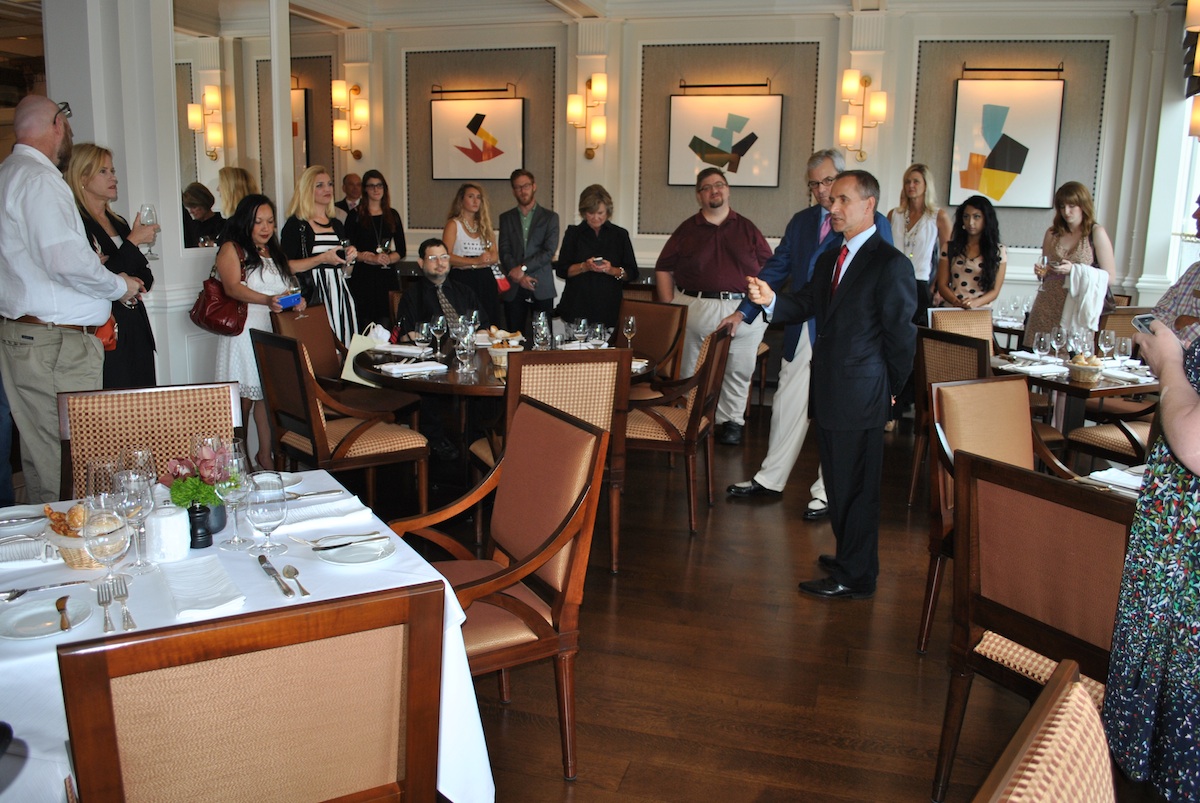 A look inside the main dining room of the Capital Hotel's new restaurant, One Eleven at the Capital.
Little Rock Soirée was one of a few media outlets to get a sneak peek at The Capital Hotel's new restaurant, One Eleven at the Capital, Thursday night.
The restaurant, which is taking the place of Ashley's, will be open Friday and Saturday for dinner service. Its weekday lunch service will begin Wednesday. One Eleven will also serve breakfast on Saturdays, and breakfast and brunch on Sundays, both beginning next weekend.
Ashley's closed in May for extensive renovations. Last night, media members got the first glimpse of the new dining room that included hardwood floors and open windows, instead of carpet and heavy drapes.
Here's part of Soirée's review:
While staff wouldn't say how much the renovation cost, it's apparent very few expenses were spared. One Eleven contracted with Little Rock agency Thoma Thoma to handle the new logo and branding. The dining room has been augmented with a new 16-seat zinc bar that stretches through the space where the former host stand once stood. A new WineEmotion dispenser system, worth well over $10,000, allows bar staff to preserve the most premium wines for weeks after opening, meaning several of One Eleven's most expensive bottles are now also available by the glass.
The kitchen also received a makeover, which will allow chef Joël Antunes to serve more patrons, more efficiently.
As far as the food, most dishes are staying the same, but there have been updates. Soirée was able to preview a few dishes last night, including Maine Oysters Rockefeller, Crab Cake with Coleslaw, Organic Belle Evans Farm Chicken and Raspberry Cheesecake. One Eleven will also have some doughnuts that could quickly become popular.
For more on the Capital Hotel's new restaurant, including a slew of photos, check out Soirée's full report here.
It's a rare thing that you see a pair of big job loss announcements in northwest Arkansas so close together. Last week, Superior Industries International of Van Nuys, California, announced it was going to close its plant in Rogers leaving 500 people out of work. And late yesterday, word of another 250 jobs lost in Springdale.
According to The City Wire:
APEX Tool, formerly Danaher Tool, employs roughly 250 workers whose jobs will be moving to South Carolina in 2015.

"APEX Tool Group has made the difficult decision to close our manufacturing facilities in Dallas, Texas and Springdale, Ark., by the end of 2015, and to consolidate production of our Made in the USA brands to an existing facility we own in Sumter, S.C.," the APEX Tool Group noted in a statement. "We plan to add 150 to 200 jobs in Sumter to handle this additional capacity, and our associates in Dallas and Springdale whose jobs are impacted will have the first opportunity to apply for these positions. ..."
The job cuts begin next year.
According to a report last week by the U.S. Department of Labor, the Fayetteville-Springdale-Rogers metropolitan area had the lowest unemployment rate of Arkansas metropolitan areas in June at 4.9 percent.
@WalmartLabs, part of Wal-Mart Stores Inc.'s social media division, has acquired another shopping app, Luvocracy.
Re/Code reports that the 16 of the 20-person staff will join @WalmartLabs, which is shutting down the service:
Luvocracy was one of a host of startups attempting to make online shopping a more social experience. Prospective shoppers visited the app to browse through images of products uploaded by other individuals. Luvocracy's team scoured the web to find the best available price for each product, which shoppers could then order directly through the Luvocracy app.
Wal-Mart hasn't disclosed terms of the deal. Founded in 2011, Luvocracy has since been surpassed by Pinterest, another social shopping platform. Still, Luvocracy managed to raise about $11 million in investment from entities including Kleiner Perkins, Google Ventures and Yahoo! CEO Marissa Mayer, according to TechCrunch.
In February, Wal-Mart said it had acquired Yumprint of Seattle, planning to use the company's recipe technology for its grocery delivery efforts on Walmart.com and Walmart To Go.

Latest Arkansas Business Poll
Should the alcohol amendment remain on the ballot?