Fayettechill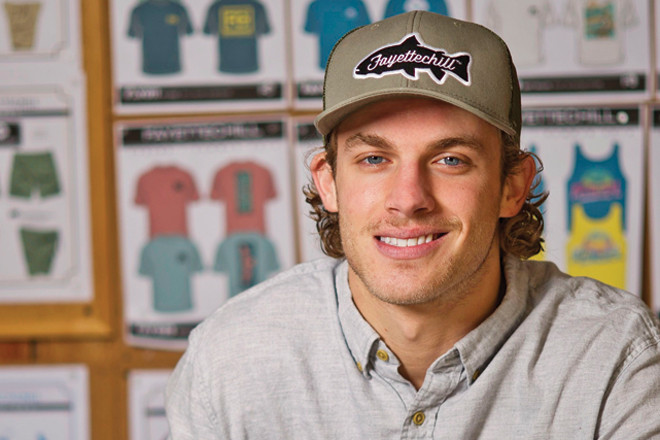 City: Fayetteville
Category: Category I (1-25 Employees)
Year: 2014
Mo Elliott's business school project is doing pretty well.
Elliott, 25, came up with the idea for an outdoor apparel company as a junior at the University of Arkansas. The name came from a buddy from Dallas — "He asked me when I was headed back to Fayettechill," Elliott said — but the business model came from Elliott.
"We've had triple-digit growth ever since I started the company," Elliott said. "A lot of people think we just came up with a cool idea and made a T-shirt."
Fayettechill was born in 2009 after Elliott, who was running a landscaping business, went to an outdoor store and found nothing that represented northwest Arkansas.
At first, Fayettechill made enough money to pay for the beer on Dickson Street, Elliott joked. But the idea caught on with outdoor enthusiasts in northwest Arkansas, and the turning point came in 2010, when Fayettechill was able to get its merchandise into stores such as Lewis & Clark Outfitters and Pack Rat.
Shortly after, Elliott brought in a top management team to help manage the growth he knew was coming. The company surpassed $1 million in sales in 2013, Elliott said, and 2014 looks to be bigger and better. "Once I had the team in place, we had pretty high expectations,"
Elliott said. "We're keeping the momentum going."
The company and its 15 employees have established headquarters at the Ozark Mountain Smokehouse. Fayettechill now sells outdoor merchandise in a five-state region, and Elliott has plans to expand into the Appalachians and the Southeast.
Elliott said Fayettechill will continue to give money to nonprofits that celebrate the outdoor sports that give the business its customer base. "We represent it, so why not give back to it?" he asked. "It's kind of a no-brainer."