Rogers Paint Co. Inc.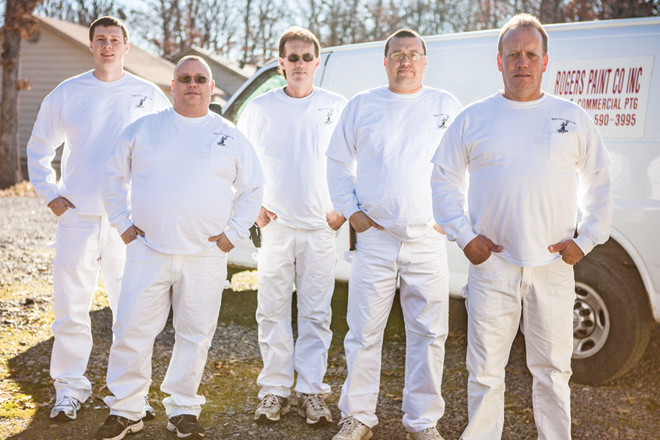 City: Lonoke
Category: Category I (1-25 Employees)
Year: 2014
Rogers Paint Co. in Lonoke is built on a tradition of commercial painting that goes back three generations. Bob Rogers and his brothers — Mike, John and David — learned from their father, Don, who in turn had learned from their grandfather.
One advantage the brothers have enjoyed over the previous generations of Rogers painters are cellphones. "Back then, you conducted your business at night," Bob Rogers said. "You spent a lot more time on the road, but I don't have to do that now."
In 1991, Don and his sons decided to start their own business. Having previously done mostly subcontracting, they had trouble getting a loan. But they talked it over with the president of Central Bank & Trust of Little Rock as they painted his office. He loaned them $10,000 using several vehicle titles as collateral.
From their home base in Lonoke, where they have a 2,400-SF store and 40 acres on which all the brothers live, the Rogers brothers paint throughout the state. Their jobs range from large projects such as interior and exterior work on the John L. McClellan Memorial Veterans Hospital in Little Rock to smaller projects on historical buildings like the Trimble-McCrary House in Lonoke and City Hall in Stuttgart.
Their status as a preferred vendor with the VA, and the trust they're given in working with old buildings, is also the source of their greatest challenge. Finding people they want to be part of their team is challenging — Rogers Paint is composed of just the four brothers and a nephew, Shawn. "We take so much pride in our work," said Bob Rogers, "… when we get through with a job, we can say it's close to being perfect, but a lot of people don't take pride in what they do."
Even though hiring can be tough, Rogers Paint continues to do well. 2013 saw the company's best gross sales, and 2014 looks to be even better.