Smith's Consumer Products Inc.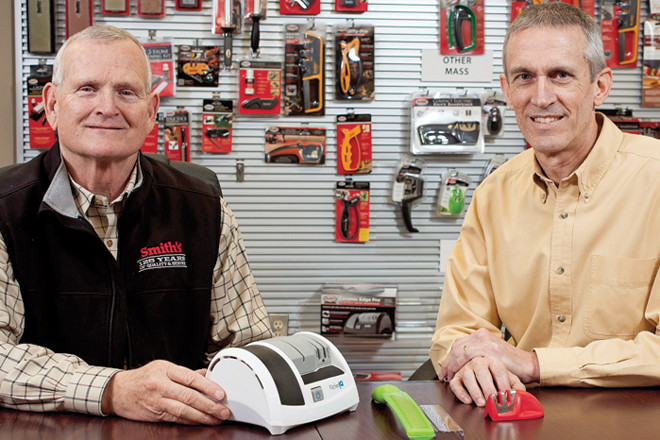 City: Hot Springs
Category: Category II (26-75 Employees)
Year: 2014
Smith's Consumer Products Inc., founded in 1886, has stayed relevant by adapting to the modern marketplace.
Until 35 years ago, all of the company's products focused on the care of axes and other outdoor blades and were made with Arkansas stone; today, only 8 percent of its products fit that category.
Noting that the skill set for sharpening with stones has faded over time, CEO Dan Glidden said, "We've created a lot of additional sharpeners that just make it much simpler and quicker." The Pocket Pal Knife Sharpener, for example, features carbides and a diamond-coated rod.
This adaptability helped Smith's succeed even in the face of the recent economic downturn: It has grown in 13 of the past 14 years. Four years ago, the company entered the housewares market with kitchen knife sharpeners and has since branched out into slicers and graters. It bought the FireWire brand of flexible grilling skewers last year and, Glidden said, will continue to develop new grilling products.
Richard Smith, the great-grandson of the company's founder, oversees many of these new developments from a 30,000-SF office and distribution center in Hot Springs. As befits a company that adapts with the marketplace, almost all of the company's products are made in China and shipped back to the United States. One of the company's goals in the coming years is to expand its international profile, according to Glidden. Smith's products are already sold in 41 countries, but setting up distribution sites closer to the factories will shorten the path to those consumers.
Smith's, with 33 employees, continues to sell stone sharpeners, but the focus is on new products and new opportunities. "We always want to bring some innovation," said Glidden, "or something unique to any of the products or categories that we enter."