U.S. Pizza Co.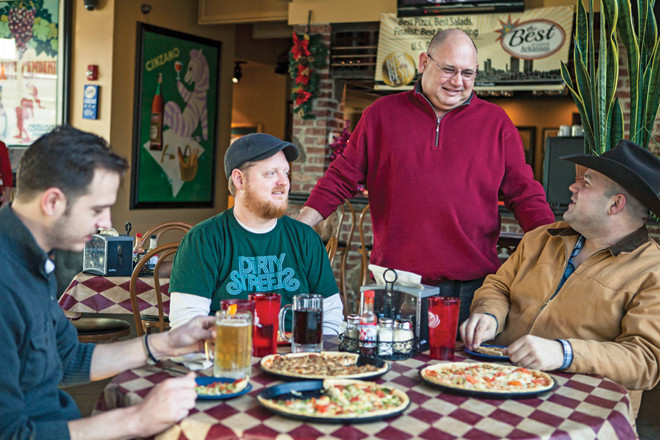 City: Little Rock
Category: Category III (76-300 Employees)
Year: 2014
If imitation is the sincerest form of flattery, U.S. Pizza should be seriously flattered.
In the 42 years that it's been in operation, the business has evolved into nine locations in central Arkansas and one in Fayetteville, three licensee stores and a host of pie shops opened by restaurateurs who once twirled the dough or schlepped the drinks at Judy Waller's mother ship and liked the business so much they decided to start their own restaurants.
Waller used a $400 loan from her father-in-law back in 1972 to open her first U.S. Pizza, in Levy. That first year, the shop pulled in about $1,000 a week. In fiscal 2013, the company reported almost $16 million in sales and 280 employees. In the interim, it opened locations in the Heights and Hillcrest, west Little Rock and Maumelle and places in and around. And in 2008, U.S. Pizza opened its new Hillcrest store in a handsomely remodeled former Masonic hall that also serves as company headquarters.
Along the way, it sought to develop its managers from within its ranks and engendered the kind of loyalty that sees the company drawing employees from the second and even third generation of a family. "Judy just loves to see people develop their full potential," said Drew Weber, U.S. Pizza's chief operating officer.
U.S. Pizza has been renovating some of its stores recently, necessitating their closure for a time. But, Weber said, the company seeks to fund those remodels out of its own reserves so it doesn't have to borrow money, and seeks to keep all those employees working. Even with the temporary closures, the company has seen steady revenue increases during the last three years.
With its popular thin-crust pizza, sandwiches and salads and steady hands at its helm, U.S. Pizza continues to make regulars out of both customers and employees.