The EAST Initiative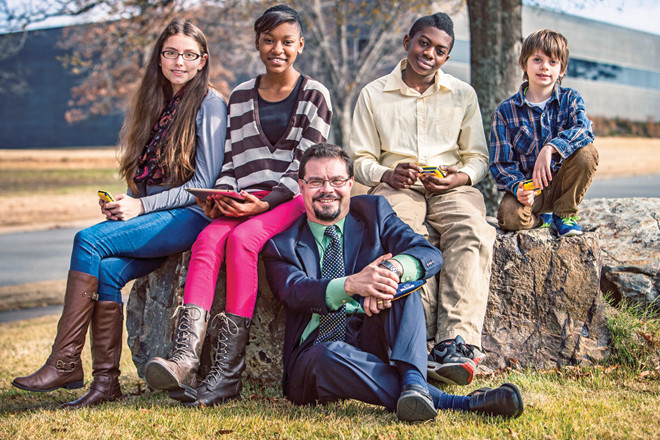 City: Little Rock
Category: Nonprofit Organization of the Year
Year: 2014
"EAST" stands for "Environmental and Spatial Technology" and the organization of that name had its genesis in Greenbrier in 1995.
The nonprofit is focused on placing professional technology into K-12 classrooms and letting the students, with guidance, come up with their own technical projects.
Since EAST's beginnings, around 177,000 students have completed its programs, and between 18,000 and 21,000 are enrolled in them this school year. It's grown from just Greenbrier to about 210 schools in Arkansas.
The program employs about 250 "facilitators" to teach the subjects at its schools. "Their primary duty is to manage the EAST classroom and to help," said CEO Matt Dozier. "They're kind of like master project managers. Their job is not to be a content expert. That's one of the reasons they're called facilitators and not teachers."
The facilitators are "student-level experts," Dozier said, and they are trained to help motivate and manage student projects. He likened the job to being an air traffic controller. "It's much more of an art than a science in that you've got to know all of your students," Dozier said. "You've got to have a good sense of what they're capable of versus what they think they're capable of."
Total revenue and support for the nonprofit's fiscal 2013, which ended in June, was $3 million. That's up from $2.15 million in 2010 and $2.4 million in 2011, but down from $3.6 million in 2012.
Dozier said the nonprofit has remained in a "frugal and judicious" state since the recession, but he's hopeful about the financial picture going forward. "I know there are some education policies coming down that are going to make us more relevant — not that we're not incredibly relevant right now — but we're seeing people coming to us saying, 'Hey, we want you to be a part of this.'" Dozier cited the Argenta Innovation Center as one group that's invited EAST participation.