John Hugg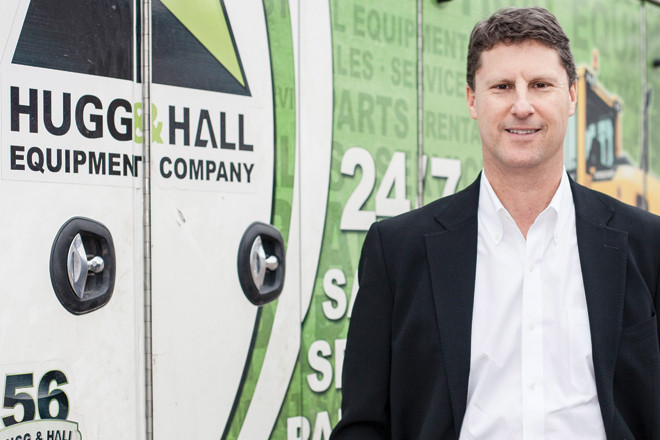 Hugg & Hall Equipment Co.
City: Little Rock
Category: Business Executive of the Year
Year: 2014
John Hugg saw the family business as a good place to start his career after he graduated from the University of Arkansas at Fayetteville in 1981. His first full-time job at Hugg & Hall Equipment Co. turned into much more.
During his nearly 33-year stint, the company has transformed into a regional concern with 13 locations in Arkansas, Louisiana, east Texas and Oklahoma.
Hugg oversaw acquisitions during the past several years that expanded the Little Rock enterprise beyond Arkansas and increased staffing to 420, with 300 of those in Arkansas. Annual revenue from forklifts, excavators and other material-handling gear reached about $160 million in 2013.
Hugg & Hall ranked No. 66 among the top rental equipment companies in the nation based on its 2012 production.
"I try to get up every day with a desire to improve the business," the 54-year-old executive said. "I have a passion for making it the best business it can be. We try to keep things basic: Take care of our customers and our employees."
The company has come a long way since he and partner Robert Hall entered the ownership picture 23 years ago. Revenue totaled about $13 million during their first full year at the helm in 1991.
Achieving a balance of four profit centers has helped propel the company to where it is today. Attention to building parts, rental and service sales to augment a foundation of new and used equipment sales has served the company well, Hugg said.
His father, Charles, bought the company in 1970 when it was known as Clarklift. It took a while for the elder Hugg's passion for the business to infect his son. "My dad was very, very enthusiastic about the business," Hugg said. "He absolutely loved it. As a kid, I didn't understand it."
That changed after he transitioned from part-time help to working in a series of different jobs at the company and learning more about the business after college.
"We're lucky to interface with so many businesses," Hugg said. "There is so much variety, and it never gets boring."