Johnson Dermatology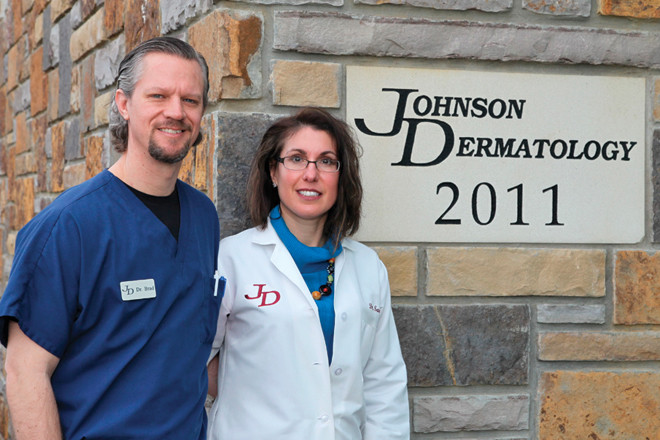 City: Fort Smith
Category: Arkansas Community Foundation's Outstanding Philanthropic Corporations
Year: 2014
Beyond skin care, extensive community involvement, in-kind and charitable donations, and promotion of earth-friendly practices are among the missions of Johnson Dermatology.
Dr. Sandra Johnson and Dr. Brad Johnson, who are married, opened the Johnson Dermatology Clinic in 2006. The clinic encourages on-the-clock volunteerism, provides free dermatologic care to low-income patients through the Good Samaritan Clinic and opened the first LEED-certified clinic in the state in 2011.
The new location was built with local and recycled materials. The exterior of the clinic was built from stone near the location. Interior features include material that looks like hardwood but is made from recycled PVC pipes. The clinic also uses geothermal energy and has a large silo to collect and use rainwater.
The clinic also has a strong partnership with the Good Samaritan Clinic. The patients Good Samaritan sends to Johnson Dermatology "usually have very, very bad rashes and large skin cancers because of the inability to go to a physician," Dr. Sandra Johnson said. "These are very, very kind patients that, given a few different circumstances, could be one of us."
The clinic also gives money and skin care products to Good Samaritan.
Johnson Dermatology does very little formal advertising, preferring to put advertising dollars into local organizations. The clinic is a partner in education with four local schools, provides skin care products for students and teachers, attends school career days and donates gifts and school supplies to poor children.
The clinic also provides free skin care, sun block, skin cancer screenings and financial support to the Reynolds Cancer Support House's Sun SMART program. Sun SMART is a community-education program aimed at preventing skin cancer.