Fort Thompson Sporting Goods Inc.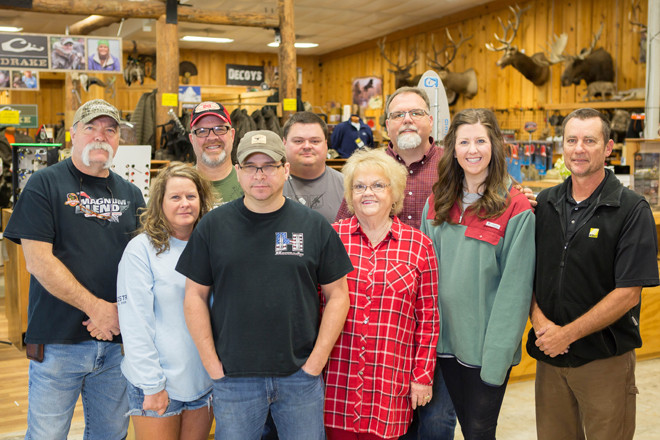 City: Sherwood
Category: Category I (1-25 Employees)
Year: 2017
Fort Thompson Sporting Goods has long served as a central Arkansas destination for shoppers looking for shooting, hunting, fishing and camping gear. More than 50 years of business have built a clientele base that extends into a third generation.
"Now their grandkids are coming here," said owner Tom Denniston.
The retail roots of the venture were established in 1931 by Clyde Thompson when he opened a community grocery and hardware store in Rose City (now part of North Little Rock).
During the 1950s, a sideline business of selling guns and ammo came into its own and was developed by Clyde Thompson Jr. into today's stand-alone sporting goods venture. Thompson's accomplishments resulted in his 2014 induction into the Arkansas Game & Fish Foundation's Outdoor Hall of Fame.
Ownership of the outfitting business passed from the Thompson family to Denniston in 1984, and a new home was built the following year next door to Thompson's Super Market. The pine-log construction of the building gave rise to "looks-like-a-fort" comments, and today's Fort Thompson name was born.
5802 Warden Road
Sherwood, AR 72120
501-835-3006
FortThompsonSportingGoods.com
The store took on a full-on fort appearance in 2006 after relocating from its East Broadway digs in North Little Rock to an expanded 19,000-SF location at 5802 Warden Road in Sherwood.
Annual revenue tops $10 million these days, with the sale of pistols, rifles and shotguns augmented by its own Fort Thompson-branded line of gear and clothing led by its ever popular waders.
"We belong to the Sports Inc. buying group, which helps keep the pricing competitive," said Denniston, who has worked at Fort Thompson since he was a kid. "That's been key for us." The cooperative for independent sporting goods retailers has more than 500 members and 750 sales locations in the United States and Canada.
Numbering among the 21-employee roster at Fort Thompson are Denniston's son, Taylor, a full-time staffer, and daughter, Keelen, with the part-time crew.
Tom Denniston said there is no mystical formula to the company's secret to success: "Good, honest, hardworking employees and taking care of your customers."