Mass Enthusiasm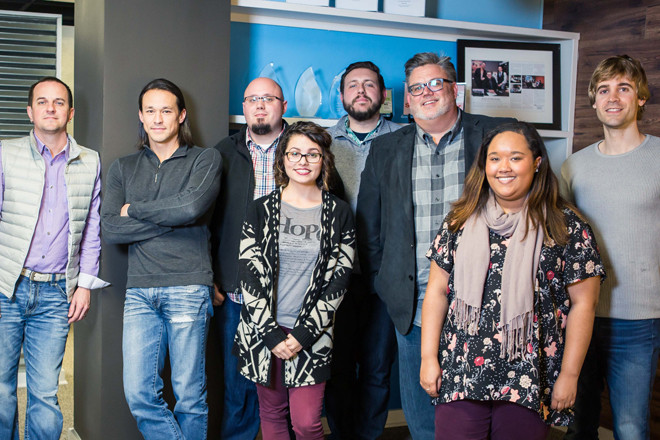 City: Little Rock
Category: Category I (1-25 Employees)
Year: 2017
Chris McMillen had a bright future in T-shirts, so how exactly did he become the founder and owner of Mass Enthusiasm, a Little Rock digital marketing agency?
Maturing and getting a computer science degree from the University of Arkansas at Little Rock had something to do with it.
"I have a design background from years ago, when I did a lot of freelance design work in apparel and T-shirt design; I loved that stuff," the North Little Rock native said recently. "Then I got the computer science degree, and Mass Enthusiasm sits at the intersection of those two things."
The firm, which has 11 employees, got its start in 2003 with a $30,000 small-business loan from Centennial Bank. Soon it was building applications, websites and offering online marketing. The company thrived under McMillen's philosophy that web promotion products have to "look good and function well, but they also have to be valuable and lead-generating."

221 W. Second St., Suite 427
Little Rock, AR 72201
501-821-8746
Inthooz.com
"We make marketing interactive" is the slogan of the company, and it proudly points to clients like Verizon Arena and Southwest Power Pool, along with "myriad clients from small to big." Along the way, McMillen has hired a tight-knit team of design and development professionals.
To offer just one example, in 2015 Mass Enthusiasm developed a smartphone and iPad app for KABZ-FM, 103.7 The Buzz. The app allows fans to stream the sports station from anywhere with Wi-Fi, and to engage in the station's social media, contests and more.
"I'm really proud of our client relationships, and I'm most proud of our team," said McMillen, who called an uncertain economy his company's biggest challenge. "We put out what we feel is some of the best work in the region."
And what does he see as the secret of success? "Perseverance, a never-give-up attitude and giving all the glory to God."