Pinnacle Car Services Inc.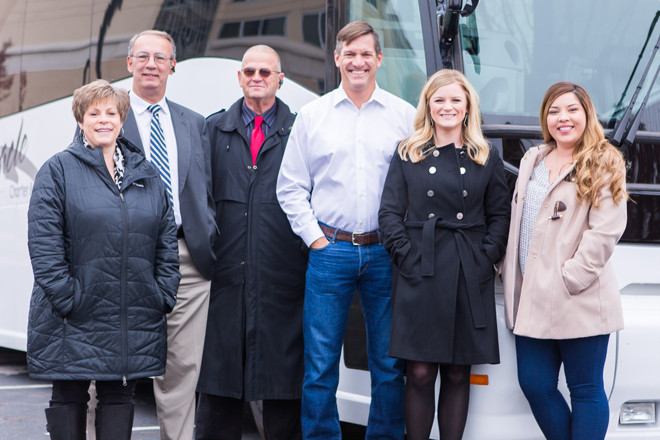 City: Rogers
Category: Category I (1-25 Employees)
Year: 2017
Jeff Wright enjoyed working with small-business owner-operators during his 16 years with Sam's Club. The interaction helped spur interest in starting his own business, Pinnacle Car Services Inc.
He had "a million different brainstorm ideas" before focusing on executive transportation in northwest Arkansas. "I felt like there was an underserved market for limousines," said Wright, who is CEO as well as founder of Pinnacle Car Services.
He launched the venture in September 2005 with two stretch Hummers. During its four months of operations that year, the company produced revenue of $30,000.
This year, sales topped $2 million, supported by a full-time staff of 20 and 40 part-time employees. The fleet has grown to 30 vehicles that include sedans, SUVs, vans, 13- and 16-passenger executive vans and more. Among the company's tricked-out transportation options are a 25-passenger party bus, 29-passenger mini-coach and 54-passenger motor coach.
Wright has positioned the business as a full-solution provider that delivers concierge services in addition to executive transportation.
3333 Pinnacle Hills Parkway, Suite 432
Rogers, AR 72758
479-205-0505
PinnLimo.com
"We can handle all of their ground transportation needs from A-Z," he said. "We've always been about growing the business."
Wright takes pride in his company building its clientele through a track record of safety, dependability and customer service.
The destinations for moving teams or groups on road trips this year range across Nebraska, Mississippi, Wisconsin, Texas, Louisiana, Kansas, Oklahoma, Minnesota, Colorado, Alabama and Georgia.
Helping the business grow are big draws such as the Wal-Mart annual shareholders meeting in Fayetteville, the LPGA NWA Championship in Rogers and Crystal Bridges Museum of American Art in Bentonville. In the middle of it all is Wal-Mart and its vendor community.
"We've literally interacted with people from all over the world, and that's a ton of fun," Wright said.
Along the way, Pinnacle Car Services has donated tens of thousands of dollars in goods and services to Benton and Washington county charities.