B-Unlimited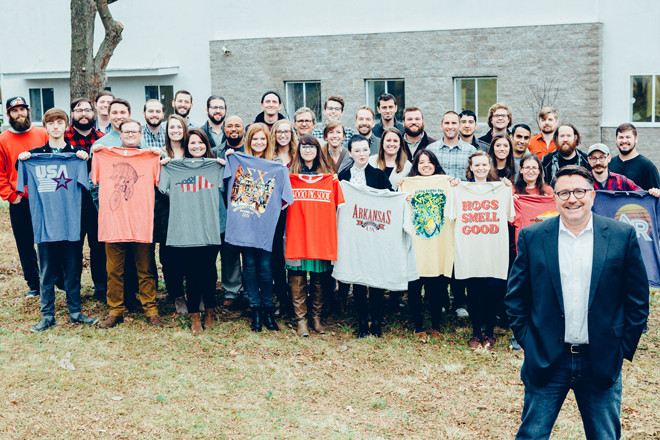 City: Fayetteville
Category: Category II (26-75 Employees)
Year: 2017
CEO Ben Clark remembers the lean years from not so long ago, which makes the current run his company is on that much more enjoyable.
Clark bought B-Unlimited, an apparel company in Fayetteville, in 2006. B-Unlimited does water-based printing of designs on collegiate clothes, but in those early years, Clark and B-Unlimited were operating hand-to-mouth to stay afloat.
"I ran the company off net income; in turn, that has created a healthy business and a healthy business model instead of having all this debt," Clark said. "When I first started, it was just me and another guy."
In 2009, Clark said, B-Unlimited's sales were approximately $500,000. Clark expects to hit $10 million in 2017.
"We've been in existence for a while, but, all of a sudden, the last four to five years have been a lot of crazy growth," Clark said. "People have been finding out about us on the national scale rather than just the local scale. It has made a huge difference.
612 W. Center St.
Fayetteville, AR 72701
479-582-1515
B-Unlimited.com
"We switched our gear to mainly focus on universities. We were doing well with the University of Arkansas so we decided to expand and cookie-cutter our idea to other schools. It has worked out well."
The key to the company's success has been that focus on licensed apparel with 70 colleges and universities nationwide. That is coupled with B-Unlimited's deep bench of illustrators, who design products by hand.
"They sit at their desks and draw all day," Clark said. "We're pumping out over 1,000 new designs every month. When they want something good, they call us."
B-Unlimited now has 70 employees, and Clark is moving the company to fancy new digs on South School Avenue. The new facility will have a kitchen and a volleyball court so everyone can reap the advantages of the company's success.
"I don't know if I'm making any more money, but I have a lot more employees," Clark said. "Honestly, it is all about the people here. It's not about the shirts. We have employees here who love what they're doing. That's the biggest part of our success."