Home I.V. Specialists Inc.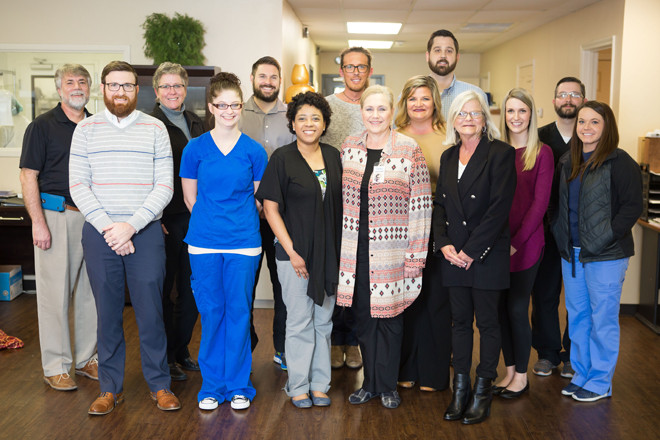 City: Jonesboro
Category: Category II (26-75 Employees)
Year: 2017
Home I.V. Specialists Inc. of Jonesboro has navigated the competitive home infusion therapy industry for the last 25 years by focusing on the patient.
"We try to take care of these patients regardless of who their payer is or where they live in the state or how many nurses they're going to need," said Brandi Melton, Home I.V.'s chief operating officer. "We put the patient first in everything we do."
Home I.V. is a pharmacy that dispenses medications and intravenous drugs to patients treated in their homes. It also provides specialty injectable and oral medications.
Melton's mother, Julia Robinson, founded the company in 1991 in Jonesboro, and it has been growing ever since. In addition to Jonesboro, Home I.V. has offices in Little Rock, Mountain Home and Fort Smith, which was added in September after the company completed the purchase of Lee Pharmacy of Fort Smith.
With 62 employees, Home I.V. serves Arkansas, southern Missouri and parts of Illinois, Mississippi and Oklahoma. The majority of Home I.V.'s patients come from referrals from hospital case managers, social workers and physician clinics.
824 Cobb St.
Jonesboro, AR 72401
800-422-5479
HomeIVSpecialists.com
The number of patients served annually has jumped 75 percent to about 3,850 since 2014.
While Melton declined to release revenue figures, she said sales grew 19 percent in 2015 and preliminary figures for 2016 indicated growth of 28 percent.
One challenge Home I.V. faces is dealing with the nurse shortage. Melton said, however, that Home I.V. has an edge because it's an 8-5 job with no shift work.
Outside of the office, Home I.V. supports health care causes. In 2016, the company donated $50,000 to create a Dean's Excellence Fund at Arkansas State University at Jonesboro. The endowment will provide the school's College of Nursing & Health Professions with a discretionary fund to be used by the dean for educational needs.
For growth, Home I.V. is focused on expanding services in northwest Arkansas and neighboring states. "There's really not many locally owned providers left," Melton said. "So acquisitions aren't going to happen. It would have to be organic growth."