Standard Business Systems Inc.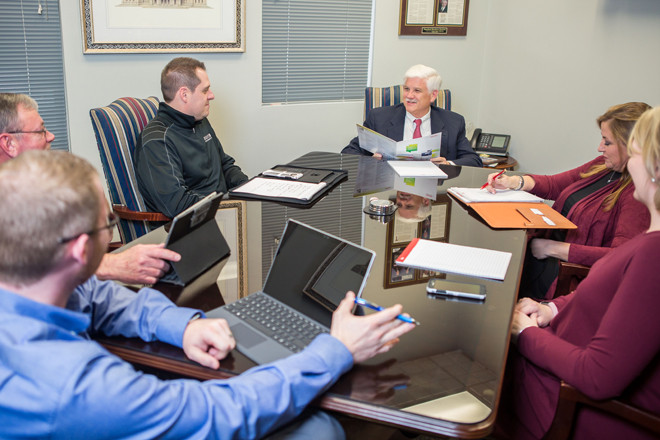 City: Little Rock
Category: Category II (26-75 Employees)
Year: 2017
David Gulley was working at a small office products firm that was on the brink of going under when he saw opportunity and decided to make a go of it.
He opened Standard Business Systems in a partnership with his brother, Richard, in 1989 with four employees.
Over the years, the Little Rock venture blossomed into one of the largest locally owned and operated office equipment and software providers in Arkansas.
"We're pushing $20 million in annual sales," said David Gulley, president and CEO. "We do more in a week now than we did in my first year. This is all we do, so we do it all day, every day."
The company handles the Toshiba and Lexmark lines of office products, with operations spread over 45,000 SF in six buildings. Last year, Standard Business Systems was singled out for recognition among Toshiba's 400 North American dealers. "We were named the 2016 Toshiba Dealer of the Year, which is unheard of for a dealer in a market our size," Gulley said. "The last 10 years have been tremendous."
1300 Westpark Dr., Suite 7
Little Rock, AR 72204
501-663-4414
StandardBusiness.com
In addition to organic growth, the copier division of Standard Office Systems was acquired in 1991, a move that bumped the head count to 20.
Today, the company employs 75 in four divisions: multifunction devices, printers, toners and supplies, and information technology.
Having a dedicated IT staff is one of the ways that Standard Business Systems distinguishes itself from many of its competitors. It's also a service move that aids customers and is a reflection of the company's commitment to stay in the forefront of ever-changing technology.
Three of the original four employees still work at Standard Business Systems, and staff stability is a source of pride. On average, the sales staff has worked more than 25 years at Standard Business Systems, and among the service staff, the tenure is more than 15 years.
The continuity of sales and service personnel has helped the company build a strong roster of loyal customers that range from mom-and-pop firms to government agencies, hospitals and other large clientele.