Team SI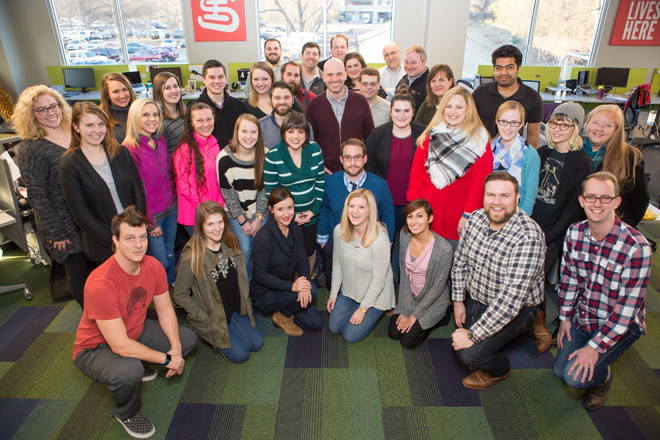 City: Little Rock
Category: Category II (26-75 Employees)
Year: 2017
Team SI is a data-driven marketing firm known for its fast growth. It's also one of the few Little Rock workplaces with a margarita machine.
Launched in 2010 by CEO Tim Whitley, who left a six-figure salary at Nexstar Broadcasting Group, Team SI was born with a $20,000 loan from Whitley's 401(k) and had just two employees. Now, more than 50 workers serve some 300 clients nationwide and annual sales are approaching $10 million.
A quotation hangs in Whitley's office, a few floors below the offices of Team SI's sister company, Mangan Holcomb Partners. The words are from Alan Kay, the pioneering computer scientist: "The best way to predict the future is to invent it."
That's the spirit behind Doppio, the proprietary system of aggregated data analytics that Team SI pairs with employee expertise to maximize results in marketing campaigns. Whitley describes it as his "secret sauce," and he sees data as "the currency of the internet."
As advertisers focus on finite targeting of customers, Doppio "lets us target an individual at the right time with the right frequency inside of the sales funnel with the ability to segment target consumers by 25,000 different data points," Whitley says.
2300 Cottondale Ln., Suite 300
Little Rock, AR 72202
501-553-9321
TeamSI.com
In 2015 and 2016, Team SI was recognized by Inc. magazine as one of the country's fastest-growing firms, with revenue shooting up 1,670 percent over the previous four years. The past two years, Team SI has been ranked as the fastest-growing private company in Arkansas by Inc. 500 and ICIC 100. It is also a Google Premier Partner.
It represents local, regional and national clients in fields like automotive, agriculture and health care, including multiple John Deere dealerships in Arkansas, CHI St. Vincent, J.B. Hunt Transport, Bank of the Ozarks and Steve Landers Auto Group.
"Team SI's lifeblood is innovation," Whitley says. "If we stop innovating, we will die. Period." He also sees recruiting, training and keeping good employees in Arkansas as a challenge to be met.
That's where the margarita machine fits in, as a perk paired with a coffee bar in the firm's expansive employee lounge.