Travel Nurse Across America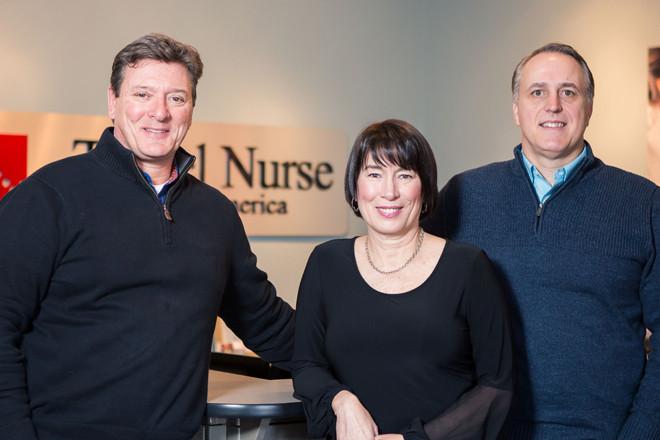 City: North Little Rock
Category: Category III (76-300 Employees)
Year: 2017
Travel Nurse Across America places traveling nurses in hospitals in all 50 states for typically 13-week assignments.
Founded in 1999, the company had more than $100 million in sales in 2016 and is expecting a 30 percent increase this year, said CEO Gene Scott.
"We primarily staff RNs, typically higher end specialties because that is where the shortages are," Scott said, noting the company staffed only surgical nurses when it began.
Travel Nurse Across America is ranked 11th nationally among travel nurse agencies in terms of annual revenue, according to Scott. It has about 125 corporate employees, and at any given time it has about 900 nurses out on assignment.
Scott said there is a "chronic" nursing shortage across the country, and "we have probably 10 times more jobs to fill than we have nurses to fill them." He said he expects his company to double the nurses on assignment in the next 18 months.

5020 Northshore Dr., Suite 2
North Little Rock, AR 72118
501-663-5288
Nurse.tv
"Over the next 10 years, you're looking at a critical juncture in our health care system where we have people that are going to be needing more and more nurses, and we have fewer and fewer nurses to give them," he said.
The company's compensation and benefits programs, as well as the opportunity to travel, are what make Travel Nurse attractive to nurses, Scott said.
"Our jobs are posted real time and people can go see where the jobs are, and if there is a job that interests them they will fill out an application online," Scott said, adding there is "an intensive vetting process. We have RNs on our staff, and we go through a huge process of vetting in terms of licensure, education, background checks, drug screens, all those kinds of things."
Travel Nurse is a founding member of the National Association of Travel Healthcare Organizations and has been awarded the Health Care Staffing Services Certification with Distinction.
Travel Nurse also teams up with a nonprofit every year to sponsor four nurses in eight-week stints on the Africa Mercy, the largest nongovernmental hospital ship in the world.