Amboy Community Food Pantry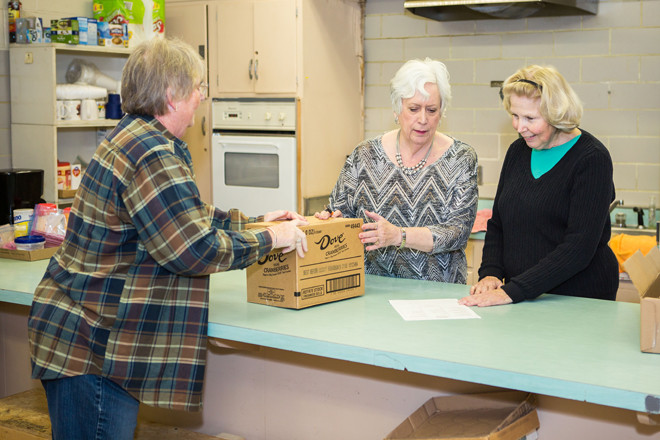 City: North Little Rock
Category: Nonprofit Organization of the Year
Year: 2017
When the Amboy Community Food Pantry opened in 2000, it provided 1,505 people with food. Last year, the nonprofit served about 14,000.
"It hurts me to know there are hungry people, and I think we all feel that way," said Billie Warren, president of the nonprofit's board and volunteer coordinator. She and about 20 others — more during the holidays — volunteer at the food pantry from 9 a.m. to noon every Monday and Thursday. The food pantry is located is the old Amboy No. 8 fire station on Auburn Street in the Amboy community of North Little Rock.
The food pantry serves people who live in North Little Rock and Maumelle and is sponsored by 12 area churches. Every month each church is assigned a particular food item to provide to the pantry, such as cookies in December, Warren said. Area schools also hold drives for perishable food items for the pantry, as does the pharmacy school at the University of Arkansas for Medical Sciences. Area businesses and restaurants are also encouraged to donate money or food items.
The food pantry was started after a member of the Amboy United Methodist Church said she had a dream about starting a food pantry in the community, according to Warren.
"We soon grew out of the little room at the church," Warren said, adding that the nonprofit now rents the old fire hall from the city of North Little Rock for $1 a year.
This past Thanksgiving, the pantry received enough donations to provide a turkey for every family. "If just one or two in the family, they got a ham, but more than that got a turkey," Warren said.
A volunteer from the beginning, Warren said the number seeking food rose significantly when the economy faltered in 2008, and the number needing assistance always rises during Thanksgiving and Christmas.
"We had 1,300 for the months of November and December," she said. "We have individuals, families, homeless … who say they live in Burns Park."