Hearts & Hooves Therapeutic Riding Center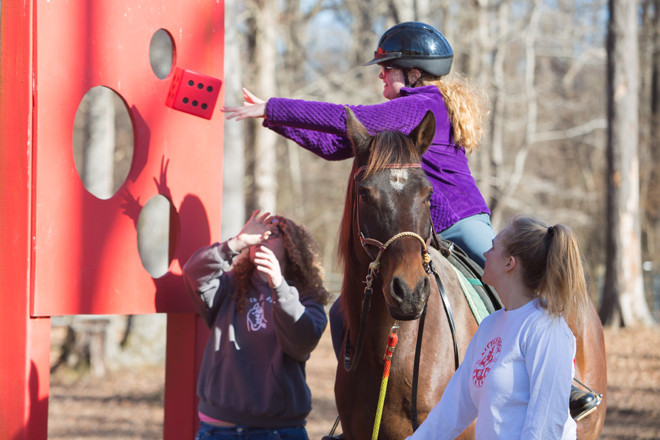 City: Sherwood
Category: Nonprofit Organization of the Year
Year: 2017
Founded in 2001, Hearts & Hooves Therapeutic Riding Center offers services to people with physical, emotional and intellectual challenges, as well as at-risk youth.
It opened with one horse, one therapist, one certified instructor and one participant, according to Executive Director Sue Suddith. In 2016, about 90 people participated in a variety of therapeutic programs, and the nonprofit had three full-time employees, four part-time workers and more than 70 volunteers.
"It's grown from humble beginnings to a $300,000-a-year budget," said Suddith. "Assuming that we have the resources to serve more, I'd like to see us up to about 110 clients."
Therapeutic riding and hippotherapy — treatment using the movement of the horse to help clients with physical disabilities — are offered at Hearts & Hooves, located on 40 acres with a covered riding arena and round pen, as well as 12-stall barn with wash rack and two tack rooms.
While many of the clients are referred by physicians, some are self-diagnosed or participate at the suggestion of mental health and behavioral health specialists, said Suddith, noting that not all actually ride horses.
"They could be just grooming, could be leading, and a lot of times it is just riding as well," Suddith said, adding that several military veterans who suffered physical or emotional trauma in Iraq or Afghanistan also partake in the therapy programs.
"Working with the horses is very helpful, and it's more than just riding," Suddith said. "It's what we call therapeutic horsemanship, where the person helps care for the horses. … It teaches them about empathy, teaching people to care about something other than what is going on with their own life."
The nonprofit organization has started a pilot program in partnership with the Little Rock Parks & Recreation Department and is working on plans to start a bereavement program for children.
Supported almost entirely through donations so rider fees can be kept low, the facility opens in early February and closes in mid-November.