Betsy Broyles Arnold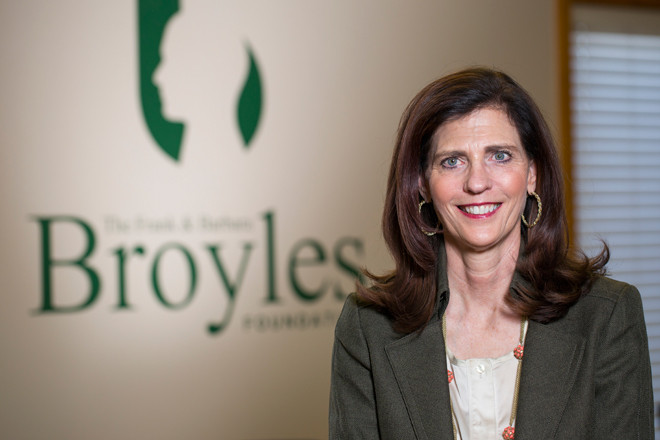 Frank & Barbara Broyles Legacy Foundation
City: Fayetteville
Category: Nonprofit Executive of the Year
Year: 2017
Barbara Broyles always told her daughter Betsy that it was important to do a good deed, but if someone found out it didn't count.
Well, this time it counts anyway.
Betsy Broyles Arnold moved from Texas to Fayetteville to take care of her mother after she was diagnosed with Alzheimer's disease in 1999. Her mother, the wife of famed Arkansas football coach and athletic director Frank Broyles, died from complications of the disease in 2004 at age 79.
In 2006, the Frank & Barbara Broyles Legacy Foundation was created to help support and educate caregivers of Alzheimer's patients. Betsy Arnold is the foundation's CEO and co-author of the "Coach Broyles' Playbook for Alzheimer's Caregivers," of which the foundation has distributed more than 1 million copies in 11 languages.
"It is extremely important to me to help caregivers who are struggling," said Arnold, who understands how isolating and frightening caregiving can be. "That is where every caregiver finds themselves at one point or another. It's comforting for them to visit with someone who has lived the experience. It's my passion; every day I wake up [and ask] who can I help today?"
The foundation does more than distribute books. Arnold travels frequently to educate caregivers and health care workers on the ever-changing facets of Alzheimer's and other forms of dementia.
Arnold said the foundation's goal is to be a "one-stop shop" for resources such as education, counseling, support groups and advocacy. The foundation has recently begun charging a nominal fee for the book, but all other services are available at no charge to caregivers.
"It's a silver tsunami," Arnold said of the disease. "It affects everybody. We lived it. We just want to help as many people as we can. My dad never wanted a resource to be a cost to the caregivers."
Arnold said the foundation sticks with caregivers throughout the entire "season," as Arnold calls the time of the disease. Arnold clears her schedule at a moment's notice to help caregivers in need.
"My mother was a giver," Arnold said. "It is in honor of my mother and my dad."