Stone's Throw Brewing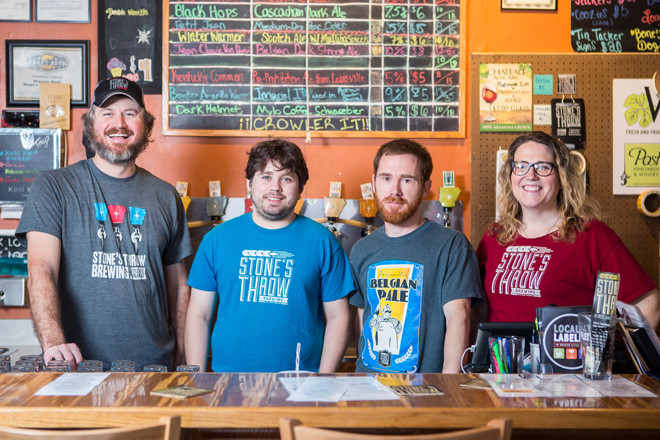 City: Little Rock
Category: Arkansas Community Foundation's Outstanding Philanthropic Corporations
Year: 2017
As a resident of the MacArthur Park Historic District, Stone's Throw Brewing feels a particular responsibility to support historic preservation efforts, but that's hardly the only recipient of Stone's Throw philanthropy.
"We like to think of ourselves as part of the community fabric, both as a community gathering place but also as a supporter of the local community," said Ian Beard, a managing partner of Stone's Throw, at the corner of Ninth and Rock streets. "And we do that in a variety of ways, by supporting local nonprofits, charities and causes."
Beard and the other managing partner of Stone's Throw, Theron Cash, make the decisions about which causes the craft brewery supports.
Its longest-standing relationship has been with Preserve Arkansas, the nonprofit that works to save the state's architectural and cultural heritage. Stone's Throw, which opened Aug. 1, 2013, throws an annual birthday party around the time of that anniversary called the Block on Rock Birthday Bash, in which a couple of blocks on Rock Street are closed and the brewery presents live music, a selection of food trucks and beer sales by it and other local breweries. A portion of the sales goes to Preserve Arkansas. Last year, Beard said, the nonprofit got 25 percent of the alcohol sales and 10 percent of food sales.
The brewery has also partnered with the Quapaw Quarter Association on the nonprofit's annual summer suppers program, presenting a beer dinner.
And Stone's Throw last year initiated its Hops & Hope campaign, a monthly program in which it gives $1 of every beer sold on Tuesdays to a particular charity. These have included Diverse Youth for Social Change, Firehouse Hostel & Museum, Youth Home, Out of the Woods Animal Rescue and Arkansas Women's Outreach. In January, the beneficiary was Heifer International. "We do try to focus on charities that have a local presence," Beard said. "We want to benefit a local group or at least a local chapter of a national group."