KTHV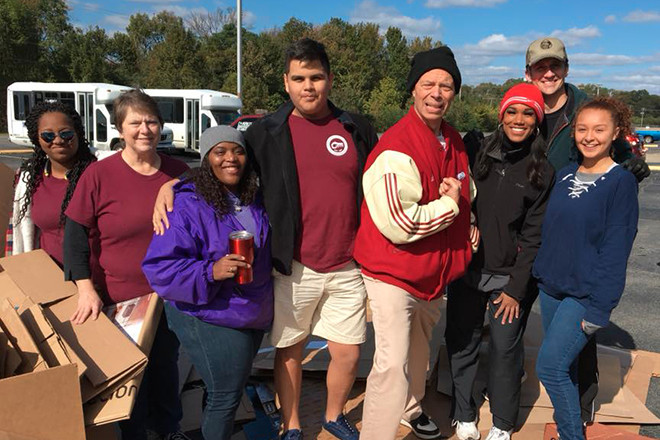 City: Little Rock
Category: Arkansas Community Foundation's Outstanding Philanthropic Corporations
Year: 2018
KTHV and its parent company, Tegna, seek "to inspire vigilance and conversation, empowering communities to work toward positive change," the companies say.
"We're all Arkansans," said Jessica Johnson Amis, director of marketing for KTHV, Channel 11. "We adopt the Arkansas mentality. Our brand is, 'This is home.' We know that by signing on to work here, that's our mission, to empower communities to work toward positive change."
High-profile representatives of the station like anchors Craig O'Neill and Dawn Scott as well as employees throughout the station's ranks work on behalf of local charities. In the last year, KTHV has given $27,500 through the Tegna Foundation to a number of organizations and causes, among them the Little Rock Reviving Baseball in Inner Cities Baseball League program; Jericho Way, a program that helps the homeless; and the Arkansas Children's Foundation's efforts on behalf of car seat safety.
Tegna has a match program for employee donations to charities and KTHV encourages its workers to contribute to their communities. One of the criterion on which employees are judged in the station's quarterly employee award, Star of the Quarter, is their service to others, inside and outside the station.
KTHV has hosted or promoted more than 35 community events and nonprofit causes in the last year. One example: In a Helping Home event, it reported on the work done by Feed Our Vets and worked with the American Legion, Feed Our Vets, Snell Prosthetic & Orthotic Laboratory of Little Rock and Kroger to collect 5,916 pounds of food to provide meals for veterans and their families.
The station is particularly proud of its THV11 Mission Home, which seeks to find missing persons and prevent disappearances by telling stories, sharing alerts and giving ID bands to children at events like the Arkansas State Fair and Springfest.
Said Amis: "Everybody is kind of plugged into some kind of cause or community and it helps us connect with the community and I think that's pretty cool."