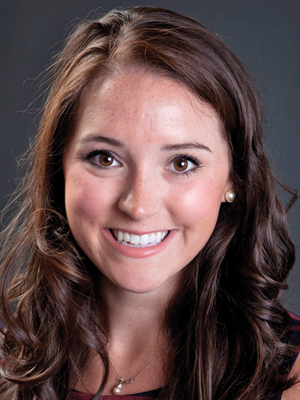 Rachel Hope Arnold
Senior Accountant
Hudson Cisne & Co.
Little Rock
Age: 25
Rachel Hope Arnold
Rachel Arnold graduated from the University of Arkansas in 2010 and earned her master's degree in accounting the next year. She then joined Hudson Cisne & Co. as a staff accountant. After only two years, she was promoted to senior accountant. A co-worker, in nominating Arnold, praised her integrity and work ethic, describing her as "a leader within our organization."
Arnold herself is proud of her promotion, calling it "a big accomplishment." And, as an active member of the Arkansas Society of CPAs, Arnold is serving on the soci- ety's Emerging CPAs Committee.
Arnold also devotes her energy to community efforts. Her work with the Society of CPAs led her to volunteer to speak at career development day at Joe T. Robinson Middle School, helping potential accountants learn a little more about the profession. Arnold also was finance chair for the first Rock the Runway event, held in June. The event was a kick-off for a partnership between the UAMS Winthrop P. Rockefeller Cancer Institute and the Little Rock nonprofit Fighting Fancy, and money raised at the event supports services for women fighting cancer.
Arnold says she loves her work, which exposes her to all kinds of businesses in all kinds of industries. "I think right now I'm getting such a great experience to learn about a lot of different businesses around the community," she says. "And I'm really just excited to see where public accounting takes me."

Latest Arkansas Business Poll
How do you plan to buy most of your Christmas gifts?