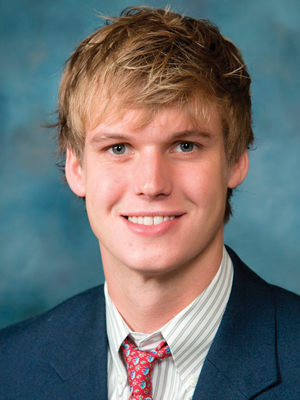 Edward Bailey
Account Executive
Flake & Kelley Commercial
Little Rock
Age: 24
Edward Bailey
Edward Bailey's entry into commercial real estate might seem a foregone conclusion, given his family's development legacy in central Arkansas through Bailey Corp.
But investments captured his imagination. What was supposed to be a resume-building experience toward that end sidetracked his would-be
investments career.
"I kind of never looked back," Bailey said. "I really enjoy working development deals. Watching a project be able to go from the ground up is very cool."
While contemplating a future in the investments business, he was advised to get two years work experience, perhaps in combination with a master's program.
That led to his joining Flake & Kelley Commercial. During his 16 months at the Little Rock commercial realty firm, Bailey has worked in leasing sales, brokerage and development while specializing in income property valuations.
During the summer of 2010, he interned for the vice president of finance at NBC Universal's Chicago affiliate, WMAQ-TV. While there, he helped prepare future costs estimate reports to assist in budget projections and summarize financial reports to more easily view trends and areas of concern within the company.
Bailey graduated in December 2011 with a bachelor's degree in finance with an emphasis in investments from the University of Arkansas at Fayetteville.
Bailey joined the foundation board of the Centers for Youth & Families this year.