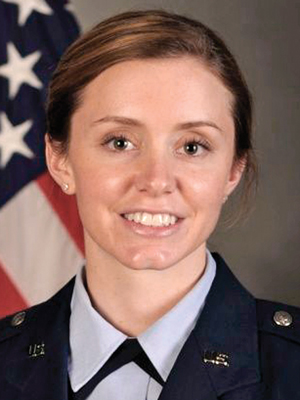 Corey Chance
Operations Flight Commander & Deployed Officer in Charge
Little Rock Air Force Base
Jacksonville
Age: 28
Corey Chance
Air Force Capt. Corey Chance is not an Arkansas native and she's not living in Arkansas right now. She is currently on a seven-month tour somewhere in "the Gulf region," where she is the officer in charge of 27 airmen work- ing on "large-scale construction projects" like hangars and armories.
When she returns to the Little Rock Air Force Base, she will resume oversight of the 165-person team, both military and civilian, that maintains base infrastructure — buildings, electrical systems, roads, water and wastewater.
Being a young woman manager in such male-dominated fields as engineering and the military might sound like a recipe for conflict. Chance says it's not.
"A lot of the older men have prior military service, and they understand military service. I never really have an issue with being a woman," she said. "Everyone who works for me is extremely hard working and dedicated to what they do, so there's a lot of mutual respect."
Chance is originally from Wisconsin Rapids, Wis., and she studied civil engineer- ing at the University of Wisconsin on an ROTC scholarship. She then went straight into the Air Force, as was her plan since high school, and has served six years of what she expects will be a career of at least 20. Her husband is an Air Force C130 pilot, and the LRAFB is the hub for C130s.
Chance has coached kids' sports throughout her time in the Air Force, and this year her husband helped her coach basketball for 5- and 6-year-olds on the base.