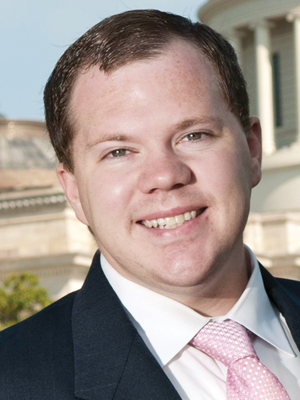 Skot Covert
National Co-Chair
College Republican National Committee
Little Rock
Age: 23
Skot Covert
Skot Covert, born at Clarksville and raised in Ozark, missed so many days of high school as a volunteer in Asa Hutchinson's 2006 campaign for governor that his parents were threatened with prosecution for his truancy.
Seven years later, and with a degree in emergency management from Arkansas Tech University in hand, Covert's interest in politics has brought him to national attention. He now travels four days a week as co-chair of the College Republican National Committee, making speeches "mostly to other college Republicans, young people or a state party interested in what they need to do to move
forward with young voters."
Covert's family is not politically connected, he said. His activism sprang from a lifelong interest in current events. "Watching the news, reading the paper — you just find yourself exploring the options, and I just found myself siding with the Republicans."
He honed his skills during two terms as chairman of the Arkansas Federation of College Republicans.
Covert left a job in state government when he was elected to the CRNC position, which is virtually a full-time job although he does not draw a salary. On the side, he does some freelance consulting on social media and digital campaigning because Republicans, he said, "have not utilized technology the way we should."
In 2012, he managed Bill Gossage's successful campaign for state representative in District 82 in Madison, Franklin and Crawford counties.