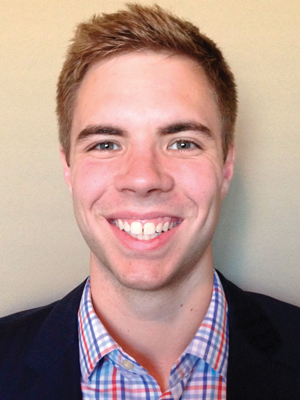 Trevor Evans
Transportation Manager
J.B. Hunt Transport Services Inc.
Springdale
Age: 23
Trevor Evans
The logistics and transportation industry was far from Trevor Evans' ambitions just a few years ago. But a college internship at J.B. Hunt Transport Services Inc. in Springdale steered his life in a new direction.
"I was always good at math growing up," Evans said. "I got the intern- ship, and after a few months, I started really falling in love with transpor-
tation and logistics."
The internship gave Evans a foot in the door when he received his B.S. in industrial engineering from the University of Arkansas in Fayetteville in May 2012. He imme- diately joined the company full-time as a pricing manager, and within four months was promoted to transportation manager. Evans started with a team of six and now manages 16. He anticipates increasing his staff to 25 employees by the end of the year.
Evans also works with J.B. Hunt for charity events. "J.B. Hunt is always watching out for the community and trying to give back," he said. Evans helps with company food drives, as well as donation drives for disaster relief. In May, as the city of Norman, Okla., recovered from a tornado, Evans helped set up a J.B. Hunt trailer in northwest Arkansas to allow members of the community to donate items for relief until the trailer was full and items could be transported to the city.
Evans plans to stay with J.B. Hunt and to help the company continue to grow.
"I'm a believer that everything will fall into place," Evans said. J.B. Hunt has "been a great part of my success, and we've all been a success together."