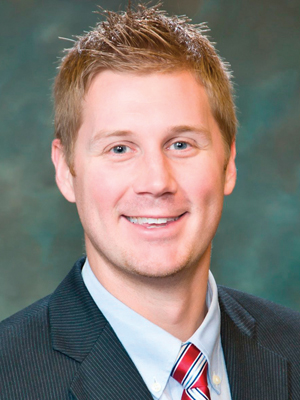 Robi McDonald
Vice President & Market Leader
Centennial Bank
Jacksonville
Age: 29
Robi McDonald
Robi McDonald wanted to build a career where he could put his love of human interaction to work. McDonald found his venue in banking.
"I've always had a passion to help others," he said. "In banking, you get to help others achieve their dreams."
The Dallas native started his banking career in 2007 after graduating with a bachelor's degree in business management from Ouachita Baptist University in Arkadelphia.
McDonald worked as a bank examiner at the Arkansas State Bank Department for nearly four years.
He left the department as a senior examiner and member of its advisory committee to join Centennial Bank, where his father-in-law Randy Sims is president and CEO.
McDonald began work at Centennial's Jacksonville operations as an assistant vice president and commercial loan officer. He has risen to become a vice president and market leader. McDonald is attending the Southwest Graduate School of Banking at Southern Methodist University in Dallas.
Among his Jacksonville civic endeavors are the Rotary club, Chamber of Commerce board of directors, encourager program for students at Tollenson Elementary School and senior meal delivery for the Jacksonville Senior Center.
His volunteerism includes Junior Achievement of Little Rock and the Central Arkansas Heart Ball executive committee for the American Heart Association.